Pie in the Sky
While T.F. Green's neighbors wonder whether their houses will go next, political and economic forces buffet plans to expand the airport.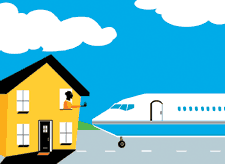 The northern-most tip of Greenwood is a lost world, but Irma Carolan remembers well the Capes and bungalows that once populated it. Carolan has lived at the corner of Greeley and Bedford for forty years—long enough to raise three children, bury her husband and watch T.F. Green elbow the neighbors out.
Patches of summer-scorched grass have healed over the foundations of homes bordering the southern end of the main runway that were razed beginning in 2000. This time it may be her beige ranch that stands in the way of the latest plans to expand the state's commercial air hub. In 2004, Governor Carcieri and Warwick Mayor Scott Avedisian toured the tidy grid of streets, trailed by television cameras and reporters, to talk about "New England's Hassle-Free Gateway." There and then, Carolan made her stand: "I was on TV and in the newspaper, and the governor—I said to him: 'I'm going to fight it. I intend to die in this house.' "
Irma Carolan is a hale eighty-one, with a mobile, unlined face under a cloud of ash-brown curls. Her demise does not appear imminent. Neither does a resolution to the conflict over extending T.F. Green's main runway.
The Rhode Island Airport Corporation and the City of Warwick are now in their ninth year of tussling. Over time, the plans have changed and the runway length has shrunk. Initially, the new length was to be 10,500 feet; then 8,700. A proposed extension to Green's second, cross-wind runway was ditched in 2003 as prohibitively expensive. In 2006, the airport corporation presented the Federal Aviation Administration with five new options that would have lengthened the current 7,166-foot runway to as much as 9,350 feet to accommodate nonstop flights to the West Coast.
Each option had its challenges. The various scenarios would have had an impact on Buckeye Brook and the surrounding wetlands, or required tunneling under Main Avenue, relocating parts of Airport Road, or extending Route 37 to Warwick Avenue. In every case, an expansion would gobble up homes—and most of them would be in Greenwood.
In June, the airport corporation approved the sixth and most modest option for the Federal Aviation Administration to consider: an 8,700-foot extension to the south that would require the taking of at least twenty homes. The FAA, which must approve the plan and will finance most of the construction costs, is scheduled to complete an environmental impact statement sometime in 2010.
"I think that alternative best addresses the city's issues and needs while at the same time delivering the infrastructure to keep the airport growing for the future," says Kevin Dillon, RIAC's CEO since January. "T.F. Green has the shortest medium-haul runway in the country. And we can't just look at what's good for a 737 fleet. We need to look at what is good for a diverse fleet of airplanes."
The city has fiercely resisted any attempts to enlarge the airport's footprint. For Warwick, says Mayor Scott Avedisian, there isn't much of an upside. The city, which receives no state compensation for coping with the headache of hosting the state airport, would lose more property tax revenues with the land-taking. Once-intact neighborhoods, disassembled parcel by parcel as property owners depart, strain city departments that must continue to service streets anchored by lone holdouts.
"We've maintained all along that this isn't necessary," Avedisian says. "We think that one of the things that needs to happen is to look for niche markets. The whole premise of expanding direct West Coast flights—no one is doing it. So, let's look for the other markets where we don't have flights."
The grand, two-story glass-fronted Bruce Sundlun Terminal Rhode Islanders once feared, but now love, opened in 1996. In one year, traffic doubled from 2.4 million passengers to four million. In 2005, passenger totals peaked at 5.7 million. Since then, demand has slowly declined to about 5.2 million—attributed to the slowdown of the economy and increased competition from Logan airport's new discount carriers.
To opponents, this is a sure sign that the pro-expansion argument is so much pie-in-the-sky. But independent airport planners say that changing relationships have re-routed the path to expansions. In the 1970s, airports grew at the behest of specific carriers, who offered twenty-five-year leases to secure a deal. In the age of airline mergers, bankruptcies and start-ups, it's airports that come a-wooing. And those hubs—particularly regional facilities—that delay infrastructure improvements risk losing the service they already have.
William Fife, a longtime airport consultant, says that rising fuel costs have all but eliminated the use of smaller regional jets. That's because, although they can use shorter runways, they carry fewer passengers and are less efficient to operate.
"That means that second- and third-tier airports are losing air service," he says, "And when the airlines make more cuts this fall, more and more regional jets will be parked and we will never see that service again at these fuel prices."
The state's business interests, who have formed the Go Green Alliance to support the expansion, argue that there's more at stake than air service. A 2006 report calculated that Green generates a total of $2 billion in jobs and direct and indirect economic activity.
"We can't lose sight of the economic impact that airport has on the state's economy," says Janet Raymond, a senior vice president at the Greater Providence Chamber of Commerce. "It's important to make the investment today in this competitive global economy so that we ensure our competitiveness as a state going forward."
Inadequate runways can also bring travel to a halt. Nationally, delays—a common measure of congestion—are growing. From 2003 to 2007, delays per thousand flights rose from nearly twenty-one to more than seventy-seven. Experts have been debating solutions, ranging from flight restrictions at major airports, such as JFK, to peak runway pricing, in which airlines pay a premium to fly during the most congested time periods. But there are few discussions about laying more concrete.
"There's a huge need for more pavements at airports," says Gerald Fitzgerald, an airport management consultant who once managed New York's airports. "Many airports have been able to put up new buildings, but very few have been able to put in new runways. It's a challenge for most airports to build more runways and taxiways."
It took nearly thirty years for Boston's Logan Airport to build its sixth runway. Runway 14/32, a 5,000-foot length on Logan's southern edge, was opposed not by one homeowner, but by the towns of Hull, Cohasset and Hingham, which waged a court battle that held up the project, conceived in the 1970s, until 2006.
Now that so many airports are nestled against the soft lawns of suburbia, airport managers are exquisitely attuned to the congestion created by million-pound, roaring and fuel-belching beasts in close proximity to humans. And any environmental impact assessment must attend to the emotional side of the equation. Dillon says he is balancing the airlines' need for growth against the desire to maintain Green's small hometown appeal and the city's quality of life.
"You can't look at this in a sterile, antiseptic way," he says. "As a homeowner, I understand that you need to make the effort to bend over backwards. The biggest need is for communication."
Dillon and Avedisian agree on one thing: The process has already taken too long. While policymakers dither, homeowners remain in limbo, trying to decide whether it's worth putting on that new roof, or how to coordinate a move with their children's school schedules.
"In nine years, we've spent $10 million, and we are just going in circles," Avedisian says.
And if planning remains in the current holding pattern, Irma Carolan may indeed leave Greeley Avenue on her own terms.