Picnic Ideas: Kid-Friendly Fete
Kids will love these yummy and easy-to-make goodies.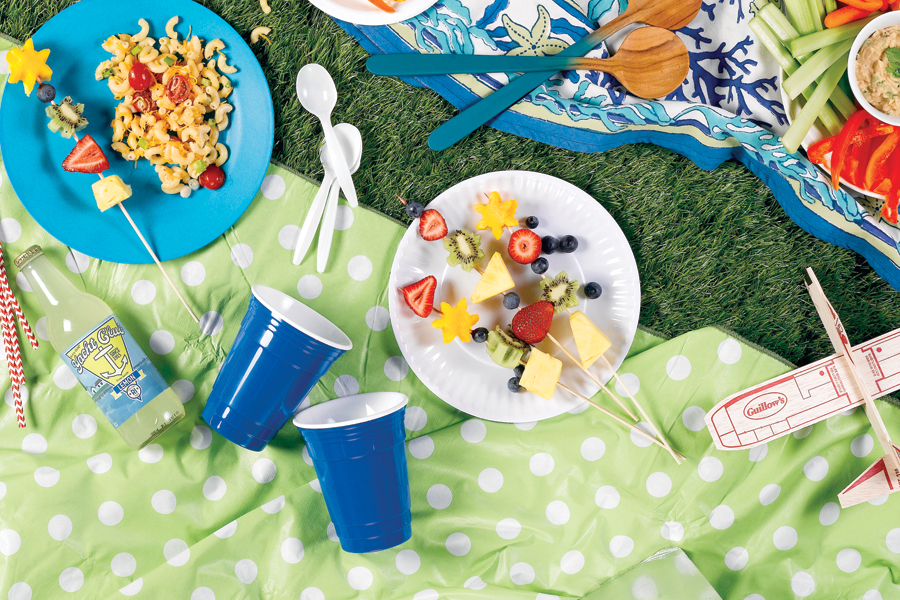 Tropical Fruit Kabobs
PB and J Cupcakes
Mac and Cheese Pasta Salad
Local Additions: Yacht Club sodas

Tropical Fruit Kabobs
Serves 8−10
1 pint strawberries
1 pint blueberries
1 pineapple
1 mango
2–3 kiwi
Bamboo skewers
A range of fruits give kabobs a mix of colors. Use small cookie cutters (simple shapes like stars and hearts work best) to create bite-sized pieces. The berries don't need to be cut, unless you have monster strawberries.
Slice top and bottom off the pineapple to make a stable barrel of fruit. Saw down the sides to peel rough skin from flesh. Slice barrel into half-inch-thick slices, then cut into wedges or use a cookie cutter to make bite-sized pieces.
Slice through mango lengthways. When you feel the blade hit the stone, cut around it and remove it. Peel mango with a sharp paring knife or vegetable peeler. Use a cookie cutter to make bite-sized pieces.
Peel kiwi with a vegetable peeler and cut into discs. Cut with a cookie cutter, or add as circles to your skewers.
Top tip: Chop up a fruity salsa with excess cookie cutter cuts. Keep it kiddo-friendly with fresh chopped mint, or spice it up with fresh chili, lime and cilantro for a more grown-up palate.
Distribute fruit equally on skewers. Store in the fridge/cooler and consume within a day.

PB and J Cupcakes
Serves 12
12 tsp strawberry jelly
12 tsp peanut butter (I prefer crunchy but go with your favorite!)
¾ cup margarine
¾ cup white sugar
3 eggs
½ tsp vanilla extract
1 heaped tsp baking powder
¾ cup all-purpose flour
2−3 Tbs powdered/confectioner's sugar
The day or night before baking cupcakes, spoon out individual teaspoon-sized dollops of jelly and peanut butter onto a nonstick mat or wax paper-covered tray. Freeze overnight.
The jelly may not freeze solid (depending on gelatin content), but it will be thicker, less sticky and well chilled.
Preheat the oven to 360 degrees.
To make cupcakes, cream together margarine and white sugar until light and fluffy. In a separate bowl, crack and beat eggs, adding vanilla extract and mix well. Stir baking powder into measured flour, then sift about a third of the flour into margarine and sugar mixture. Pour in a third of the beaten egg, and fold cake batter together gently. Continue to add flour and eggs a third at a time, folding until everything is well combined. This will help keep the finished cakes light.
Place 12 paper cupcake wrappers into a cupcake tin, and drop a tablespoon of cake batter into the bottom of each cupcake wrapper. Pop one frozen teaspoon of peanut butter, and one frozen teaspoon of jelly into each cupcake; fill equally with remaining batter, covering frozen PB and J.
Freezing the PB and J helps the filling melt slower than at room temperature. So instead of everything mingling together, you will end up with a PB and J-filled cupcake.
Place in oven and cook for approximately 25 minutes, until cake has risen and they are light golden brown. Allow to cool completely before serving with a light dusting of powdered sugar.

Mac and Cheese Pasta Salad
Serves 6 to 8
2 cups elbow pasta
½ cup mayonnaise
1 tsp whole grain mustard
1 tsp apple cider vinegar
1 Small bunch of scallions (about 6–8)
½lb cherry tomatoes
1 cup shredded cheddar cheese
Bring a saucepan of salted water to a rapid boil. Add pasta and turn heat to a heavy simmer. Cook for about 10 minutes until pasta is al dente. When cooked, rinse in cold water and set aside to drain and cool completely.
In a large bowl that will fit the finished salad, mix mayonnaise, mustard and apple cider vinegar and season to taste.
Finely slice scallions and halve cherry tomatoes. Add into mayonnaise dressing along with shredded cheese and combine everything together.
Drop drained pasta into dressing and toss until well coated. The salad can be served immediately or packed for your picnic.