Picnic Ideas: For Vegetarians
Savor the bounty of the season with these healthy recipes.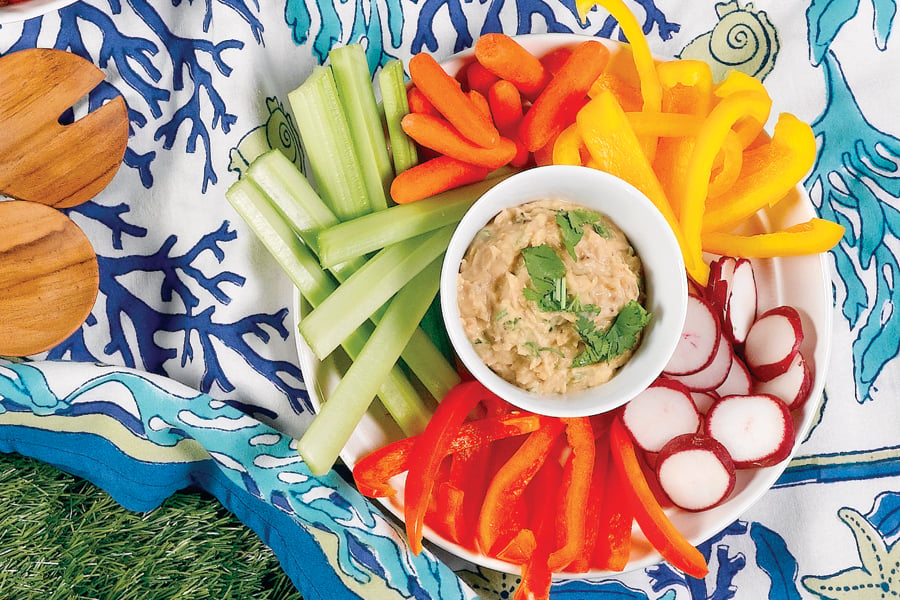 Cannellini Bean Dip with Crudite
Serves 6 to 8
1 can (15 ½ oz) cannellini beans
4 whole cloves of roasted garlic (Remove cloves from bulb but leave in papers. Pop into a small ramekin or oven-safe dish, add olive oil and a pinch of salt and pepper, then roast for 30 minutes at 375 degrees)
 ¼ cup olive oil
1 tsp sesame oil
Juice of 1 lemon
1 Small bunch of fresh cilantro
Salt and pepper
Selection of fresh vegetables for crudite such as carrots, radish, parsnip, celery
Strain and rinse canned beans, and allow to drain. Use a paper towel to absorb excess water.
Add first six ingredients to a food processor and blend until very smooth. Season to taste with additional salt and pepper.
Wash, peel (if that is your preference) and cut vegetables into dipping-size pieces.
Vegan Vanilla Pudding Cups with Strawberry Compote
Serves 4
11oz coconut cream (it is important to use cream, not coconut milk, as cream has a thicker consistency. To create cream, open three cans of coconut milk and pour contents into a container. Store liquid in the refrigerator overnight, and then scoop solidified white cream from top of the liquid)
½ cup vegan marshmallows
1 vanilla pod
8oz fresh strawberries
½ cup water
2 Tbs white sugar
2 large basil leaves
Scoop chilled coconut cream into saucepan and add marshmallows.
Slice vanilla pod lengthways and run blade of a knife along each half to collect vanilla seeds. Add seeds to saucepan along with split pod. Stir well to disperse seeds throughout cream.
Bring to a gentle boil, then turn down heat under pan and allow to simmer until marshmallows have completely melted. This should take 10–15 minutes.
De-stalk and cut strawberries into halves. Add to another saucepan along with water and sugar. Bring to a rapid boil, then turn down heat to allow liquid to thicken and reduce for 10 minutes. When strawberries have softened and liquid surrounding them is jewel red and glossy, remove from heat, add in finely sliced basil leaves and allow to cool.
Remove vanilla pod and discard, allow pudding to cool before pouring into dishes. Don't leave it to cool too long, as it will set in the pan.
Top the pudding servings with cooled strawberry compote. You want defined layers. Allow to cool and set in fridge for at least 2 hours before serving. Garnish with fresh basil leaf.
Roasted Corn Panzanella with Seven Stars' Olive Bread
Serves 4
8oz  Seven Stars' olive bread
2 cloves garlic
Salt and pepper
4 whole corn cobs
12oz tomatoes (use mixed varieties and colors)
⅛ cup red wine vinegar
¼ cup olive oil for dressing, plus a few drizzles for roasting
1 Small bunch of fresh basil
Preheat oven to 350 degrees.
Tear or cut bread into inch-and-a-half cubes. Spread on a large baking tray, douse with olive oil, grate garlic cloves over top and season with salt and pepper. Toss bread in seasoned oil and spread out evenly across pan. Roast for 10 minutes until bread is golden and crisp on edges.
Strip leaves and silk from corncobs. Preheat grill, griddle or heavy cast iron pan to high heat. Brush a little olive oil on corn, not on the pan (oiling the pan will create smoke), and season well with salt and pepper. Roast corn for 10-15 minutes until lightly blackened in places. Turn every few minutes for even color.
Remove cobs from heat and allow to cool. Chop tomatoes. If using cherry or small tomatoes, cut them in half. If using larger varieties, cut into quarters or eighths for consistent size.
Add tomatoes to a large bowl. You'll mix the finished salad in the bowl so be sure there is enough room. Add vinegar and oil to tomatoes, and using your hands, scrunch and squash tomatoes until torn and bruised and there is a lot of liquid in the bowl.
When corncobs are cool enough to touch, remove corn kernels from cobs. Hold cob by its end, standing upright in a baking dish. Run a knife down sides of cob, between kernels and stalk, using a sawing motion.
Add corn to tomatoes. Add bread and mix together with your hands.
Slice fresh basil and add before serving, or pack for your picnic.