Picnic Ideas: Al Fresco Romance
Impress your sweetie with an elegant meal.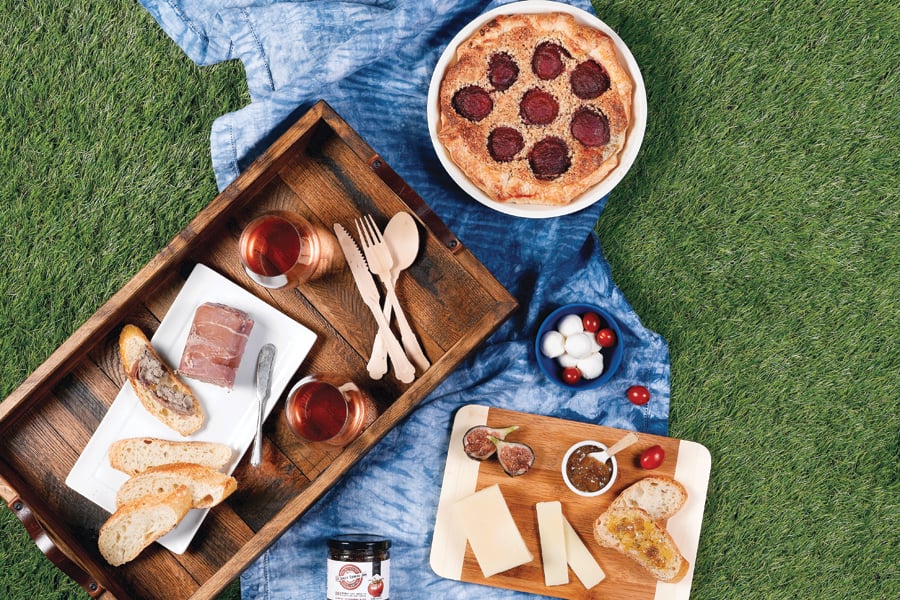 Portobello and Prosciutto Pate
Fig, Thyme and Tarragon Jam
Plum Tart with Almond Frangipane
Local Additions: Selection of Narragansett Creamery cheeses, Olga's Cup and Saucer bread, Backyard Food Company Sweet Tomato Jam, Westport Rivers Pinot Noir Rose
---
Portobello and Prosciutto Pate
1lb washed Portobello mushrooms
3 cloves of garlic
2 Tbs of bacon fat or butter (using bacon fat to cook mushrooms gives a greater depth of flavor, but isn't essential)
2 Tbs of port wine
1 cup of Rhody Fresh heavy cream
2 egg yolks
1 whole egg
1 tsp Olive Del Mondo black truffle oil
About 10 slices of Daniele prosciutto
2 small loaf tins, each measuring 5 ¾ in x 3 ¼ in x 2 in, with a capacity of 2 cups (Smaller pates may be more size appropriate, but you can make one large pate using a large loaf tin and increase cooking time to 1 hour, 45 minutes).
Preheat oven to 350 degrees.
Dice mushrooms and finely mince garlic. Saute in bacon fat (or butter) on medium heat for about 8 minutes until mushrooms are soft. Turn heat to low and continue to gently fry for twenty minutes longer. Low and slow cooking allows mushrooms to reabsorb liquid and become rich and flavorful.
Add port wine and continue to simmer for 5 more minutes until wine reduces. Add cream. Stir everything well, as cream will deglaze pan of cooking liquids. Cook for 8–10 minutes until cream sauce thickens and coats back of a spoon. If cream is still thin, add half a teaspoon of flour and cook for another minute or two.
Pour mushrooms and cream sauce into a food processor, and blend into a very smooth paste.
Crack and lightly whisk eggs in a separate bowl and add in truffle oil. Add truffled eggs to mushroom mixture. As it blends, mushroom paste will still be warm so you want eggs to be mixed in quickly to reduce the chance of streaks of cooked egg in finished pate. Add eggs into paste, get the lid on food processor and blend quickly.
Line baking tins with slices of prosciutto so that all sides are covered. Lay long pieces horizontally across tins and allow ends to hang over sides. They will be folded over pate to completely encase it.
Pour in mushroom paste and smooth out top, folding prosciutto over paste so that it's well covered. Cover tins with foil and place in a large, deep baking dish. Fill dish with warm water, until it reaches halfway up sides of pate tins. Place whole contraption (known as a water bath or bain-marie) in pre-heated oven for 1 hour.
When cooked, remove tins from water bath. Pate will be liquid so be careful not to spill it. Allow to cool in tins to room temperature, then place in refrigerator to set for about 2 hours (if you make a larger pate, leave to cool for 4 hours, and check for consistency with a skewer before slicing).
To serve, pop pates out of tins onto a cutting board (you can use a butter knife around sides to release) and slice into half-inch-thick portions. The pate will be thick, spreadable and rich, and it pairs wonderfully with Fig and Thyme Jam and Olga's bread.

Fig, Thyme and Tarragon Jam
Makes 1 pint
11oz dried figs
2 cups water, divided
⅛ cup balsamic vinegar
2 Tbs white sugar
1 heaped tsp fresh thyme, chopped
1 heaped tsp fresh tarragon, chopped
Place figs in a cereal bowl. Pour in one cup of very warm water and allow to soak until water is completely cool.
Drain figs, but keep soaking water. Chop into halves and add to large saucepan. Add vinegar, sugar, soaking water and an additional cup of water, then bring to a boil. Simmer for 10–15 minutes, until liquid reduces by half and is silky and thick.
Pour entire mixture into a food processor, or use a stick blender in the pan to puree to a smooth paste. Add chopped herbs while jam is still warm. Spoon into a jar and allow to cool completely before serving.

Plum Tart with Almond Frangipane
Serves 6 to 8 using a 9-inch round/8-inch square tart tin
For the pastry:
1 cup all purpose flour
¼ cup white sugar
½ cup butter
2 eggs
For the filling:
½ cup butter
½ cup white sugar
2 eggs
2 cups finely ground almonds
10 ripe plums
Preheat oven to 385 degrees.
To make the pastry, use a food processor and pulse flour, sugar and butter together until they have the consistency of wet sand. Refrain from blending, which will soften butter too much and make pastry too sticky.
Beat eggs and add little by little into dry pastry mix, pulsing to combine, until dough comes together in a ball.
Place dough onto counter and knead as little as possible to form a ball.
Flour countertop and roll out dough to 1⁄8-inch thick. Lay into tart tin and press into edges. Trim edges neatly and prick bottom of pastry. Refrigerate while preparing filling.
To make frangipane filling, cream together butter, sugar, eggs and ground almonds. Ground almonds as fine as possible. If almond meal is coarse (or you can't find almond meal) simple blitz it in a food processor before using to get a fine consistency.
Halve and de-stone plums. Remove pastry from fridge and smooth frangipane evenly into crust. Place plums flesh side down, pushing them gently into the filling.
Bake for 25 minutes, until frangipane is puffed and slightly browned, and pastry's edges are golden. Allow to cool so the frangipane sets, before slicing and serving.

Follow Holly Vine's lifestyle and cookery blog at hollylikestocook.com.