The Story Behind Hope Artiste Village
The Pawtucket mill is home to dozens of creative businesses.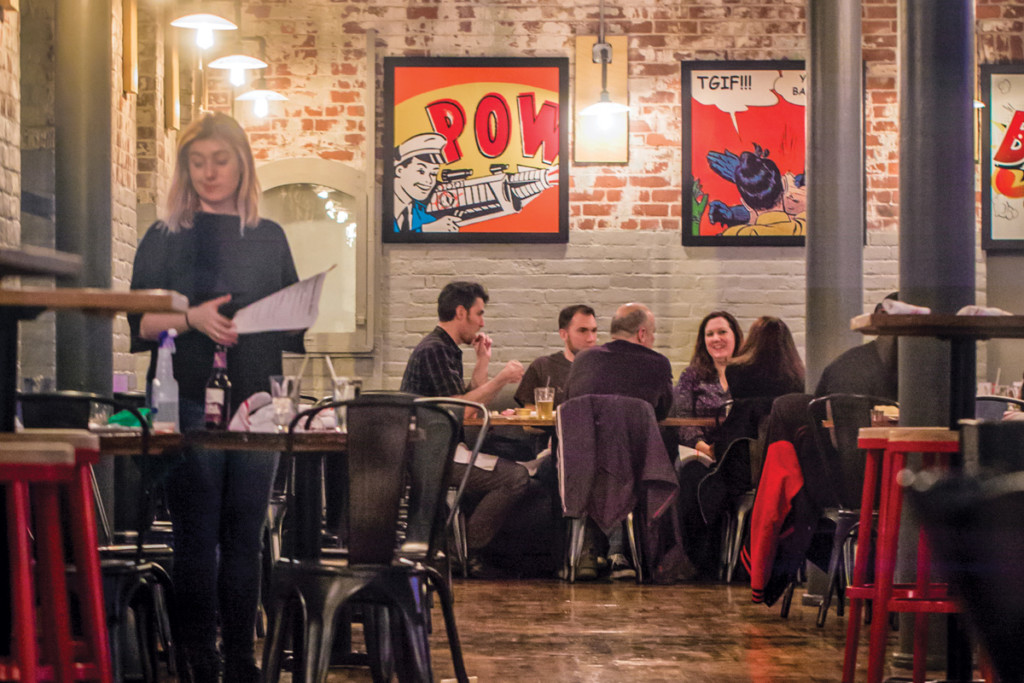 We are barely moving, bumper to bumper, my fingers gently tapping the steering wheel. My eyes feel heavy, and a wave of sluggishness creeps over me. It's only Tuesday. I turn the radio up, roll the window down and feel a gentle breeze brush across my face. The mid-week commute to work is crawling along and I've only made it as far as the Pawtucket S curves. I need coffee.
I ask Siri to direct me to the nearest coffee shop and exit the highway, expecting to end up at a Dunkin' Donuts, when instead I pull up to an old mill building. I double check that I didn't input the wrong information into my phone.
"Arrived at destination," says Siri.
I step out of my car with hesitation but, to my delight, enter the mill and find New Harvest Coffee Roasters. The shop is nestled inside the building among several businesses with beautifully decorated storefront windows. Exposed brick climbs to the top of the walls, snug against the high ceilings.
The bistro tables and string lights are a warm invitation to New Harvest, and the smell of freshly roasted beans emanates from the entrance and instantly fills my nostrils. My caffeine headache and grogginess seemingly disappear. I slowly sip my coffee and head back in the direction of my car. I notice an industrial restaurant, Brick Oven on Main, with an extensive bar and a large room with pub tables. I make a mental note to come back soon for a libation, a slice of pizza and to learn more about this unique space.
A few weekends later, I meet with Jacqueline DuBose, property manager of the complex. While she gives me a tour, I see the restored mill bustling with folks wandering through the long hallways and residents dropping off their rent checks. DuBose also directs me to the mill's website to learn more about the in-depth history of the building. I find that this treasure trove is used not only as a multi-purpose space, but it also has quite an interesting past.
What is now Hope Artiste Village, a hub of activity that fosters collaboration and creativity among the community, was once the old Hope Webbing Company Mill. The mill's long history dates back to 1889, when it was established for the sole purpose of manufacturing narrow fabrics less than six inches in width, including different types of fibers such as cotton, jute, wool and silk. Charles Sisson and Oscar Steere, founders of the mill, began their work in a small shop on Sprague Street where they made webbing for pull-straps. Within a few years, the company was looking to expand, and so Hope Webbing Company Mill was born.
The mill had one original weave shed, but as demand grew, so did the need for even more space. As a direct effect from an increase in population, the construction of the railroad and the boom in industrial expansion, numerous additions including other weave sheds were built. During my walk through with DuBose, I comment on the many different hallways where one could get lost. She notes that the walkways and office spaces used to be the weave sheds. "We number them based on what the old weave sheds were," she says.
The Hope Webbing company occupied almost all of the premises until 1994, when it moved its production to Cumberland where it still runs today. Over time, the building was turned into the modern-day space, a complex consisting of many different businesses such as retail shops and art studios, live-work units and an entertainment hotspot.
This hub offers a little something for everyone. You can find a gift for the rugged man at Downcity Outfitters or search for a new purse at BABS Fine Handmade Bags. Sip on a freshly brewed coffee from New Harvest and munch on a signature brick oven pizza from Brick Oven on Main. Reach your inner zen at Motion Center Yoga Collective or get your heart pumping in a Lock and Clue Escape Room. There is much more to this old brick building than meets the eye; besides food, drink and shopping, the mill even boasts a large event space for weddings and private parties and a bustling wintertime farmers market, too.
But my personal favorite feature of Hope Artiste Village can be found on the top floor — one of the original facets of the old building. BreakTime Bowl and Bar, an industrial recreation duckpin bowling alley, is still in use today.
"This space used to be a spot for the mill workers to take a break from work or on their days off," says DuBose. "Most workers lived nearby and came here to bowl for fun. We refurbished it and added the bar for twenty-first century use."
The pub and alley are open until 1 a.m. on the weekends, making it a hidden gem of Pawtucket nightlife.
It is no surprise that Pawtucket — an up-and-coming hipster hotspot right on the heels of Providence — houses Hope Artiste Village. With such an intricately weaved past, Hope Artiste Village has transitioned into a new and improved industrial workplace — a center for entertainment and a soon-to-be housing complex. Just as in the early '20s, the village space is still a major proponent for not only the Pawtucket economy, but for the members of the community, too.