PawSox Update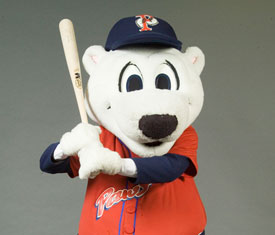 If you know of a better deal in Rhode Island than admission to a PawSox game ($6-$10 a seat) on a sunny spring afternoon, I want to hear about it. Starting April 18, it'll be an even better value for families. The team just announced a Kids Eat Free initiative for children 12 and younger. Little ones holding a box seat ticket can receive a complimentary concession coupon they can trade in for a free hot dog, soda and bag of chips. The offer is good through May 7 and excludes opening night.
For more info, click here.
And we'd be remiss not to mention the other big news out of McCoy: Mascot Paws' tenth birthday is coming up. The team will host a birthday celebration during the 1:05 p.m. game on April 18th. Mascots from all over New England—Wally from the BoSox, Slugger of the Portland Sea Dogs—will be there to join in on the fun.