Owner of Little Bitte Artisanal Cocktails Opens Gallery
The World's Fair Gallery will exhibit art and host workshops paired with creative libations.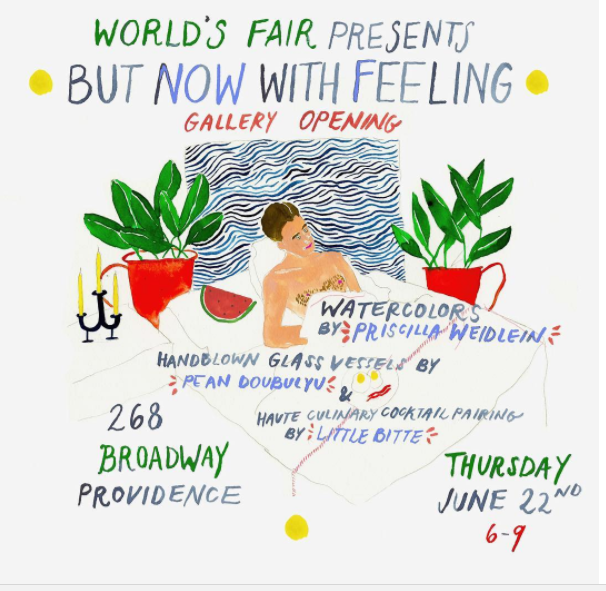 Willa Van Nostrand of Little Bitte Artisanal Cocktails is known for her creative libations (see here. Can you say, yum?), but she also has a past in the local art scene.
Before launching her successful cocktail company, she had gigs at various galleries in the state, which was part of the inspiration for merging her two interests to create the World's Fair Gallery.
The space, located at 268 Broadway, in the same building as the Columbus Theatre, is intimate and vibrant flowers splash hits of color against the clean white walls.
On opening night the paintings were accompanied by curated cocktails that matched their vibrancy, served in glassware made by Pean Doubulyu, which attendees could purchase if they so chose.
"The whole concept is to pair two and three-dimensional artists shown in the gallery with vessels, locally crafted ceramic or glass, and then I design the cocktails to go in the vessels, so it's a full circle of experience of the visual arts and the culinary/ beverage arts," Van Nostrand says.
Aside from events, the gallery is also meant to embody its name and is currently showing pieces by local artist Priscilla Weidlein. It will also serve as a space for Van Nostrand to whip up drinks for potential clients.
"At this point in time its first and foremost a gallery space, but it's also a tasting room where I can meet clients."
She also hopes to have workshops that teach various art and drink techniques.
World's Fair Gallery, 268 Broadway, Providence, check out Little Bitte's Facebook page for more information.