Overnight in the ER
From gunshot victims to inebriated revelers, the emergency department staff at Rhode Island Hospital serves more than 104,000 patients per year from Rhode Island, Massachusetts and Connecticut.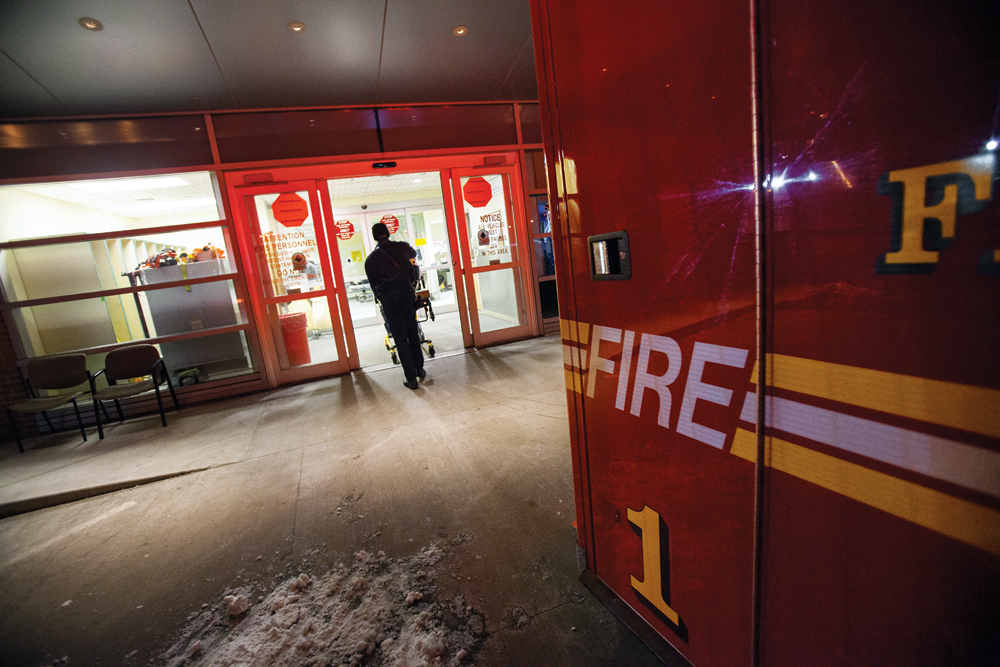 It's Friday the thirteenth, and a handful of people are having the unluckiest night of their lives. But the wayward course of their evenings led them to the best possible place: Rhode Island Hospital, the state's only Level One Trauma Center and one of the busiest in the region, beating out Boston's Tufts and rivaling Mass General — the closest Level One Trauma Centers — in annual volume. This American College of Surgeons designation means the hospital can provide twenty-four-hour, in-house care for the most critically injured patients.
On this night, the nursing staff — with assistance from medical students in the hospital's residency program and an overseeing M.D. — provide care for a stream of patients, including a slip-and-fall, a car ejection, a stroke patient and a victim of sexual assault. The most injured trauma patients, deemed as such by a team of triage nurses, are whizzed on stretchers from the ambulance, through two sets of automatic doors, past the tight triage space and directly into one of six trauma bays, or rooms, where E.D. staffers are waiting.
During one of the night's traumas, four nurses and residents crowd around a patient. Each provider assumes a role, and nurse Jen Colacone chooses an unusual one.
"I like to be the one to calm them down, like the patient whisperer," she says. "I get on top and tell them to look at me and focus on me, so it's not all just poke and prod and getting yanked. It's rough for them."
Jodi Cullen, a critical care nurse and the night's shift supervisor, leans on a trauma stretcher, one that can transport a patient from a trauma bay on her left to rooms with two CT scanners across the hall.
Tonight's overnight shift was calm by Rhode Island Hospital standards: no major accidents, no shooting victims. In 2014, 327 people were admitted for motor vehicle-related traumas; seventy-one were admitted for gunshot wounds.
Cullen estimates a streak of cool weather has kept most people indoors and away from risk of injury. "In the summertime, it can be really bad, with car accidents and shootings," she says.
On this night, about half of the patients brought in through the ambulatory entrance are admitted for alcohol detoxification, which Cullen says is about normal.
In addition to a couple of unresponsive students, the night summons an aggressive intoxicated patient who must be restrained and sedated, as well as two young patients who are argumentative with triage nurses and uncooperative during breathalyzer tests.
Eventually, a stretcher brings them downstairs to the D-Pod, a space for the hospital's psychiatric patients where injury-free intoxicated individuals sober up before they are released, according to state law. This spring, Rhode Island Hospital built another room in the D-Pod exclusively for intoxicated patients.
"It's an issue in this state. I know at one point they were trying to work on getting a wet house" or sobering center, Cullen says, referencing a 2012 coalition that aimed to shift intoxicated patients away from the E.D. and into a safe space where they could sober up and access substance abuse treatment. The coalition has since lost steam.
"But regardless of why they're in here, our main focus is on the patient at that time, not their story," Cullen says. "You can't be judgmental. You never know what has happened in their life tonight."
The fifteen-year veteran of critical care says the pace in the E.D. keeps her interested, but the job isn't an easy one. "The hardest part, for me, is seeing the families. They come in, and you know their life has changed," she says. "After a tough night, sometimes you cry, sometimes you sing at the top of your lungs in the car all the way home. You have to get it out somehow, because if you carry everything with you, you won't survive a week."