Oven Dried Tomatoes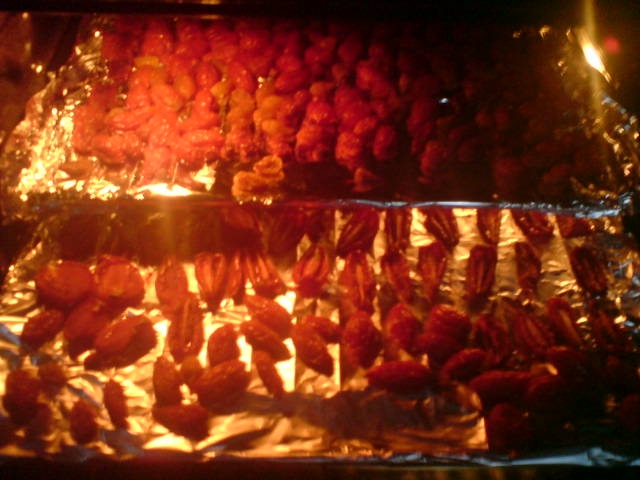 The garden has been in overdrive after such a scorcher of a summer, and despite the depradations of squirrels (they like to leave half-eaten tomatoes in conspicuous, out of reach places, such as the crest of my garage roof) and even a recently discovered, night marauding possum (who mouths things and leaves them covered in saliva), there are tomatoes aplenty. Yum!
(The possum did put a dent in my enthusiasm for tomatoes, especially after I realized I had unwittingly washed and then cooked with a possum-saliva-ed Brandywine the week before my boyfriend spotted the beastly little black beast. I have recovered, but my daughter is still convinced the possum saliva gave her a stomach ache and now refuses to eat all tomatoes. And here I was thinking that growing our own stuff would deepen her appreciation for veggies.)
I even have a bunch of ripe – and exceedingly hot – habaneros, the first time I've ever grown them and achieved any capsaicin. With just one, I rendered an entire stir fry inedible for anyone but me. Oops! Guess other people in my family need to toughen up their tongues. Although it wasn't that fun even for me, and I really need to find something to do with them. If anyone has any good, and easy, hot sauce recipes, they'd be much appreciated.
So far, the single easiest and most rewarding thing I've discovered to do with garden produce is in the blurry photo at right. I made oven roasted tomatoes last year, and, frozen, they saved my butt on numerous occasions last winter, when I couldn't face another angel-hair-and-parmesan dinner (my daughter's fave). Warm some up in a small pan with garlic and red pepper flakes, throw them on the pasta – perhaps with a dollop of Narrangasett Creamery ricotta if you want to splurge – and you have a really fine meal. It's almost a shame to do anything else with them, the flavor is so bright and sweetly tart, so concentrated and summery. But they're also awesome on bruschetta with pesto and goat cheese. I mean, duh.
Simply wash the tomatoes and, if they're cherries, leave them whole. If they're plums, cut them in half. If they're larger, make sauce, although you could try cutting them into quarters; slices won't work, since you need them to lie skin-side-down if they're not to dry up into little translucent crisps.
Then lie them on baking sheets or, as shown here, on your oven racks covered in aluminum foil (a method that offers the easiest clean up and greatest tomato capacity of any I've yet to hit upon). Turn the oven to 180 degrees and let them go – overnight is probably fine, although I often let them go a few hours, turn them off when I go to bed, then turn them back on in the morning. They'll take a good eight hours at least. You can turn up the temp to cook them quicker, but risk burning them.
They're done when they're deflated but still pliable, with a hint of moisture still at the center. Cool and place in zip up baggies in the freezer.
I've already done a few rounds, but have to report that the motherload – this photo is from yesterday evening, when we'd assembled three racks of them – were unwittingly burnt because my boyfriend didn't get my text asking him to check them when he got home late. I woke up this morning, opened the bedroom door and immediately realized they were toast. Tragic! I'm so in love with them that I might actually have to do the unthinkable and go buy someone else's tomatoes, just to make sure I have an adequate winter supply of summer.