Outside These Walls
Harsh treatment isn't reserved solely for prisoners at the state's Adult Correctional Institute.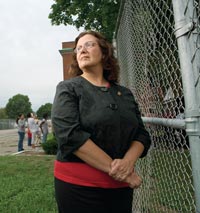 On a bright day in May 2007, I stand in a line of more than twenty-five mothers, fathers, siblings, children, sweethearts and friends waiting for a few precious minutes with a loved one. We're all waiting to see people doing time at Rhode Island's lone state prison, and we've already run part of the gauntlet required for a visit to the Intake Services Center, an austere brick building in which the state's male inmates are housed for the first weeks of their sentences.
We have formed a line, signed in, offered proof of identity, emptied pockets, and stowed purses, wallets, belts, jewelry, sweatshirts, car keys and other personal items in coin-operated lockers. We've queued up again for the second half of the check-in process. We've been eyeballed head to foot by a guard, buzzed into a locked cubicle, screened with a metal detector and buzzed out the other side. Then we headed down a flight of concrete stairs and checked in with yet another set of officers, and now we're waiting to be assigned to a specific hard vinyl seat in the packed and noisy room that also serves as the cafeteria.
As the line of visitors begins shuffling forward, a guard barks out directives and gestures for some individuals to move out of the line. "Your shirt is too tight," he tells a young woman dressed in a fashionably snug T-shirt. "No sweatpants allowed," he says to a gray-haired woman wearing loose, elastic-waist slacks. "No hooded shirts. I don't care if someone else let you in dressed like that before. I won't."
When it is my turn, the guard notes two prison-fashion faux pas: tan slacks (although they actually are gray); and a shirt he contends has a V-neck (the loose peasant-style blouse has a two-inch slit, high at the neck, that can be fastened closed).
Out I go. Arguing, protesting or asking to talk to a higher authority feels not only fruitless, but dangerous. How can I be sure a complaint won't result in harassment, not for me, but the person waiting inside?
It's an understatement to say my introduction to life as a prisoner's family member was a shock. But more than that, in the ten months my brother-in-law spent at the Adult Correctional Institution in Cranston, I learned to play a game in which the rules defied logic. The only one that was hard and fast: Whatever a guard—or correctional officer as they prefer to be called—says, goes. Their word is law, and it's a law that changes from visit to visit.
It wasn't an easy lesson. I reached my middle years by seldom backing down. At the ACI, however, I focused on wanting to support my brother-in-law and my husband and so I kept my mouth shut and my eyes lowered.
Prison settings were actually nothing new for me. As a journalist, I'd visited and interviewed inmates in several of them. But it didn't prepare me for this experience, for feeling stereotyped, belittled and punished by association. It didn't prepare me for the mindless authoritarian behavior, or the cutting comments directed at other bewildered visitors who loved their husbands, fathers, brothers and sons despite their failings.
The dress code is just one example of the bureaucracy visitors must navigate. The prison does not allow visitors to wear tan slacks, presumably because some inmates wear tan. I didn't see an inmate in tan until my brother-in-law moved to the minimum security unit several weeks into his sentence, however. Intake Center inmates dress in dark blue. Visitors there often wore blue jeans or slacks and were admitted without a quibble. And while the reasoning behind rules against plunging necklines and body-hugging clothing seems straightforward, the enforcement I witnessed was unpredictable, bordering on cruel.
The plight of inmates and their families seldom merits public sympathy or outrage, especially when juxtaposed against news accounts of brutal crimes. The facts about the inmate population, however, should stir more sadness than anger. According to statistics from the U.S. Department of Justice, most of those who populated state prisons in 2006, as in most other years, were alcoholics, drug addicts or the mentally ill. It could be argued that members of all these groups, and society in general, would be better served if these offenders were confined to hospitals or rehabilitation centers.
My husband and I were there because of a fairly common story. My husband's brother, a confirmed bachelor who had lived alone for many years, came to the end of the line with DWI charges. He never caused an accident or injury and actually quit drinking many months before his sentencing, but the public justifiably has little sympathy for drunk drivers and a gruff and unyielding judge sent him to the ACI for a year's term at the end of April 2007.
In some states such as California and Pennsylvania, nonprofit agencies work to remove barriers that can keep families and friends from visiting inmates. These agencies recognize that strong relationships are a key to rehabilitation. Friends Outside in California, for example, mans offices near prisons, where it provides visitors with transportation, shelter, childcare and clothing that meets the dress code.
In Rhode Island, families must figure out the rules on their own. One of the first we learned: my brother-in-law would have no basic necessities such as toilet paper, toothpaste, shampoo, shaving supplies or soap unless purchased with money from an inmate account in his name. The J-Pay service charges an $8.95 fee for each deposit between $100 and $200 made online. Each time I made a deposit, I wondered how cash-strapped families putting in just $25 or $50 at a time dealt with these exorbitant fees, which are $3.95 each for online deposits up to $20 and $6.95 for online deposits up to $100. Deposits made by phone were more expensive.
The commissary also limited the number of items inmates could buy at a time, including envelopes and stamps. While we wrote to my brother-in-law frequently and urged him to write back, he often would have to wait until he was allowed to purchase more supplies.
We wanted to get him reading material to fill the many idle prison hours. Among the prison's posted rules is one that stipulates inmates can receive books only if they are mailed directly from publishers. After spending hours scouring publishing house websites to inquire about direct mailing and coming up with nothing, we finally decided to test whether Amazon.com would pass. We picked two titles, had them shipped to my brother-in-law's prison address and hoped for the best. He received them; we tackled a newspaper subscription next. We found nothing in the prison rules about receiving a newspaper, and the folks at the circulation department of the Providence Journal said they routinely mail subscriptions to inmates. We signed him up, although it cost $6 less to get more than fifty papers delivered to our home than to get a month's worth sent to the ACI.
While part of the price of having a family member in prison is financial, a huge part is emotional. Each visit consumed not only three hours of time for us, including the drive, the wait and the visit itself, but also forced us to muster the inner strength needed to wait in long lines under glaring sun or freezing rain, endure the maddeningly slow check-in process, and accept without protest frequent unexpected turns of events. For instance, last Thanksgiving, my husband and my daughter—home from college for a four-day break—rose early for the forty-five-minute trip to Cranston, relying on the printed schedule that had been released late the previous month. They were turned away at the door. The schedule had changed, they were told, and there would be no holiday visit for my brother-in-law's unit. No exceptions, no explanation. Goodbye.
During warmer weather, visits to the minimum security unit were held outdoors. Visitors could bring food and often queued up carrying an array of pizza boxes, fast food bags and Tupperware containers stuffed with homemade goodies. If the boarded-up windows on a nearby brick building and the abandoned, state-owned vans with flat tires in the parking lot could be ignored, these visits might have resembled a day at the park, with the smell of good food drifting by and children playing in the grass.
The only treat my brother-in-law requested was Tim Horton's coffee. My husband and I scouted out the Tim's nearest the ACI to ensure we'd arrive with the coffee still hot. But when we did, the officer informed us that only food, not drinks, could be brought in. We poured the coffee into the grass. There was, of course, no explanation, but I wondered: If the fear was that drugs or alcohol could be smuggled in liquids, why didn't that also apply to food?
Lines for admittance were always long, and arrival time had to be carefully calculated. Arriving too early meant standing in the hot sun, but arriving too late meant severely limiting visit time. For families with small children, trying to keep the kids entertained was a challenge, and one day a young mother had her hands full. While at the desk to sign in, she bent over, trying to control her restless child. An officer remarked: "You have an attitude." She replied in a neutral tone: "I could." He barked back: "You're outta here," as the inmate she was to visit stood stunned on the other side of the gate.
Then there was the callousness. One officer announced to a long line of mothers, wives and children: "They don't want to see you, they only want your food." Another loudly pronounced to the many waiting women that prisoners often include multiple girlfriends on their visitors' lists.
Some of my brother-in-law's friends and family members were admitted for visits once, then turned away on subsequent visits because they were not on the approved list. One niece was admitted and told she didn't need to be on the approved list because she was under eighteen, although her driver's license showed she was nineteen at the time.
Visits were scheduled to last ninety minutes, but often began fifteen or twenty minutes later than the posted times and ended as much as half an hour early. It could take another half hour to navigate the admittance process, and ten to fifteen minutes for my brother-in-law to be brought to the waiting room after we'd been seated. It didn't add up to much. Someone posted on "The Wall" (a comment board for prisoner's family members on the Family and Corrections Network website): "It's hard to imagine how someone can be trapped outside." But that's exactly what we were. I wonder what good it served.