Out On the Town
A bar crawl with Providence's fiercest fashion designer.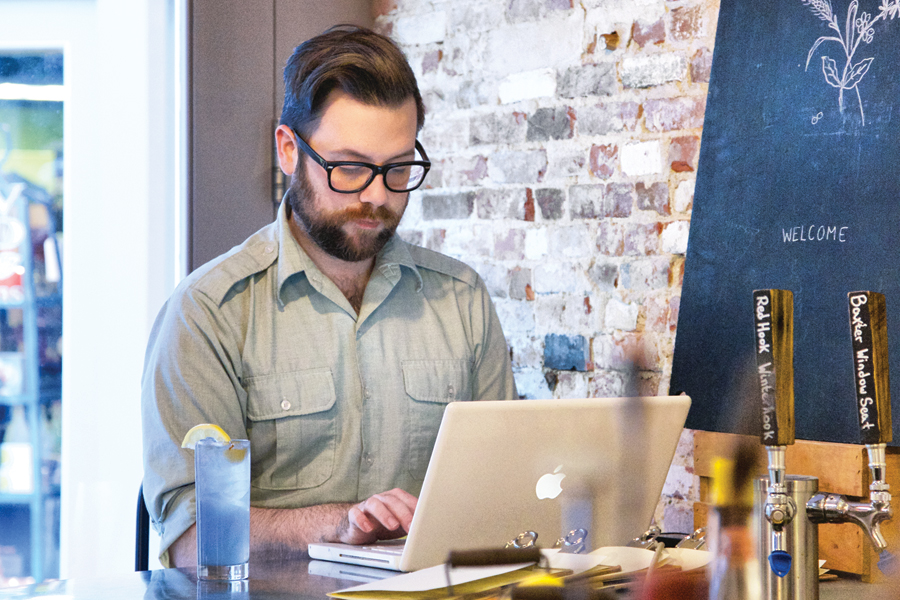 Nightlife and fashion worlds collide with designer Jonathan Joseph Peters. The chief operating officer of StyleWeek Northeast, "Project Runway" alum and co-owner of nude — the newly expanded designer-collaborative boutique — lives, works and plays inside the Providence Arcade. Here, he shares some of his favorite spots for a drink within walking distance from home.
New Harvest Coffee and Spirits
65 Weybosset St., Providence, 272-4604, newharvestcoffee.com
Why he loves it: Because this is my Cheers. In my early-twenties, I was a big fan of clubs, but now I prefer places where I can have a conversation. I get sad if I can't sit at the bar. We'll actually pull up a second row with stools if the bar is full. We want to talk to the bartenders as much as we want to talk to other people. What to order: People go in and ask for Jonathan's drink. It's an off-the-menu cocktail made with Uncle Val's Botanical Gin, fresh-squeezed lemon juice, soda water and creme de violette. It's like a Tom Collins but with a twist. They also make homemade Fireball from scratch. A hollowed-out lime is filled with overproof rum, lit on fire and served over a shot glass.
The Stable
125 Washington St., Providence, 272-6950, facebook.com/thestableprovidence
Why he loves it: I have to get a gay bar in. Stable has a really chill atmosphere. People don't even realize that it's a gay bar. My brother went there one time with his wife, and he called me: "So we're in this bar, and there are only dudes and they are only playing Lady Gaga," he said. And there's something called a gay pour, where it's stronger than a normal pour. I feel like a lot of gay establishments have a strong hand. And Stable is known for that. What to order: Bartender Big Mike has a pistachio shot. It literally tastes like melted pistachio ice cream. He always tells me what's in it, but I've always had way too many to remember. I go there on Sundays for Sangria Sunday, obviously. They serve red, white and Champagne sangria.
Local 121
121 Washington St., Providence, 274-2121, local121.com
Why he loves it: It's one of the few places where I will still get up and dance. One night they were playing all '90s music and this one guy came up to me and was like, "Man, I've been watching you all night. You know the words to every song. You're like a jukebox." What to order: I like bars that have secret cocktails they won't tell you about. Or they won't tell you what's in it. I love Local for that. I get the Unicorn. Even Jess [Abernethy, also co-owner of nude boutique and a local designer who bartends at Local 121] won't tell me what's in it. What I also love — knowing firsthand from Jess — is how local everything is. Jess brings in pickled grapes for the cocktails, and she'll bring in mint from her garden for the garnish.
Thee Red Fez
49 Peck St., Providence, 861-3825
Why he loves it: I have been going for more than a decade. It's low key. It has great bites. I like the late-night pub menu. When New Harvest closes, me and the bartenders will go over to the Fez. It was one of the first really cool places before Providence became so well known. I feel like the Fez was already doing it: grilled cheeses and mac and cheese. What to order: I like the gin ricky. On the menu it's called Lil E's Sleazy Easy Breezy Lime Ricky, with Gordon's English dry rum, St. Germain, fresh lime, simple syrup and soda.