Opening Act
Each day, kids with a passion for theater spend hours at Trinity Rep learning about the basics, as well as themselves. It's the first stage in their dream of a life on the stage.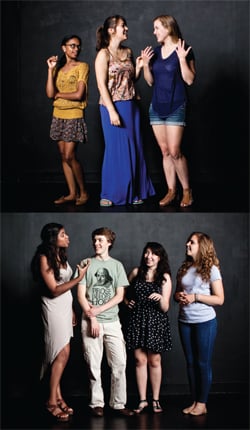 Back in 1996, when my son Sam was three years old, he looked at me and with his voice both desperate and passionate said: "I just gotta sing and dance!"
I'd already discovered him standing on his little stool and staring at himself in the bathroom mirror as he made faces, from scared to sad to happy. From his perch on his booster seat in the back of my Volvo, Sam entertained me with renditions of "Wonder of Wonders" from Fiddler on the Roof and "Where Is Love?" from Oliver! If my kid had liked to throw a ball, or hit a ball with a stick, there would have been a mindboggling number of places to send him. But acting? I opened the Yellow Pages and found absolutely nothing.
As soon as he was old enough, I brought Sam to audition for A Christmas Carol at Trinity Repertory Company. He didn't get cast that first time, but the woman who called to deliver the bad news told me he'd come very, very close. "He should take some classes at the All Children's Theater," she suggested, and gave me their phone number. Overnight, Sam went from acting in front of his reluctant sister to singing "Food, Glorious Food" and twirling across a stage as one of Oberon's fairies.
By the time he reached middle school, Sam was either in rehearsal for a play or performing in a play or both. He'd landed a part in A Christmas Carol and he'd decided that he wanted to be an actor. How lucky for him, and dozens of other aspiring performers, that Trinity Rep's education department head, Pam Ward, decided to transform their education department from a place that sold tickets for student matinees into the Young Actors Studio. In 2005, they acquired the Pell-Chafee Building in downtown Providence, providing them with the dedicated space they needed to make that transformation possible.
Fresh from getting his BA in theater and history at Holy Cross, Ward's assistant, Tyler Dobrowsky, found himself in her job when she left. Around the same time, Artistic Director Oskar Eustis left and Curt Columbus took over. One of the first questions Columbus asked in his initial meeting with department heads was what kind of education programs they offered. At the end of that meeting, Dobrowsky recalls, Columbus set an edict: "I want kids here in the theater and company members in the classroom."
In the decade since then, the High School Collaborative has evolved into an intensive, year-round course focused on scene study and devised work. Jordan Butterfield, the current education programs manager, describes it this way: "Students in our Young Actors Studio receive a holistic arts education that they couldn't receive anywhere else. Many programs are focused on the product and we are entirely the opposite: the process is key. These students learn about the craft of acting as one would at a conservatory. We educate the whole artist and prep them to be the theater artists of tomorrow."
If you still think of Trinity as the place you go to every Christmas to see A Christmas Carol, you might be surprised to learn that every afternoon during the school year and all day during the summer, Trinity is doing just what Butterfield described — training high school students to be actors. Every year, more and more Trinity-trained students are getting accepted into the top theater programs in the country. In 2013, after a grueling round of auditions that take place from December through March, they won admission to acting and musical theater programs at the University of Michigan, NYU, Emerson, Tulane, Manhattanville College and Syracuse. Past students have been admitted to Boston University, Ithaca College, USC, UCLA, Northwestern and North Carolina School of the Arts.
So what exactly is happening at Trinity that is helping to develop such talented, accomplished young performers? For all those kids who don't feel comfortable on an ice rink or a soccer field, who "just gotta sing and dance," Trinity has created a safe place while also teaching them to be confident and trust themselves and their love of the arts. Ask any one of them who spend every day after school taking classes in improv, scene study, playwriting and voice how this place has changed their lives, and phrases like lack of judgment and community and family always come up.
But three names are also always mentioned: Fred Sullivan Jr., Mauro Hantman and Rachael Warren. These three actors from Trinity's company are changing lives with their professionalism, openness, encouragement, friendship and wisdom. Sullivan, who has just started his thirtieth season at Trinity, says, "The diligent, focused energy and serious appetite of these kids for the art of acting is always impressive and inspiring." Therein lies the secret to the program's success: talented teachers, serious students and an atmosphere that fosters talent.
Jessica Moss, now twenty-three years old, was among the first students to attend the Young Actors Studio back when she was a sophomore at Westport High School. Her first class was in playwriting. They met once a week and wrote their own short plays. "There was no judgment," Moss says now. "I found that to be a trend at Trinity. No judgment. Just a lot of positive reinforcement and encouragement." Seven years after that class, Moss finds herself with a BFA in acting from Boston University (her first choice school, which she got into early decision), living in New York City and working on a production of a play she wrote.
"Trinity was like a family to me," she says. "They taught me to how to push myself beyond my boundaries. They congratulated my accomplishments and picked me up with encouragement and support when I fell." Moss returned to work as a counselor at YASI, the Young Actors Summer Intensive, and has dreams of someday being part of a company like Trinity, "where no matter what, we stand side by side."
To read more of this story please visit your nearest newsstand or click the link below.