One Wild Garden
Cheetahs, a mountain lion and a hippo family found a home in Newport.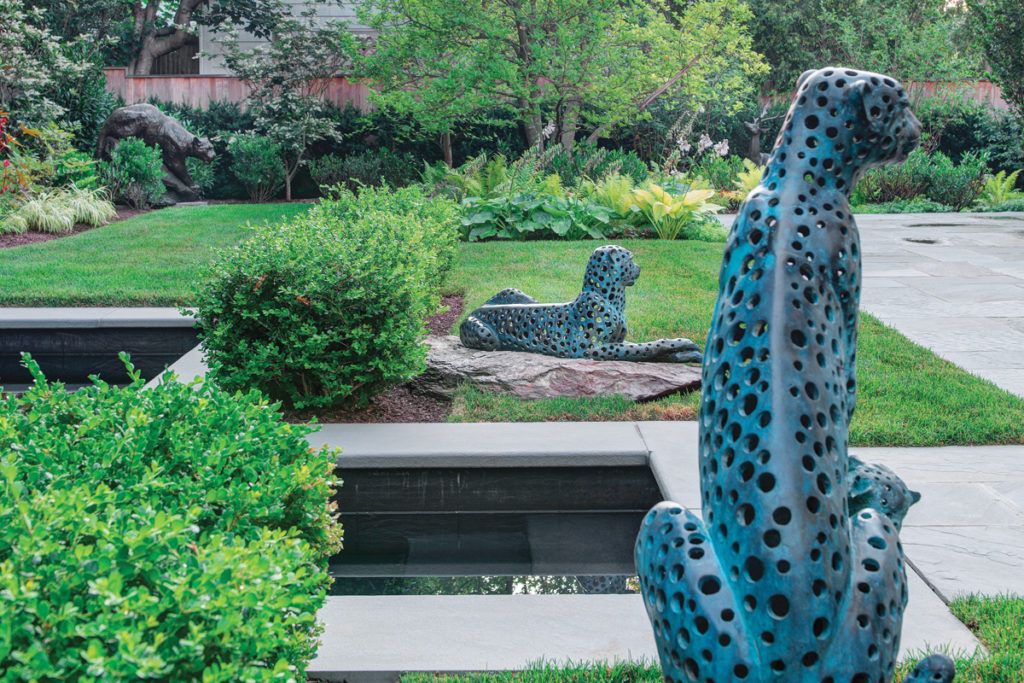 Still Life
A pair of deer guard the home's front door while several others inhabit the side yard, where Kelley selected mountain laurel, ferns and shad to complement the sculptures.
A cheeky gnome or perfectly posed woodland creature can be a reliable way to break up an otherwise green landscape with a playful touch. But a singular figurine plopped down amongst a bed of flowers is one thing. Taming a menagerie of life-sized animal sculptures so they come together in an 8,000-square-foot garden off Bellevue Avenue in Newport is another matter entirely. That was the challenge for Tanya Kelley, principal of Newport's PlaceStudio, when the new owners moved in and brought their eighteen-piece outdoor art collection with them. "I asked myself: 'How are we going to make this work?' " says Kelley, when recalling the job of placing such a large group of exotic and North American native animals together in a relatively compact area. Complicating matters, Kelley wasn't able to see many of the pieces in person or get measurements for them ahead of time. Instead, photos of the sculptures being packed for shipping served as her initial guide for the garden's design.
Social Order
The mountain lion slinks through inkberry and clethra trees while a happy hippo and her babe appear to bathe in a bed of bergenia, iris and European ginger with coral bells.
Conceptually, the garden came together as Kelley began thinking about how to best group the animals. "I knew that there had to be a story there in order for it to all work," she says. Using the garden's rectangular pool as a focal point, Kelley clustered the animals based on habitat and separated those from different continents with areas of heavy plantings to create individual tableaus for each sculpture. The owners' preference for a greenery-focused garden, rather than flowers, also helped dictate the final look. Kelley used sightlines to guide the placement of each animal. On the home's bluestone terrace, she wanted the owners to be able to enjoy the sculptures from different vantage points. "I wanted to make sure that they're not necessarily seeing them all together but catching glimpses of them as they move around the yard," she says. From the terrace, a massive gorilla and its baby can be glimpsed holding court at the rear of the yard, while cheetahs and a lioness converge on the pool. So striking was the scene that it inspired Kelley to affectionately nickname the project, "Tension at the Watering Hole."
Going Native
Kelley worked hard to pick plantings that resembled each animal's natural habitat. Entering the L-shaped yard from the front of the house, several deer and their fawn peek out from a mix of ferns, viburnum, Summersweet clethra and sweet woodruff to listen to Pan play the flute from the shingle-style home's east side. A stewartia tree's exfoliating bark adds texture amongst all the green. The goal was to create an area that looked like a native New England forest but still left room for visitors to make their way to the back of the yard. On the property's far corner, a massive mountain lion looks at home amongst Solomon's seal, crepe myrtle and mayapple. Kelley recalls with a laugh a request by the animal-loving wife to turn the sculpture ever so slightly so that it didn't look as if it was stalking the deer.
While Pan plays to the deer in the side yard, above, the gorilla keeps her baby safely hidden among clethra trees, castor bean, ferns and Japanese forest grass.
Out of Africa
In the back of the house, where the gorilla and large cats reside, the plantings take a decidedly exotic turn. Shiny-leaved castor bean, seven-son flower, wand flower and zebra grass surround the large primate in a jungle-like tangle, while the lioness gets the savannah treatment by way of several varieties of grasses including Morning Light maiden, Cloud Nine switch and Hameln fountain. "I wanted to give this area a stark, grassy look," Kelley says. "It was all about setting up a distinct feeling for each sculpture." Around the corner, on the house's west side, a duo of hippos gave Kelley a chance to be more creative with her plant selection. Water, a hippo's preferred spot, wasn't an option, so Kelley mimicked the feel of it with glossy, flat-leaved plants like pigsqueak, coral bells and European ginger. In the summer, pots of papyrus and agapanthus are added to the narrow space to give the area more of a pond-like appearance. Although a challenge at first, the resulting garden is a cohesive display that shows off not only the owner's beloved art, but the array of plants available to New England gardeners. "It felt a little like working in a natural history museum at times," Kelley says. "But everyone is really, really happy with how it turned out."