One-Stop Shopping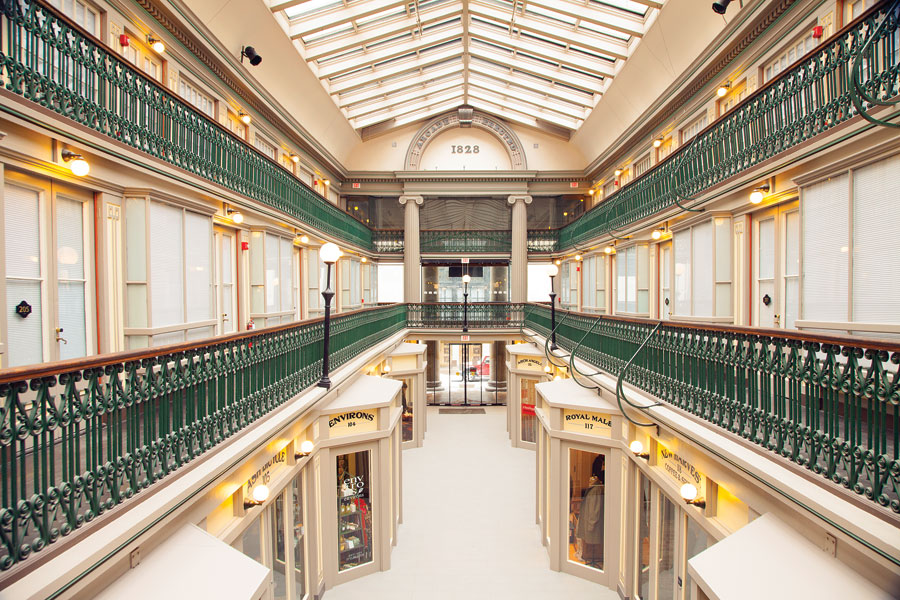 Providence's historical Arcade is the nation's oldest operating indoor mall and it focuses on local-minded retailers.
130 Westminster St., Providence, 454-4568, arcadeprovidence.com.
9 a.m. Savor latte art at New Harvest Coffee and Spirits, featuring beans roasted in Pawtucket. Peruse email over free WiFi and a Seven Stars pastry.
272-4604, newharvestcoffee.com.
10 a.m. Avoid over-tweezing and unibrows with eyebrow threading at ArchAngels.
965-2724, archangelseyebrowthreading.com.
11 a.m. Royal Male curates well-made coats from Barbour, Chrysalis and Saint James. Pick one up to combat heavy rains and it may last a lifetime.
521-3300, royalmale.com.
Noon Boy does primping make us hungry. Visit Rogue Island Local Kitchen and Bar for a Baffoni's Poultry Farm fried chicken sandwich made with poultry responsibly raised in Johnston.
831-3733, rogueislandgroup.com.
1:30 p.m. Now that you're properly nourished, walk next door to nude, a boutique where local designers Susan Troy, Jonathan Joseph Peters, Jessica Abernethy, Sarah Prost and Amy Stetkiewicz sell their handmade fashions. Complete the look with one of Kent Stetson's envelope clutches shaped from a digital painting (he even stitched one featuring the Arcade!).
521-6833, nudeprovidence.com.
3 p.m. Now to accent that perfect outfit. Jessica Ricci Jewelry crafts unusual pieces from repurposed metals, lace, stones and more found on the designer's around-the-world adventures. Ntrendsic sells fun baby gifts, plus men's and women's accessories, and Southwest Passage stocks handmade turquoise and sterling jewelry.
215-4904, jessicariccijewelry.com; 421-3179, ntrendsic.com; 351-7587, southwestpassage.net.
4 p.m. Scope out items to spruce up your apartment or get ahead on gift-giving with African art at Adirah and Rhode Island-centric home decor from That Guy (or get a piece of antique furniture refinished). Find vintage furniture, knickknacks, clothing, bags and more at Carmen and Ginger and score high-end candles, artisanal olive oils and art from RISD alums at Environs.
272-3270, myadirah.com; thatguyrefinishing@gmail.com; 274-1700, carmenandginger.com.
5 p.m. Peddle your own unwanted goods at GetModa Designer Consignment, which cleans out closets by selling big name handbags and clothing. Customers collect up to 60 percent of the sale (though when you see the Gucci bags, you'll probably put earnings right back into the shop).
421-6632, getmoda.com.
5:30 p.m. Pick up a falafel pocket for dinner at Livi's Pockets.
453-6500, livispockets.com.
6 p.m. Rent a bike for tomorrow's East Bay Bike Path escapade, or drop off your own for a tune-up. Dash Bicycle rents by the day for $35 (plus $15 for an extra day).
273-3274, dashbicycle.com.