One Great Revival at the Columbus Theatre
The venue's third annual Revival show boasts the best local musical lineup of the year.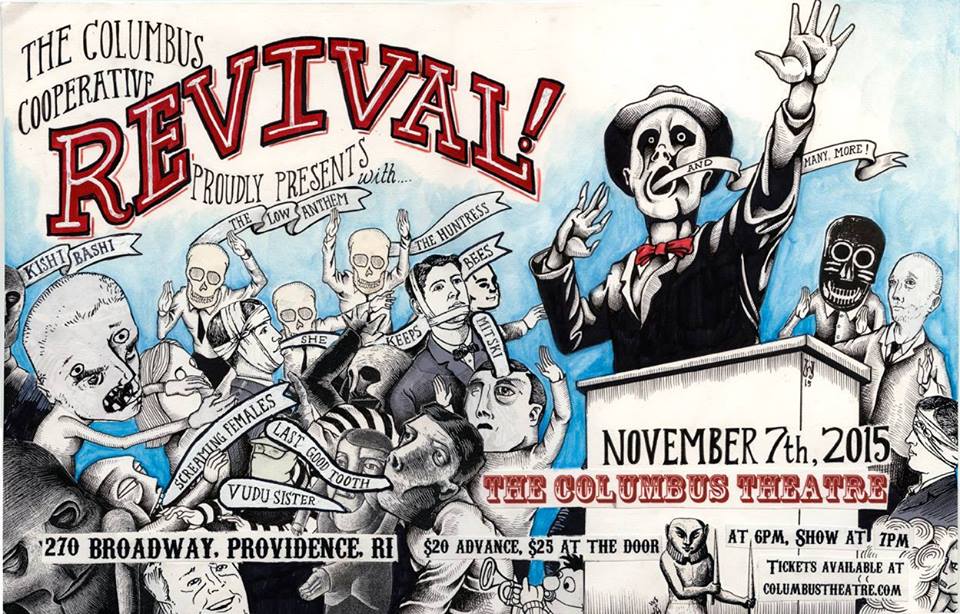 For Columbus Theatre loyalists, 2015 is a year worth celebrating. John C. Reilly returned for a second show in February, Brian Blade recorded an album there last month and The New York Times' T Magazine featured a glowing story about the venue back in March — not to mention more than sixty memorable performances by local and national acts.
And while the year isn't over just yet — hello, Patrick Sweany and the Silks — it's time to salute Providence's venerable theater that could. On November 6 and 7, head to Pre-Vival and Revival, two nights of music that mark the Columbus Cooperative's third anniversary at the theater, which sat dark from 2009 to 2012. In the summer of 2012, the Cooperative got involved, and its members hosted the first Revival show the following November. The marquee has glowed ever since.
Here's the lineup:
PRE-VIVAL, November 6, 7 p.m., $10 in advance, $12 day-of
Cannibal Ramblers, a rollicking blues trio from Providence
Roz and the Rice Cakes, prog pop from Providence
Tall Tall Trees, indie folk from NYC
REVIVAL, November 7, 7 p.m., $20 in advance, $25 day-of
Headliner: Kishi Bashi, psychedelic electric violin
The Low Anthem, the Columbus's resident band
The debut of the Huntress (read a Q and A with the Huntress's MorganEve Swain here)
Screaming Females, three-piece Jersey punk
Mitski, angsty electric rock
She Keeps Bees, a male-female rock and roll duo from Brooklyn
Last Good Tooth, a funky indie band from Providence
Vudu Sister, modern Providence's answer to 1990s grunge
The night also includes special Barbershop performances curated by Fort Foreclosure, an art and music space run by Revival poster artist William Schaff, with music by Twain, Mal Devisa, EDT, Home Body, Ian Fitzgerald, INFJ, Jacob Augustine and others.
Buy tickets for Pre-Vival here. Buy tickets for Revival here. Columbus Theatre, 270 Broadway, Providence, columbustheatre.com.