On the Job with Jennifer Brinton, Grey Sail Brewing Company
Jennifer Brinton balances motherhood with running the family business at Grey Sail Brewing Company.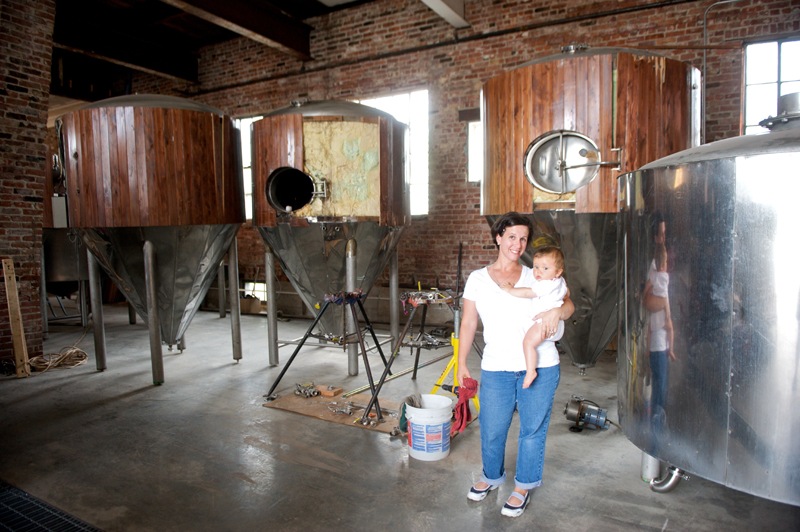 Ever wonder what it takes to start a microbrewery? It starts with a love of beer, of course.
The idea was always in the back of Alan Brinton's mind even before he met his wife, Jennifer. But it was Jennifer who took the initiative to develop the business in 2009.
The couple had married, had three children, and Jennifer had been a full-time mom for eight years. "I was thinking about doing something new, something different," says Jennifer, a former engineer and part-time wedding planner. "I was ready to go back and do something full-time, so I brought up the idea of starting a microbrewery."
It took two years to get everything in order-from finding the right building to buying equipment and supplies — and in the middle of making their dream a reality — Jennifer gave birth to their fourth child. The first lease space in Stonington, Connecticut, fell through. But that was a blessing, because it enabled them to purchase the building that once housed the Westerly Macaroni Manufacturing Company. They named the brewery Grey Sail in honor of Jennifer's early morning trips to Misquamicut beach, where she enjoys watching the mist surround sailboats on the ocean.
On November 11, 2011 they began brewing their first batch, Flagship Ale. About a month later, the cases of canned beers were ready for distribution. The crew loaded up the box truck, which Jennifer is proud to say she drives, and they drove to a warehouse in Cranston. "It was a ceremonious occasion," says Jennifer.
Beer varieties, which include the Flagship Ale, a winter/spring season porter called Leaning Chimney and their newest offering, Flying Jenny Extra Pale Ale, are available in thirty liquor stores and forty bars and restaurants in Rhode Island and eastern Connecticut.
Like any good craft beer, it took a lot of hard work, time and determination to perfect, but business at Grey Sail is finally brewing.
Editor's note: Watch the video to learn more about Grey Sail, and pick up the first issue of Brand RI for another article the goes into greater detail about the business.
Grey Sail, 63 Canal St., Westerly, 212-7592, greysailbrewing.com.
Grey Sail offers tours and tastings every Saturday from 1-5 p.m., and will also offer samples at the Newport Craft Beer Festival on April 28 from 2-6 p.m. at Great Friend's Meeting House Lawn in Newport. Tickets are available at newportcraftbeerfestival.com.