On Fertile Ground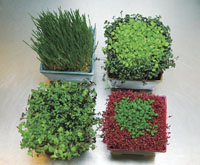 OLD MACDONALD HAD A FARM, but it wasn't in a recycled jewelry manufacturing plant in Warwick.
Lauri Roberts has a farm—in an industrial area off Jefferson Boulevard, a paved paradise of parking lots frequented by the rumble of truck traffic. Her place is called Farming Turtles, and when I heard about it, I couldn't help but wonder: could this really be a farm?
I had to check it out.
As I drove up to the rear door of a bland one-story fac-tory building, I didn't pass any signs of typical farm life: no cows, no ducks, no sheep, no pigs. No e-i-e-i-o. No turtles, either. Inside, however, I discovered amazingly flavorful and truly gorgeous microgreens set out on floor-to-ceiling racks, some protected by blue tarps and others receiving a gentle mist shower, tended by a passionate grower and a dedicated "field crew."
This, dear readers, is urban agriculture: an indoor farm (yes, a farm) combining the personal, hands-in-the-dirt attention of human beings with automated light, temperature and water control systems that allow for harvesting through winter or summer, snow or sleet, rain or shine, 365 days a year. According to Lauri, who designed the systems that fill every inch of her 3,500-square-foot space, and her office, too, "We are totally fooling around with Mother Nature here."
Farming Turtles' crop consists of baby greens, wheatgrass, and microgreens—herbs, vegetables and flowers in the cotyledon stage (in other words, newly sprouted plants that have just grown their first set of leaves). Actually, in the food world, the term microgreens generally refers to plants with their second or "true" leaves, so Lauri's greens might be called micro-micros, or pre-micros, or sprouts. She buys from Johnny's Selected Seeds, the Maine-based creme de la creme of seed companies, whose or-ganic and heirloom varieties, Lauri says, are great for micro. "I need clean, healthy seeds that germinate quickly," she says.
Densely planted (two to three ounces of seed per four-by-four-inch container packed with Moo Mix, a certified organic sterilized soil from Vermont), these plantlets offer a burst of pure flavor, the essence of how the plant would taste if left to mature. Imagine a two-inch celery sprout: distinctive celery flavor, without the stringy stalk. Or beets, without the red stain on your fingers. Or kogane, without the…what exactly is kogane, I had to ask. Oh, Chinese cabbage—without the gas.
For cutting-edge restaurant chefs, Lauri grows more than two dozen varieties of herbs and vegetables, most no more than fourteen days old. Some are familiar garden plants: cilantro, arugula, kale, basil, kohlrabi, broccoli. Less common varieties include tatsoi, mizuna, green wave mustard, amaranth, bull's blood beets, China rose radish and daikon. "I'm still doing a lot of experimenting," she explains, "with things like asparagus, mint and leeks. I'll try anything!" In an informal taste test, I could identify cilantro, cumin, mustard, and a few varieties of basil (Genovese, Thai, cinnamon and lemon) that tasted exactly like the herbs in my garden, though I wouldn't have recognized the plants, which were only a few days old.

RAISED IN UPPER-MIDDLE-CLASS Scarsdale, New York— neither farm country nor urban—Lauri Roberts graduated from Brown University with a degree in environmental studies. After serving as director of development for School One, an alternative school in Providence, she moved to Chicago to work as a community organizer for Greenpeace, but left frustrated after a few years. "The nonprofit world drove me crazy because I'm an efficiency freak," she explains. To earn rent money, she took a job driving a delivery truck for a woman who grew sprouts. Two months later, the woman approached Lauri about buying the company, and a farmer was born.
For a role model, Lauri looked to her father, whose successful musical instrument rental business is based on personal service, attention to detail, and a niche-market product. Yet, for the first six years, she didn't make a profit. "One day," she recalls, "I realized that it's okay to make money! And from that moment on, business became this incredible game. Could I have happy employees? A good product? Could the company make money, and could I make a better-than-decent living? And could I also be doing good for the
community?" Lauri grew her business through instinct and a talent for marketing. She figured out how to work with distributors, manage employees, and run a company both ethical and profitable.
The business exceeded her expectations, but Lauri never fell in love with Chicago; fifteen years later, she sold the company and took two years off to travel, relax and plan her next move. That move was to Wickford, and Lauri was eager to get back into business. She located a space, outfitted it for indoor horticulture, and in fall 2005 her first product—Pet Salad, a nutritious wheatgrass for cats, dogs, birds, rabbits, iguanas, rodents and, yes, turtles—came to market. Wholesale customers clamored for more, and Lauri decided she wanted to diversify her products. So she scrambled, re-searched, tested, and came up with the idea for microgreens, sold in a way nobody else had tried: still growing, in pots, snipped on demand by the customer, the freshest possible greens on the market.
With wholesale distribution channels in place to serve her Pet Salad accounts, Lauri began to truck her microgreens to markets and restaurant clients in Boston and New York City. As the business grew, she needed to increase capacity, in terms of both farm land and farmhands.
Believe it or not, Farming Turtles' location in an industrial park provided the solution to both of those needs. Lauri's landlord offered additional space, which he will build out to fit her needs over the next year or two, in an area convenient to the state's planned railway expansion. For labor, she looked to the manufacturing facilities across the road. At the end of each shift, she'd go out into the parking lot with flyers in hand, asking the factory employees if they had relatives looking for work. She had recruited plenty of women to do the delicate work of planting the seeds; now she needed strong young men to maneuver the heavy pallets of plants.
Her new farmhands are, for the most part, high school dropouts who didn't thrive in traditional schools, and who are turning their lives around with Lauri's training and encouragement. "My long-term goal was always to work with kids," she says. "In fact, one of the reasons I start-ed this business was to pay for me to go to school for my master's in social work."
Manager Hector Rodriguez, age eighteen, exemplifies the Farming Turtles em-ployee. His parents immigrated from the Dominican Republic, and Hector spent most of his life in New Jersey until the family moved to Providence. A teenage father who admits he "didn't really do well in the regular schools," Hector began working for Lauri nearly a year ago. "I always thought I'd grow up to be a baseball player!" he says with a laugh, when asked if, in his wildest dreams, he'd ever imagined himself a farmer.
Lauri insists that all of her employees work towards their GED (when she gets enough kids working on the same shift, she says, she plans to start onsite GED classes), and Hector knows that once he has his degree he'll earn more money. In the meantime, he loves his job and he's learning new skills, including doing the actual seed planting: "I guess I have good hands," he says with obvious pride.
Farming Turtles introduced three microgreens combinations to local retail customers late last year; you can find them in the produce department at Eastside Marketplace in Providence, and at selected Dave's Markets throughout the state. With plants selected for flavor compatibility and growth rate, each box is a four-inch-square living, breathing work of art. There's Firecracker Zest, a spicy blend of arugula, bull's blood beet, red cabbage, kogane and mustard microgreens; Purple Passion, filled with savory baby red cabbage; and Asian Blend, a mix of purple kohlrabi and kogane.
The only tool you need for cooking is a pair of scissors. Snip the tiny plants close to the soil line and sprinkle on salads, sandwiches and soups. But be warned, you may in fact find your microgreens far too beautiful to eat. In that case, purchase a custom-sized ceramic container, made by Pottery Wheel in North Kingstown especially for Farming Turtles, and turn your greens into a beautiful, edible centerpiece.
Farming Turtles microgreens, $3.99 to $4.99 per box, www.farmingturtles.com, 921-4498. Check website for retail locations, ceramic containers and new products. To contact Lydia Walshin directly, email lydia@ninecooks.com.