Oh, the Grandeur, the Intrigue!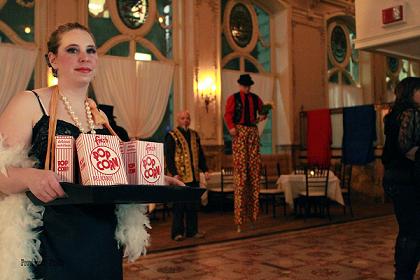 Stilt-walkers! Jugglers! Tarot card readers!
Curiosities took over the Dorrance Saturday night for Chifferobe Cabaret's Cirque de Ville, a Parisian-inspired circus filled with enchantment, seduction and plenty of popcorn and candy cigarettes.
Guests stepped out of Providence's twenty-first-century bustle and into the decked-out Dorrance, a stunning picture of the vaudeville days of the early twentieth century all on its own; the restaurant's soaring ceilings with rich period details, stained-glass windows and dimmed lighting set a charmed mood for Chifferobe's grandest event yet.
Even more decked out were the guests, who, by the hundreds, showed up head-to-toe in turn-of-the-century attire. Women came clad in veiled hats and bejeweled dresses and men in newsboy caps and classic, three-piece suits — not a denim pant or pair of black leggings in sight.
But the best-received accessories of the night were drinks off the Dorrance's infamous cocktail list: The Westminster Revival, the Harvest Moonshine and the Rye Generation fueled the already festive atmosphere, bringing the crowd back to a time of cool, effortless fun. And the boozy snow-cones did the trick, too.
Once guests settled in, ringleader Miss Wensday and her band, the Cotillions, got everyone hot and moving on the dance floor. Special performances by the TropiGals and fire hula hoop wonder, Justina Flash, just got everyone hot.
But the performance area wasn't the only place packed with allure: Surprises were hidden around every corner, from a tarot card reader on the balcony, a tucked-away Providence PinUp photo booth and enchanting Chifferobe girls propped atop the Dorrance's revolving entryway door for all to see.
Mingling within the crowd were gypsy jugglers, a tall-man on stilts, charmer Bwana Iguana and his snake, Miles Long, and seductive hostess Kristen Minsky, the woman behind Chifferobe and all the grandness it inspires.
In great news to all of us who secretly — or, in my case, not so secretly — wish to be launched back to a different era (watch: Midnight in Paris), Minsky says the splendor of Cirque de Ville was only the beginning.
Aside from regular appearances around town, Chifferobe will take over the Dorrance again in mid-April for another costumed affair, In Cleopatra's Company. If you missed the opportunity to flounce about like a Parisian at Cirque de Ville, you certainly won't want to skip on the chance to walk like an Egyptian.
Full details will be available soon on Chifferobe's website.