Ogie's Trailer Park
Cool cocktails and decadent comfort food at this Providence hotspot.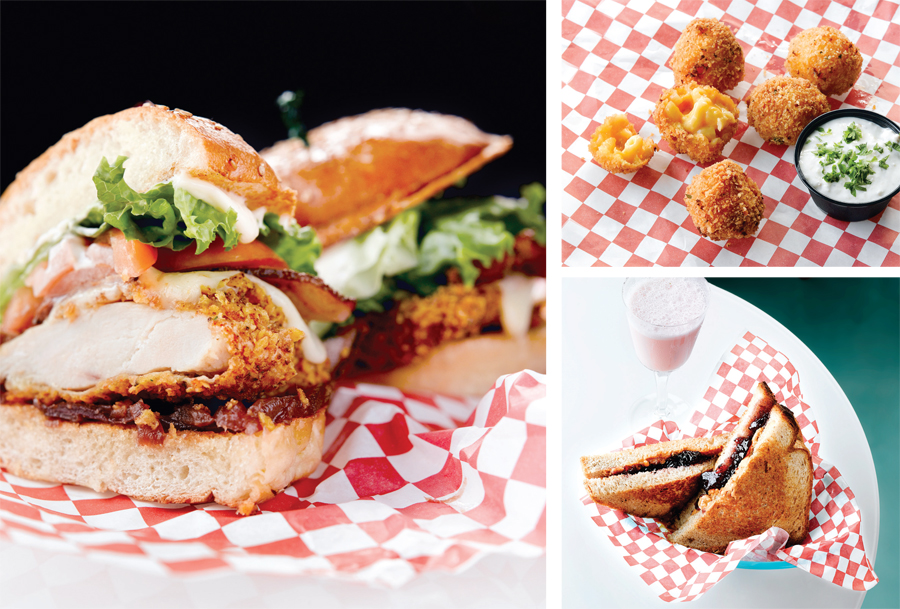 Clockwise from left: Southern Rhody fried chicken sandwich with Dorito-fried chicken breast, slab bacon, house mayonnaise, cheese, marinated tomato and sweet red onion gastrique. Mac and cheese croquettes with onion cream dip. The grilled PB and J.
1155 Westminster St., Providence, 383-8200, facebook.com/ogiestrailerpark. Open daily for dinner, weekends for lunch (seasonal). Late night every night. Wheelchair accessible, but not easy. Lot parking. Cuisine Your elementary school dreams come true. Vibe "Mad Men" goes gritty. Prices There are no real courses when you're eating tater tots: $3–$12. Karen's picks Southern Rhody fried chicken, Granny Boo's badass burger, anything with melted cheese, a cocktail that you should be drinking in vintage clothing.
Key
Fair
Good
Very Good
Excellent
Half-star
Welcome to a kinder, gentler trailer park, one flanked by a yoga studio and doggie club that seeks to support your canine by way of supervised socialization. Providence's West Side community is all about the love and Ogie's Trailer Park is at the front of the pack, offering free kisses. Owned by Duck and Bunny's Dan and Jessica Becker, their newest venture is less a fully fledged throwback and more a warm and fuzzy time warp in which a small plot of the 1950s was thrust forward sixty years.
The aesthetic is staggeringly authentic, particularly for those who lived through the era of emergent suburban sprawl and the rabbit-eared television. Clad in HoJo's turquoise and orange, Ogie's celebrates the laidback life but insists on doing so in a highly stylized manner. Seating in the entryway looks as if it was pilfered from under the noses of Cleaver teenagers in a distant wood-paneled basement. Vinyl siding makes an appearance, latticed concrete partitions the space, and a back door leads to the trailer park proper: a collection of brightly colored chairs scattered under awnings to mimic the great American mobile yard. Adding to the effect is the butt end of a trailer and a scattering of picnic tables so that you play resident or visitor in the virtual residence. But the clear centerpiece is a dramatic twenty-seat bar with tufted aqua stools at its perimeter and a bevy of vintage sea urchin chandeliers overhead. Lava lamps pulse languidly in the dark for the even-keeled crowd. One might imagine that time has stood utterly still here, a vestige of some lost era in which neon creme de menthe Grasshoppers sit pretty next to maraschino dotted Hurricanes. Well, one might claim it if the crowd were full of Joans, Bettys and Peggys.
But it eventually becomes obvious that Ogie's is homage rather than replica, the evidence lying with their regular diners and, more often, drinkers. Androgyny is key here; a well-gelled coif looks good on anyone and body art is as common as clothing. Age, incidentally, isn't a variable. Hip toddlers are as welcome at the picnic tables as their grandparents are at the bar. One warm night, a couple with more than a passing resemblance to the Versace siblings (New England edition: short-shorts, top bun, gold sandals and rawhide skin) ruled the bar with as much authority as enthusiasm — and even the bartenders were quick to pay deference. "Another Juan Collins," the Donatella doppelganger rasped to a young man with a large beard, draining the tequila as soon as it arrived.
Of course, things at a trailer park run a little differently than in the outside world. On the occasional Sunday, servers might be obsolete and you're on your own. Such independence is overwhelming if the rules were not so well-defined. The bar will run a tab but food comes out of a pass-through window only after it's been paid and always in plastic baskets.

Understandably, the food has as much character as its surroundings. But that doesn't mean it's dressing up for the likes of you — unless your idea of a dream date is something submerged in hot oil. Everything on the menu is offered with a humored wink and most dishes come with a crunchy exterior. Why would you deep-fry chicken in Dorito crumbs and wedge it between slabs of bacon and sharp American cheese ($12)? Hellooooo: because it's American. It's the world before we counted cholesterol, where tobacco was socially acceptable and when even grilled cheese called for a cocktail. (Yes, you can get that out of Ogie's kitchen window; yes, it does taste like an idyllic childhood; yes, it's really just molten cheese and crackers so you might as well order wine and glug it down in a mason jar.)
Sure, there are a few items that don't quite evoke the past or represent the present. A grilled bratwurst with horseradish cream buried in a sub roll ($8), for instance, will only make you long for a hot dog. But the mac and cheese croquettes (from the French area of the trailer park) served with bacon onion cream dip ($7) is a thousand shades of hell yeah.
It's as if the Beckers decided they were happy enough with their Wickenden Street, crepe-stuffed lifestyle until Saturday night reared its head and demanded something more indigenous and perhaps even a little dirtier. Chef Dan Hultquist grills up a collection of oozing PB and J options that encase the exotic (flambeed bananas), the indulgent (Nutella) and the infantile (Fluff) — all of which are ordered on a dare and devoured entirely. There seems to be some social pressure that says it would be rude to insult the kitchen by eschewing their provincial tastes. Or it's the half-realized notion that these simple concoctions are the road back to our youth. After all, what's better than the ability to drink yourself silly while pretending you haven't yet joined the world of adult responsibilities? ("Mom! Make me another grilled cheese! And this time, I'll take a scotch straight up.")

Granny Boo's badass bacon burger.

Hultquist has also found the one last food that's on the cusp between childhood and the rest of our lives, that thin sliver where joy and angst intersect: the infamous, cooked-from-frozen tater tot. Dusted in spice blends, drizzled in truffle oil, or garnished in garlic, it's the Ogie's manifesto in bite-sized balls of starch. And if they initially seem like a culinary platitude, you only need to give yourself over to the portion of your soul that secretly longs for iceberg lettuce and white bread. The holy grail version is French Canadian: bacon strips, goat cheese, gravy and a sunny side up egg ($6). It's unwieldy and perhaps too decadent at first glance, though even a refined diner turned primitive once the egg was mixed in. "The messier it gets," she said with surprise, "the better it tastes."
That's Ogie's only real goal: to make this life as good as the one behind us. Whether that comes, as it did one night, in the form of sprinkled-covered cupcakes with a whiff of Hostess sweetness running through them or the familiar design of our past is beside the point. It's about capturing what tastes better with age. As another season rolls around the bend, maybe we'll get some layered Jell-O or a nut-covered cheeseball to go with our memories.