O&G Studio Launches Into Lighting
The furniture company recently released two Rhode Island-inspired lamps.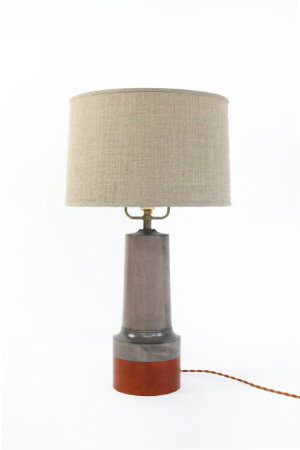 Furniture maker O&G Studio's customers range from their home base in Warren to flagship stores for Tommy Hilfiger throughout Europe.
Primarily known for their Windsor-inspired seating, the company recently launched a line of lamps with a Rhode Island identity that will likely appeal far beyond the Ocean State. The Tiverton and Point Judith lamps are made of solid maple, with leather inlays and antique brass hardware.
Company founders Sara Ossana and Jonathan Glatt have already been recognized by Vogue as two of ten contemporary designers to collect today, along with lots of other accolades. Ossana and Glatt talked about their experiences Thursday night at the Clambake, a monthly gathering of designers organized by DESIGNxRI and RALLY RI.
They met at RISD, where Jonathan studied jewelry making and Sara specialized in interior architecture and set design. They discovered a shared love of furniture, antiques and consignment stores. After graduating and working other jobs, they joined forces to form O&G Studio in 2008.
Working out of a 3,600-square-foot studio, the company now has a total of ten employees. They source all of their materials from within New England — much of it within a forty-minute drive from Warren within Rhode Island. And they handle everything from design to manufacture, shipping and marketing in house.
What distinguishes the company is its custom paints and finishes. Eighty percent of their clients are designers, and recent projects include the boutique hotel, the Inn at Hastings Park in Lexington, Massachusetts, and Eli's Kitchen, a new restaurant in Warren.
For more information about their work, go to oandgstudio.com.