Off to Work
No train, no bus, no painful car pool chitchat and all that unspent gas money? We went in search of busy people with easily commutable offices—as in just a few steps from their back door—to see how they pull it off.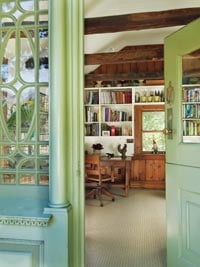 Federal Case
Sean Conway ran a nursery for thirteen years and now designs products for Target. His popular PBS show, "Cultivating Life," began airing a new season just last month. Given his media exposure and high-profile agenda (Martha Stewart is a fan), it's easy to picture Conway ensconced in a glitzy office. Instead every morning, the Tiverton-based designer walks from his house to the small nineteenth-century building he has transformed into his work space, literally, a hop, step, jump away. Built in the 1800s, the structure, once a general store, came endowed with a handsome beamed ceiling and a Federal-style portal. But long abandoned, it also had bees, all kinds of animals and a rotten floor. Conway gutted the building and recruited his brother-in-law, Brendan Kinnane, a cabinet maker, to restore the neglected door. "The door took six months of meticulous work and lots of money, but I think it was worth it," Conway explains. "It was originally the door to the Spencer Borden estate in Fall River, which was torn down to make way for Route 24 to Boston. The property's previous owner, Lloyd Lawton, a well known area landscaper, installed it here." Conway found the hand-carved granite fountain on the grounds too, had it plumbed and set it out front as a complement to his new plantings. Despite the ramblings of office mate Harpo, a gorgeous twenty-year-old parrot, Conway describes his office as a very restful place.

Parking Space
Newport photographer Madeline Polss had been working in her house, but with a husband who also keeps an office at home, space was at a premium. To remedy the situation and keep Polss close at hand at the same time, the couple turned their attention to their one-car garage. Doing all the work themselves, they added additional square footage, installed windows, sheet rocked and plastered. Even the handsome floor (pine boards carefully cut in varying lengths for additional character) and the beams are their handiwork, not to mention the brick path that threads the garage to the kitchen, the beds and borders or the lilac-colored garage doors. With plenty of storage for equipment and props and all the necessary utilities, including electric heat, the formerly hohum building has become a slick studio. In fact, Polss recently shot an entire chocolate cookbook, Making Artisan Chocolates, here. "I'd come in every morning and the whole place smelled heavenly," she says. We say paradise is never having to leave your yard.
Garden Ornament
"Our house is built on a tiny piece of land (.28 acres), some of which is pond, and was conceived as a village of buildings, one of which is my office," explains Watch Hill architect Lyman Goff. With a footprint of only fourteen by eighteen feet, the well-planned building contains a conference room on the entry floor with Goff's more private and airy studio above. At the front end, a stylish window, salvaged from the old Dartmouth gymnasium and still wearing its original green paint, ushers in light. "It's one of the many generational pieces that give instant patina to our complex," the architect says. A series of windows at the studio's opposite end maximize views. Administrative and storage areas are ensconced on the lower level, brightened with
natural light from the skylight well. "Although it has its own four walls, the office connects to heating, electrical and plumbing common to the house," says Goff. He set this building apart to provide, in his words, "psychological separation and a real sense of quietude and privacy." A pretty pergola links the postcard-worthy house and office, blurring the distinction and making the commute during the warm months when the flowers bloom even sweeter.
Doing Your Homework
If you're harboring visions of a home office removed from the fray, head first to your local town hall for information on what you can build and how an existing structure can be renovated; both will require a permit. Once you get the go ahead, according to Richard Ross of Ross Wood Works in Saunderstown, you'll have a lot to think about. First, money: to turn an average, say, twenty- by-thirty-foot, two-car, one-story garage into an office, Ross suggests budgeting a bottom line cost of roughly $8,000 to $10,000. "The final price will depend on how much you do. Adding running water, for example, or installing a heating system will raise the price," he says. "You'll also need to consider things like insulation, cooling, and most important, fire safety, especially if the office is located above a garage." Ross also offers some sensible alternatives for saving pennies: "Limit the number of windows and use the facilities inside the house."