Ocean State Panhandlers
As officials squabble over the root cause of panhandling, local men and women sign-fly for cash on the streets.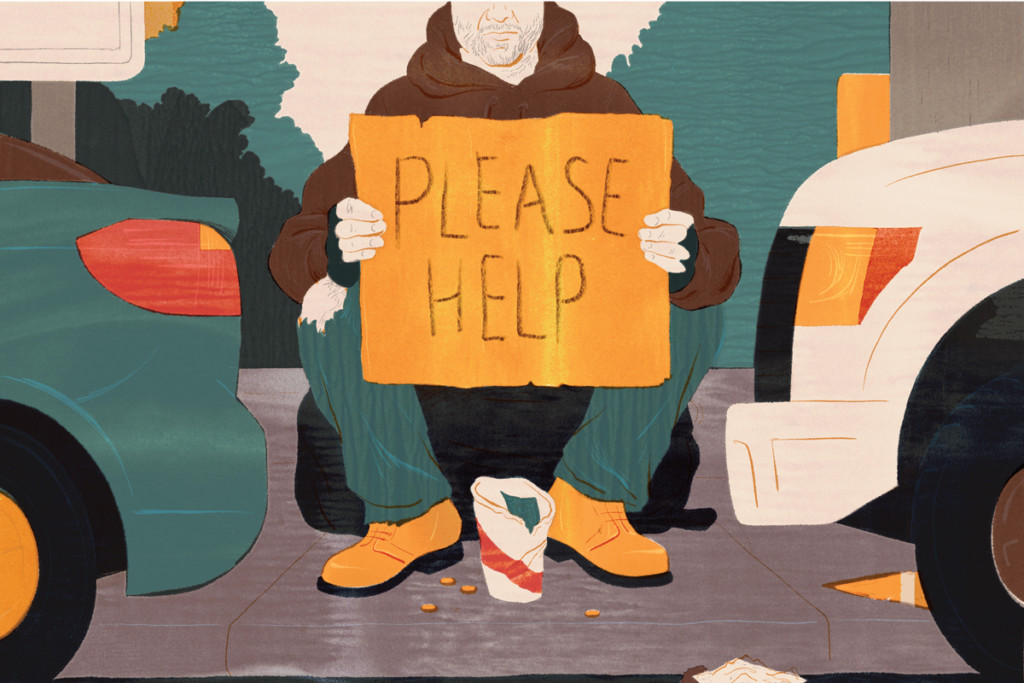 Darryl Brooks opens his arms as if to embrace the morning, hop-steps to the left and executes a wobbly turn. His audience of one flicks a withering glance his way from the other side of the car-door window and hits the gas.
Some panhandlers stand stock-still, staring into the distance for whatever flimsy hold on their dignity it may afford. Brooks dances. This small concrete island in South Providence, where Broad crosses Elmwood and intercepts Bridgham, offers multiple sightlines to commuters who may be inclined to reward his performance with some spare change. But this morning, no one cares.
Brooks grins sheepishly and shrugs. "It ain't workin'," he says. Perhaps the evening rush will be more fruitful. "In the afternoon, people are getting off work and they're in a better mood."
Brooks, fifty-four, has been homeless off and on for ten years; panhandling is his only source of income. After two days of rain, his pants and hoodie are still damp. His cardboard sign — "Homeless Vet. God Bless. Please Help." — is a sodden wad in his pocket. His bank — a KFC paper cup — is so mangled by the elements and the grip of a human hand that its ability to hold a dollar is in doubt.
Brooks's solicitations, however entertaining, are in violation of the city of Providence Code of Ordinances Sec. 16-20, "Prohibition against certain forms of aggressive solicitation," specifically the provision that bars "entering or occupying a roadway or intersection for purpose of soliciting the occupant(s) of a vehicle."
In the past, Brooks has been arrested and jailed for panhandling, he says. But Providence, under pressure from the Rhode Island American Civil Liberties Union (ACLU) and social service advocates, stopped enforcing the ordinance in February 2016.
Panhandling, however, remains a controversy. State and local lawmakers continue to search for the right combination of words that will stop the practice without violating the United States Constitution. Meanwhile, there are few efforts to attack the underlying conditions that compel public begging. Communities — and even homeless advocates — debate its significance.
"I look at it as a safety issue," says Karen Santilli, CEO of Crossroads Rhode Island, the state's largest provider of services to the homeless. "I don't support panhandling because it's not an effective way to end homelessness. And I have a problem with people presenting as homeless when they are not. It perpetuates the negative stereotype that homeless people are lazy and why don't they get a job? Many homeless people are working and don't want to be represented in that way."
According to the National Law Center on Homelessness and Poverty (NLCHP), laws that criminalize homelessness and poverty have risen dramatically in the last ten years. NLCHP has been tracking and analyzing legislation in 187 cities nationwide that prohibit a slew of activities, including camping, sitting, lying down or sleeping in public, food sharing, loitering, living in vehicles and panhandling. Since 2006, citywide bans on panhandling have increased by 43 percent.
These strictures only ensure that the homeless will stay that way, says Megan Hustings, interim director of the National Coalition for the Homeless. "These laws can lead to fines, arrests and arrest records — a real barrier to getting back into housing or getting jobs."
The crackdowns are a response to rising visibility of extreme poverty, says Tristia Bauman, NLCHP senior attorney. Policymakers have never adequately responded to the root causes of homelessness since it emerged as a national crisis in the 1980s. A lack of affordable housing, plus declining federal support for subsidized housing, have been exacerbated by the lingering effects of the foreclosure crisis.
"Rents are historically high. More people are competing for higher-priced units, and that is overburdening the system and putting people out on the street," Bauman says. "People are moving back into cities. Places that have been undeveloped, where homeless people resided, are now locations of artisanal cheese shops. The easiest thing for a local government to do is to turn to law enforcement to tell that homeless person to move elsewhere."
Rhode Island is a case in point. The state has been in the grips of an extreme affordable housing shortage for at least a decade. According to the United States Department of Housing and Urban Development, between 2015 and 2016, Rhode Island had the second-highest increase of individuals who experience homelessness, at 22 percent, and the third-highest increase of chronically homeless individuals, at 24 percent.
"The folks we work with are almost exclusively homeless," says Megan Smith, of Warwick's House of Hope Community Development Corporation. "The exceptions are people who are marginally housed, but are using sign-flying to make their rent or pay their utilities or to cover necessities like toilet paper."
The profile of extreme poverty rose in the early spring of 2016, when the Rhode Island ACLU successfully challenged a Cranston anti-panhandling ordinance as a First Amendment violation. The case settled in federal court in April of that year: Cranston rescinded the ordinance and the plaintiff, Michael Monteiro, a disabled man who was not homeless but panhandled to make ends meet, was awarded $1,500. In response, Warwick and Johnston stopped enforcing their anti-panhandling ordinances. An attempt to enact a similar ban in Newport fizzled. The panhandlers — also called sign-flyers — began to take up public space.
That prompted the Cranston City Council to try again, reframing the issue as a concern for the well-being of poverty-stricken citizens as pedestrians. The new version prohibits motorists from receiving or passing money or literature from a pedestrian in the road or on a median.
"We heard testimony from police that it's only a matter of time before someone steps into the street and gets hit by a car," City Council President Michael Farina says. "We don't want to wait until something terrible happens before we act."
Likewise, two state lawmakers — Cranston Democratic Representative Charlene Lima and Coventry Republican Representative Robert Nardolillo — offered bills in the last session to enact a statewide ban on panhandling. Lima's bill, for example, puts the onus on motorists and passengers, prohibiting them from stopping in "an active lane of travel" to give a pedestrian "any item including money or other valuables."
"The courts have said we cannot impede people's First Amendments rights, but it's clear that we have the right to pass traffic laws to keep our roads safe," Lima says.
In 2015, a United States Supreme Court ruling struck down a Gilbert, Arizona, ordinance imposing limits on signs with religious content. This led federal courts nationwide to apply a strict standard to laws that regulate speech by content. Municipal anti-panhandling ordinances in Colorado, Massachusetts, Florida and Maine fell. Steven Brown, executive director of the Rhode Island ACLU, says these latest iterations "are just as unconstitutional as the earlier versions."
Asking for money is a protected form of speech — whether it's a political party calling your home or an entrepreneur launching a GoFundMe campaign. Again, the ACLU filed suit against Cranston.
"Everyone sees this happening and they never give it a second thought," Brown says. "It doesn't change because you are asking people on street corners. There has always been selective enforcement. These laws are clearly aimed at poor people, even though the consequences can flow to other groups. There are better ways to help the poor."
In October, Amos House launched a program to do that. A Hand Up, a partnership between the social service agency and the city of Providence, offers $50-a-day jobs collecting litter on city streets to extreme low-income and homeless individuals. Amos House also connects its workers to housing, mental health and other social services. President and CEO Eileen Hayes modeled it after a similar program in Albuquerque. The city and the Rhode Island Foundation seeded it with $175,000 in grants for supervisors, cash payments and equipment. As of May, 185 men and women have joined the cleaning crews. There is a waiting list of eighty.
While officials argue about whether panhandling is a traffic safety issue or an income issue or a homelessness issue or a free speech issue, a man who only identifies himself by the initial J. wonders, "Why are they using police resources to harass and arrest us? We're just trying to make a couple of bucks. The reality is, you might make $30 — enough to survive the night," he says.
"I've been thinking about flying a sign that says, 'I'm homeless. Still human.' "