Nuts 'N More on Shark Tank
Meet the minds behind Nuts 'N More natural fortified nut butters, and check out their "Shark Tank" audition video.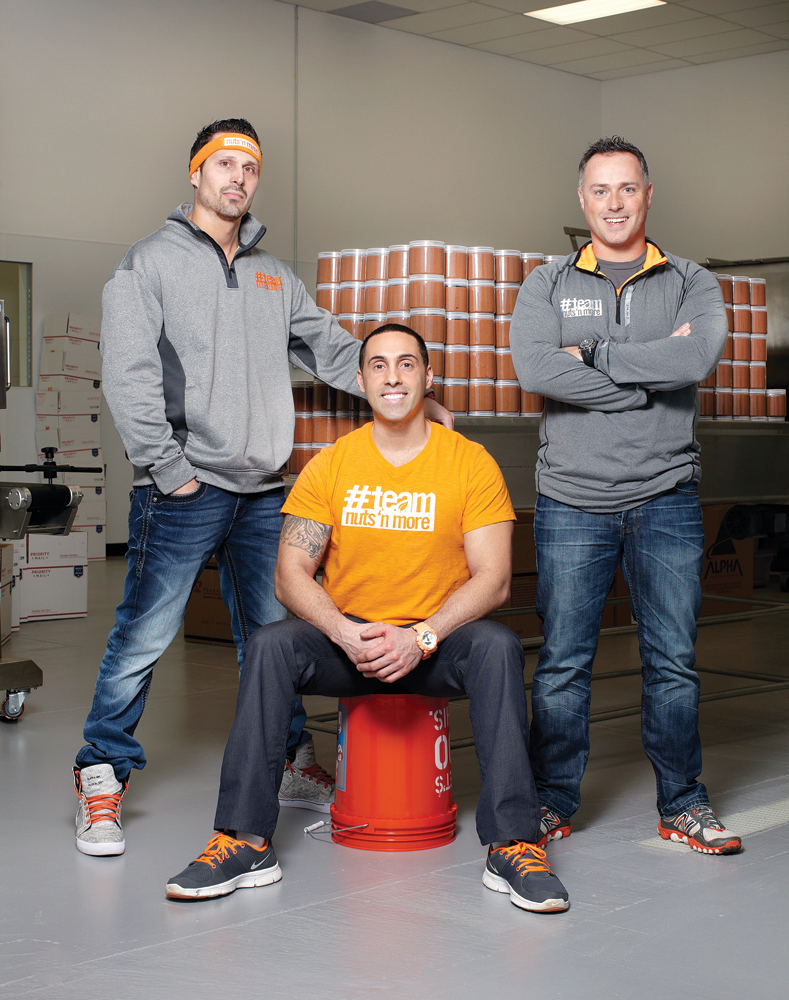 It's a weekday morning at Nuts 'N More's new 10,000-square-foot East Providence facility, and a tractor trailer is unloading 5,000 pounds of protein powder at the back door. "That protein will be gone in about two weeks," says Neil Cameron, co-owner of the company that creates natural peanut and almond butter that has fourteen grams of protein per serving without any extra calories or fat. "We go through about 30,000 pounds of peanuts every three to four weeks, and 6,000 pounds of almonds a week."
Cameron and co-founders Peter Ferreira and Dennis Iannotti grind the nuts into a fine paste, which gives their fortified nut butters an edge over the competition; it's easily spreadable. It comes in flavors like chocolate and toffee crunch. Cameron points to a mixer that can blend enough product for 2,000 jars in about fifteen minutes and they have another machine that can fill up to seventy-six jars a minute. But it wasn't always this way. When they first started, they'd stand over a mixer in Pete's parents' bakery, Silver Star in Fox Point, and hand scoop it into 150 jars, one at a time. "Now that we look back on it, it was the most ridiculous thing ever," says Cameron.
The new machinery was the impetus behind why Ferreira applied to be on ABC's "Shark Tank." Eight months after first sending an email, producers flew the trio out for the final audition. They were coached on their pitch, learning how to focus on key points that the investors would be interested in. "Walking out to that stage was the most surreal thing any of us had done," Cameron says.
They landed a $250,000 deal last year and a mentoring partnership with Dallas Mavericks owner Mark Cuban and Robert Herjavec, an investor who made his fortune in the technology industry. But the Nuts 'N More team didn't even have to tap into those funds right away. "Because of the show, we grew so quickly online that we were able to use that revenue to build and grow the company," says Cameron. Now Nuts 'N More is available in more than four countries and close to 4,000-plus retail locations, including Whole Foods and GNC.
"Shark Tank" returned to film at their new facility for a follow-up episode (view the entire episode on abc.go.com) that aired in January. Customer demand is increasing, and they've even launched a new protein powder made from milled almonds. "People in the health and fitness industry, they want those kinds of products," says Iannotti. "We've identified a void." nuts-n-more.com
Watch Nuts 'N More's original "Shark Tank" audition video.
Nuts 'N More from Neil Cameron on Vimeo.