Nuts 'N More Lands Spot on Forbes' List of Best Shark Tank Businesses
The Rhode Island-based company continues to grow nationally and internationally with the help of mentor Robert Herjavec and Deluxe small business marketing solutions.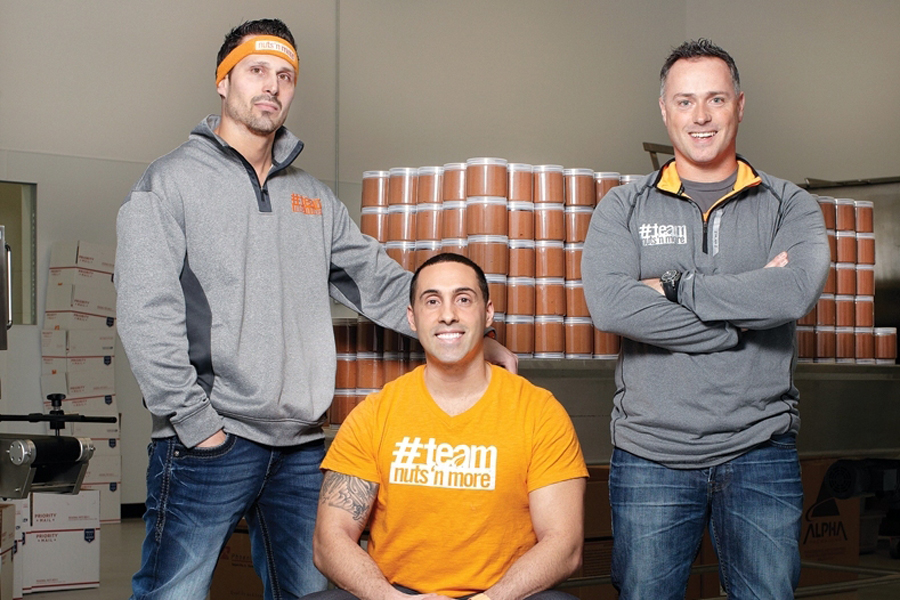 It all started in Peter Ferreira's parents' Fox Point family business, Silver Star Bakery. In the same space that mixes up Portuguese sweet bread and queijadas de nata in the early morning hours, Ferreira and Nuts 'N More cofounders launched the first line of a high-protein, fortified nut spread that would eventually capture national attention on ABC's "Shark Tank."
The trio of co-owners, including Ferreira, Neil Cameron and Dennis Iannotti, landed the original $250,000 deal through "Shark Tank," which came with a mentoring partnership with Dallas Mavericks owner Mark Cuban and Robert Herjavec. It's been more than two years since the business has expanded to a new 10,000-square-foot East Providence facility, while maintaining its Pawtucket storefront. And Herjavec continues to help the business grow, both nationally and internationally. This month, Nuts 'N More was named by Forbes as one of "Ten of the Best Businesses to Come Out of Shark Tank." The company was also acknowledged in a recent Bon Appetit article for its collaboration beer with Foolproof Brewing Company, also out of Pawtucket.
Herjavec is helping Nuts 'N More expand its reach even more by enlisting the help of Deluxe Corporation small business marketing solutions. Nuts 'N More is featured in Deluxe's new Behind the Business video series, which discusses how the marketing company helped them with search engine optimization and other techniques (P.S. See a cameo of our Rhode Island Monthly magazine article on Nuts 'N More at 1:23). It's all a part of the initiative Herjavec is taking to help small businesses through Deluxe's "Small Business Revolution" campaign.
Watch the video:
"I know firsthand the challenges that small-business owners face, which is why I turned to Deluxe," Herjavec says in a press release. "Behind the Business shows the value of empowering entrepreneurs to focus on what they know best, leaving things like marketing services to trusted partners like Deluxe."
The Behind the Business video tells the story of how Nuts 'N More began and explains some of the challenges they faced along the way. Now, in the internet age, they've been able to reach an international audience. "After 'Shark Tank,' everything's changed," says Ferreira in the video. "We were exposed to the mass market. There are people all walks of life reaching out to us all over the world, wanting the product."
Nuts 'N More is now available to people in some of the most unexpected countries in the world. "I think in their second or third year, one of their biggest markets was Dubai," says Herjavec in the video. "I mean, to me, that's incredible."
Deluxe has helped expose Nuts 'N More to that growth. "Today, because of the internet, you're competing against the world, so it forces you to up your game," says Herjavec in the video. "That's the great thing about working with Deluxe. Someone else comes in and sees the great opportunities that you may not, because you are so laser-focused on the opportunity and the problem at hand."
In the video, Deluxe's Amanda Brinkman says, "People who are looking for protein-rich spreads need to be able to find them."
The marketing help is allowing Ferreira and team to focus on what they love most about owning a business. "I love it because it's one less thing on my plate that I have to think about," Ferreira says. "My hopes and dreams for this company are just to keep growing, be a pillar in the fitness community and help people really attain those fitness goals. And this is just the beginning of that journey." nuts-n-more.com