Not Your Daddy's Voke-Ed
High school vocational training has undergone a reboot; now kids are learning work skills that make them job ready.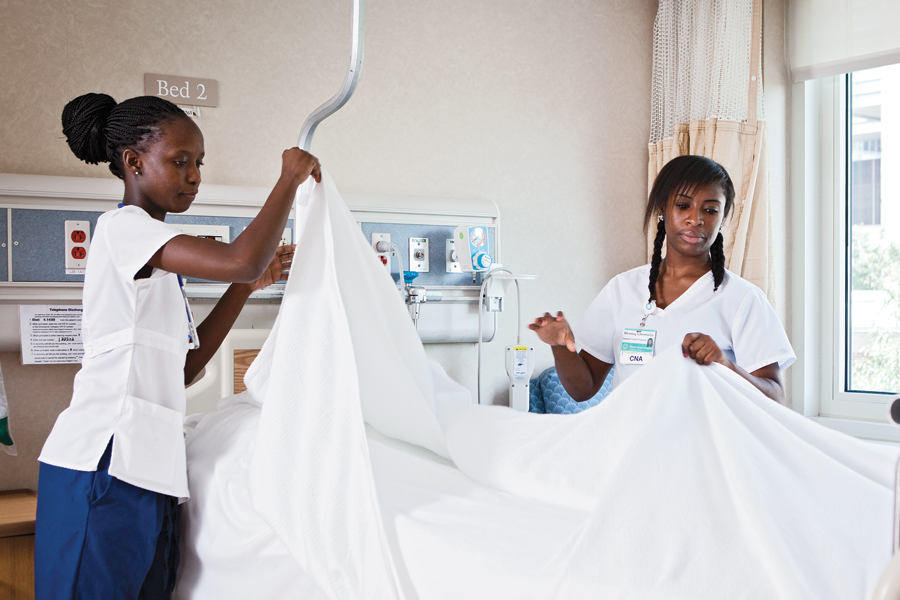 My own memory of high school, and maybe yours, runs like this: a college track for most kids, and for the rest, girls could learn to type on ancient clickety-clackety Underwoods, and the boys had wood shop, where every hammer and saw and work surface was covered in deep layers of sawdust. That might have been adequate for our fathers' generation, but it was already outdated for ours, and today's students must compete in a whole new world. High school graduates face steep college costs, unpredictable career paths and a tough global job market. At the same time, business owners here in Rhode Island complain about a skills gap, when they have jobs available but can't find qualified applicants.
Across our state, schools are addressing these new realities. High school students today are researching career tracks, learning how to create a resume and practicing interview techniques. Educators are focusing on soft skills, the basic job-readiness capabilities that employers look for — the ability to work with a team, to figure out problems, to set goals and get things done. Career awareness and exploration is considered a necessity for all students. And at the career and technical academies, the goal is to turn out graduates who are ready for both the work world and higher education. Students who make the most of these opportunities can leave high school not only with a college acceptance letter in their pocket, but also with on-the-job experience and industry credentials that can help them find careers in fields like health care, auto repair, boatbuilding, plumbing, computer technology or hospitality. Some might choose to go straight into an apprenticeship program or seek out a high-skill, high-wage full-time job after graduation, while others can find jobs that help them work their way through college with less debt.
In Providence, the shiny new Career and Technical Academy — which opened in 2009 and graduated its first four-year class in June — sits just off Westminster Street near Central High School. Inside, teachers and students have access to facilities light-years removed from dusty woodshops and noisy typewriters. In a professional-grade kitchen, students learn culinary skills; in a spacious hair salon, the public is invited in at bargain rates so cosmetology students can practice haircuts and manicures. Labs for electrical technology, plumbing and pipefitting allow for plenty of hands-on practice, and students in a graphic arts center create high-quality publications and produce videos. Classrooms are equipped with computers, and many of the teachers have years of experience in the fields they are teaching about.
"Essentially what we've done, is we've taken what you would find in a one- or two-year technical college program and we've employed that in the high school curriculum," says Luke Driver, district director of career and technical education for Providence schools. But it's not just a job-skills track. "All of our programs have an expectation for rigorous academic learning in addition to the technical training," Driver says.
Since 2006, schools in Rhode Island have been mandated to prepare students for both higher education and the working world, says Driver, and the options for students are expanding. In 2008, three programs in Providence schools offered industry certifications, and now there are eighteen. "Traditionally, public schools have not done anything for work-force preparation; it has not been part of their job. That's all changing now," he says. "We're growing by leaps and bounds."
State Education Commissioner Deborah Gist agrees that technical education is now in the midst of dramatic change. The statewide regulations that govern career education, which hadn't been updated in about twenty years, were revised last year, she says, with "new regulations that will be more relevant to the careers of today and of the future." Also, the state General Assembly's latest budget supported an extra $3 million in funding for career and technical education, and she hopes that will continue to grow. "We are working to create more opportunities for career and technical education not only in the tech centers but also in the regular high schools," she says.
Another recent important change, she says, is that K-through-twelve schools now are represented on the governor's workforce board, which wasn't the case when she came to the state in 2009. "The littlest Rhode Islanders grow up quickly," she says. "We want to be sure they leave high school ready for success."
Driver says one way he is working toward that goal is by offering courses that follow industry standards for jobs such as certified nursing assistant or electrician, to ensure that students are job-ready when they graduate. "We have advisory boards of business and industry partners to talk about the changing needs for the work force," says Driver. The curriculum offerings will evolve, he says, to keep up with that moving target. "We have to constantly check to see where the labor market is going," he says. "We don't want the labor market to change and when students graduate, there's no job for them."
Work-related programs are now found across the city, not just in the technical schools. A police and fire academy is in the works for Central High, and a teacher academy at Mount Pleasant is expanding. This fall, high school students in Providence can choose to study in programs such as visual arts, computer technology, business entrepreneurship, biotechnology, certified pharmacy technician, information technology, cosmetology, plumbing or pre-engineering.
Choosing a career path in high school may seem like a daunting task, but Driver says he'd like to see career awareness training start in kindergarten and move on to career exploration by middle school. Some students already know by seventh or eighth grade they want to be a police officer or a doctor, he says, and they should have the opportunity to get started on that path right away. Freshmen at the Career and Technical Academy cycle through a two-week introduction to all of the programs before choosing a pathway, and even then, they can change if they find it's not working out for them. "The last thing we want to do is have a student get stuck in a program when they don't like it," says Driver.
Joshua Zanni, a junior in graphic arts who is focusing on video production, took advantage of that option. He started out in the culinary program, but after a semester, decided it wasn't for him. Yet what he learned in the school kitchen really stuck, he says. This year he found his first job, working in a restaurant part-time after school. "I still use the skills I learned from that one semester. It definitely shows," he says. "My boss could tell I knew what I was doing in that kitchen." And he's excelling in his new track; in the spring, he won a gold medal in TV and video production in a statewide competition.
Technical education has evolved since the typewriter and woodshop days, not only in the content covered but also in the techniques used in the classroom. Students work in teams to solve problems and generate new ideas, and they compete for state and national medals to prove their expertise. They take college courses in law and engineering, and they get real-world work experience and credentials besides. Driver is a passionate advocate for offering these kinds of opportunities to all students across the city. "Employers are looking for workers who can analyze, evaluate and create," says Driver. "Our kids are encouraged to explore and develop those high-level skills."
High school students, from left: Joshua Zanni, Providence Career and Technical Academy; Laura Martinelli, now at Southern New Hampshire University, and Jeira Titin, now at Johnson and Wales, both grads of the Met; Tyler Soares, 2013 Tiverton High School grad, studying in RIMTA's pre-apprenticeship program; Southida Saykouman, Providence Career and Technical Academy and SkillsUSA national silver medalist.
Nearby, in Providence's West End neighborhood, the Met School takes a different approach. The school was created seventeen years ago and entered a partnership with the Big Picture Company, an independent nonprofit group with an objective to teach one student at a time. Big Picture now has launched more than seventy schools around the world, but the Met was the first one. "This is the mothership," says Joe Battaglia, director of curriculum/instruction and assistant superintendent. "We're an individualized CTE [career and technical education] program wrapped around each student."
The Met, officially known as the Metropolitan Regional Career and Technical Center, is a public high school that accepts students from across the state. It's now at capacity, with 867 students at three sites — the main campus on Public Street, a nearby building on Peace Street and a satellite site in Newport, where a new building is under construction. Each building houses no more than 140 students, and each works with an adviser to design an individual program of study. All students participate in internships and work with mentors out in the community, and they also can take courses at the Community College of Rhode Island while still in high school.
"Our students are traveling and taking college classes, and they're learning out there in the real world," says Nancy Diaz Bain, co-director of the school. "Our school aims to prepare them for the real world. They have opportunities to do whatever it is they're interested in." Advisers, mentors and students work together to ensure that each student is not only being challenged and learning every day, but also giving back to the work sites and volunteer mentors who provide them with hands-on experience.
The students usually spend two days at their internship and three days at school. Each adviser oversees sixteen to nineteen students and sets individual goals for each week and each trimester. Advisers and mentors work together to create the student's learning plan, and sometimes the student will find other adults to consult with, as well. A student interested in marine biology, for example, may seek input from far-flung professors or researchers.
Laura Martinelli, a senior, says the format has opened doors for her to pursue her interest in filmmaking. She worked with mentors to create a documentary film and learn to edit wedding videos, and in the spring, she interned on the Providence set of a major movie, Infinitely Polar Bear, starring Mark Ruffalo. She spent about ten days on the set, acting as a stand-in and helping to keep the area quiet during scenes. "It was awesome," she says. She also competed in a regional business-plan contest and won $900 toward the purchase of a camera. Even better, she says, "The president of Southern New Hampshire University was in the audience [at the business-plan competition], and he offered me instant acceptance and a four-year scholarship to his school to study filmmaking." He also offered her an internship making promotional videos for the school. "So this year has been, like, the best year of my life."
Sal Calise says he joined his local volunteer fire department in Scituate when he was fifteen, and decided that was where he wanted to stay, so he and his adviser created a program in fire science. "Now I have a job when I graduate," he says. "I'm going to work for the Providence fire department when I turn eighteen in September."
Jeira Titin wrote a business plan for her low-calorie cupcakes and presented it at a national business-plan competition in New York, where she took second place. "I got $750 in prize money to help start my business," she says. "I have a website and a Facebook page, and I've got clients already. And I got a scholarship to go to Johnson and Wales University, in the baking and pastry program." She'll be starting there this fall.
"The key thing is we don't try to push kids in any direction," says adviser Alicia Uth. "We expose them to things, and we just guide their interests. There's a natural progression that seems to happen."
Dennis Littky, co-director and founder of the Met School, says his goal is to focus on the skills needed to be successful in the real world. Everyone who is hiring workers, he says, will tell you they look for collaboration, creativity, critical thinking, problem-solving, adaptability, communication and initiative. "What they call the soft skills are really the hard skills," says Littky. "If you don't know those, you don't know anything."
A traditional classroom is not an effective place to learn how to launch a successful career, adds Littky. "The world is changing quickly," he says. "It's our obligation to prepare the kids to be successful in that changing world. There aren't any jobs where you're just learning out of a textbook. That's why I think what we do makes sense."
These changes are happening not just in the urban centers, but across the state. Out in the leafy suburbs of Lincoln, the William M. Davies Jr. Career and Technical High School serves students from six diverse districts, including Central Falls, Smithfield and North Providence. The school offers ten different technical programs, such as biomanufacturing, automotive repair, pre-engineering/robotics, health careers, graphic arts and telecommunications. The rigor in these programs is high. "People think a technical school is where students go when they're not good at school," says teacher Kristin St. Pierre. "That is totally not true anymore. It's a smart place for students to go when they want the best opportunity to succeed in both a technical program and in academics. It's twenty-first-century learning."
Blessing Gbemisola and N'deye Dabo are two of the Davies students taking advantage of those multiple options. Both will have certified nursing assistant credentials when they graduate, so they can work and go to college, and both plan to pursue advanced degrees in medical school. "Technical education is good because you have a foot in the door," Gbemisola says. "You have a trade under your belt, and you can either go to college or get a good job or do both." Both students planned to spend the summer working at Rhode Island Hospital.
The program is demanding and requires commitment, says Victoria Gailliard-Garrick, the school director. "The parents buy into it, the teachers buy into it and the students buy into it. If we're all on that same page saying they can do, then they do, and the kids are successful." St. Pierre adds that many students are weighing the decision to attend college very carefully now, because it's so expensive. If they can leave high school with job skills and advanced-placement college credits, it provides more options.
Like the other technical schools, Davies is expanding its partnerships with business and industry. Companies may donate equipment to the school, provide training and offer internships. Experts volunteer to sit on advisory boards for the school, and offer advice on developing certification programs.
One industry group that has created a strong relationship with schools is the Rhode Island Marine Trades Association. "We have a graying work force in our industry," says Jen Cornwell, RIMTA's workforce development coordinator. "Many people are retiring, so we need to build a pipeline of workers." Entry-level jobs are available, she says, generally starting well above minimum wage at about $14 to $16 an hour, and there are many opportunities to learn more skills and advance.
Youngsters ages fourteen to sixteen can take part in a six-week boatbuilding experience at Tiverton High School, where they learn hands-on skills in boat repair and construction. They're given an incentive of $90 a week, and besides working on boats, they visit potential employers, such as Hinckley Yachts in Portsmouth, and take a tour of the International Yacht Restoration School in Newport and Bristol, where they can learn about opportunities for more training. Cornwell also works with students in Warwick, Chariho and other schools to take them on field trips and on job shadows that showcase the options in the marine industry.
For students eighteen and older, RIMTA offers a hands-on, 205-hour, pre-apprenticeship summer training course that introduces potential workers to a variety of skills, from painting and varnishing to working with composite materials. "And it's free," says Cornwell. "They don't have to take on debt to pay for college, and they can come out of this free program job-ready."
Stories abound about young people who graduate from college laden with debt, only to live aimlessly in their parents' basements, fruitlessly searching for jobs. Career and technical training for everyone — starting as young as kindergarten and expanding to encompass both skills development and college preparation — aims to change that. "The old voke-ed is dead," says Luke Driver. The new paradigm aims to graduate students with enough flexibility to pursue multiple pathways — working, obtaining credentials and degrees, gaining experience and seeking out new opportunities.
The littlest Rhode Islanders grow up fast, and the world changes even faster. The voke-ed stereotype is a thing of the past, and in its place are new options that aim to give today's graduates the edge they'll need to succeed.