North
This small, new West Side eatery pushes culinary boundaries with a hip and challenging menu. Will diners follow?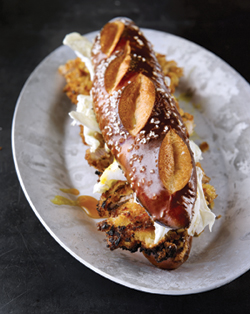 north
3 Luongo Sq., Providence, 421-1100,
foodbynorth.com
.
Hours
Open nightly for dinner and Sunday brunch. Tight quarters for a wheelchair. Street parking.
Cuisine
Pilgrims on a walking tour of Asia.
Capacity
Twenty at tables, six at the bar.
Vibe
Bar food with bravado.
Prices
Appetizers $6–$10, entrees $7–$101 (for a tribal portion); desserts $7.
Karen's picks
Oysters, vegetables and sandwiches, Big Boy Seafood Platter.
Key
Fair
Good
Very Good
Excellent
Half-star
There's something way funny about north — and I mean that in as hipster a manner as I can muster. It's as if three food-obsessed roommates were imprisoned in a large closet with little more than a hotpot, toaster oven and shucking knife and were told to cook for their freedom. Oh — and the inventory is whatever arrives inside the confined space: a goat, a pig, the occasional meandering octopus and a few chickens unwilling to be parted from their feet. In a sense, the three insurgent chefs (let's call them, for the sake of reality, James Mark, John Chester and Tim Shulga) take their challenge seriously but with a sense of humor and reckless abandon and who, in time, have embraced their captivity.
The physical kitchen at north, formerly Ama's and still as small, is an exercise in culinary masochism. Every meal calls for survivalist technique in which animals and vegetables enter a sixty-square-foot laboratory only to exit shortly thereafter disguised as a bad-ass version of themselves. The minute menu changes nightly and reads like a primer for those who begin sentences with "dude" and spend every summer traipsing around the world without an itinerary. In other words, it's a twenty top in perpetual search of an adventure.
The north trio shares a lot of culinary experience (Mark's resume includes time at Momofuku), as well as some pretty deep and requisite travel. The former may account for the brash persona but the latter spills out into every dish. For the most part, it's a marriage of core colonial ingredients and Asian preparation, making both, as the menu describes one dish, "way baller."
Aesthetically, not much has changed since Mark and Co. have taken over the space. The nautical theme remains as does the oyster bar in the entry. And, in case you're wondering, oysters are among the tamest thing on the menu, which runs the gamut from sandwiches and soup to massive seafood platters. Sounds simple but each dish — and several cocktails — show up looking like a game of Dare, an approach clearly celebrated and carefully constructed by the kitchen. Why serve a simple red wine when you can mix it with Coke? ("Damn. Delicious," declares the drink list.) It's the first of many offerings that fall somewhere in between that summer in Bangkok and last Saturday night at a frat party. If nothing else convinces you that the cuisine has one foot in the college years, the "toaster oven" snacks should do it. True to form, however, it's a cheeky confluence of ingredients in which oysters meet up with cojita cheese and nachos are covered in fried garlic and goat. Nothing looks particularly pretty, which is just fine with the house as they're after a slightly dangerous guise. The message is clear: this meal might throw you off and if that's the case, you have no one to blame but yourself.
That's not to say that the fundamentals are intimidating. If you're down with even a rudimentary level of experimentation, there'll be no problem and there's a lot of entertainment in unconventional pairings. Country ham on rolls is slathered in Korean mayo ($12) and the teaming of sandwiched fried eggs, braised kale and curry sauce ($7) is an instant late-night classic.
But watch out because the main meal is where stamina takes a front seat. Entrees include a couple of large dishes (deemed northFeasts) on the nightly menu, chosen from a streamlined repertoire of basic proteins. They feed up to four people and make their way to the table on plates large enough to evoke Monty Python's wafer-thin mint. There's humor in this kind of surplus, particularly given the size of the restaurant itself. Twice cooked pork in Malaysian red sauce with soft buns and charred long beans ($39) is the least shocking of the dishes. The pork ends up similar to a barbecued meat, charred in parts but made better with an earthy sauce and a sprinkling of toasted coconut. It's an elaborate sandwich bar on a really big plate.
Yet it's the fried chicken platter ($38) that takes some substantive liberties with Southern etiquette. Gone are the parasols and handkerchiefs; here sits the backyard beer party, complete with biscuits, braised kale and, yep, those pesky feet. There's really not much reason to keep them on other than for the voyeuristic thrill of watching people's faces — but that's part of the game at north: to see what you're made of. Exhibit B? The Big Boy Seafood Platter, which tops out at $101 once you add a five-pound lobster (or a couple of smaller versions), to the trough of crabs, clams and a whole deep-fried fish just hanging out on top of sauteed greens, eyeballs glazed over with oil. Oh, and in case you're wondering, the five-pound variation arrives in a full-sized wok. Served with a fork, a seafood cracker and a pile of coffee shop napkins (bibs are for the weak), there's no way to come out of this endeavor looking good. Garlic-infused broth will end up all over: you, the table and likely the floor. The only way to get past the shame is to embrace it, Snapchat it and wash it down with another wine and Coke.
Count on a slim dessert menu of one or two choices: persimmon and miso ice cream, or notably a buttermilk donut shaped like a log with its own holes parading around the plate like irreverent dough babies. There's no powdered sugar or jumble of berries on this plate; nor, at this point, would you expect to get off that easy. Pickled fruit, squash puree and tears of mint cover the plate with excess because that's the way north lives and breathes. If that's not the way you see things, you might as well stay home.