North to Open New Bakery This Spring
Baker Kelly Dull gives us the lowdown on sweet and savory treats.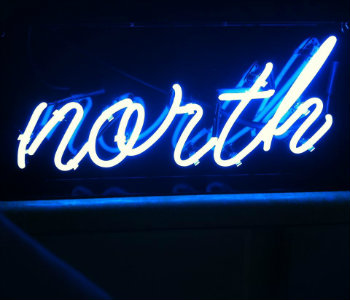 Good news for north restaurant fans (other than Monday's sold-out dinner with momofuku chef de cuisine Sean Gray). The owners are launching a new bakery this spring just a few minute's walk from the restaurant on the corner of Battey and West Fountain streets on the West Side of Providence.
The north bakery will bring more unusual items to the table. "There are a lot of great Italian bakeries around here, but we'll be offering something a bit different," Dull says. Right now, the secured location isn't anything but "a place where older Italian men hang out," Dull says with a laugh.
The idea began as a joke between longtime friends James Mark, the self-described "cook/owner/plumber/garbageman/shoveler/gopher/cat wrangler of north," and Cleveland-native Kelly Dull, who attended Johnson and Wales University together. Dull graduated in 2008 with a Bachelor's degree in pastry arts, but left Rhode Island to work in various establishments from fine-dining to large and small bakeries and catering and everything in between in places like New York City, Los Angeles and Chicago. Her latest gig was at Magnolia bakery in Chicago (yes, that's the Windy City location of the famous New York bakery).
When Dull and Mark both lived in New York, the friends played around with the idea of someday opening a bakery together. Mark approached her last month with an offer to make the dream a reality. "He convinced me to move," Dull says.
And move she did, a month ago, from Chicago to the West Side. Now she's working on menu development, serving up experimental recipes for savory scones like spicy cheddar scallion, lemon rosemary and garlic basil. "The boys at the restaurant get to eat all of them and they get really excited," Dull says. She'll also be helping out with pastry behind the scenes at north's momofuku dinner on Monday.
Treats will be dependent on the season, and spring will be ripe with individual fresh berry tarts using the fruits of local farms. They will also offer housemade granola, muffins, cookies, breads and breakfast pastries, as well as pickup salads and sandwiches for lunches on the go (check out @foodbynorth's Instagram for a sneak peek at some potential menu items). Dull learned skills from expert cake decorator Wendy Kromer of Martha Stewart Weddings fame, and she will be putting those talents to good use offering wedding and special-occasion cakes and pies available for orders.
Even though Dull happens to be a pastry chef, she says she doesn't have a sweet tooth. "I'm not much of a dessert-eater," she says. "I like the creative aspect of baking, the beautiful artistic side of it, but I prefer savory over sweet items. A lot of our items will be more on the savory side."
Bakery Twitter: @northbakery
Bakery Instagram: northbakery
north Twitter: @foodbynorth
north Instagram: foodbynorth
Kelly Dull Twitter: @kellydull