North Bakery Stays Open Late for Dinner
Experience a smaller, simpler dinner menu and well-curated beverage list Thursday through Sunday nights.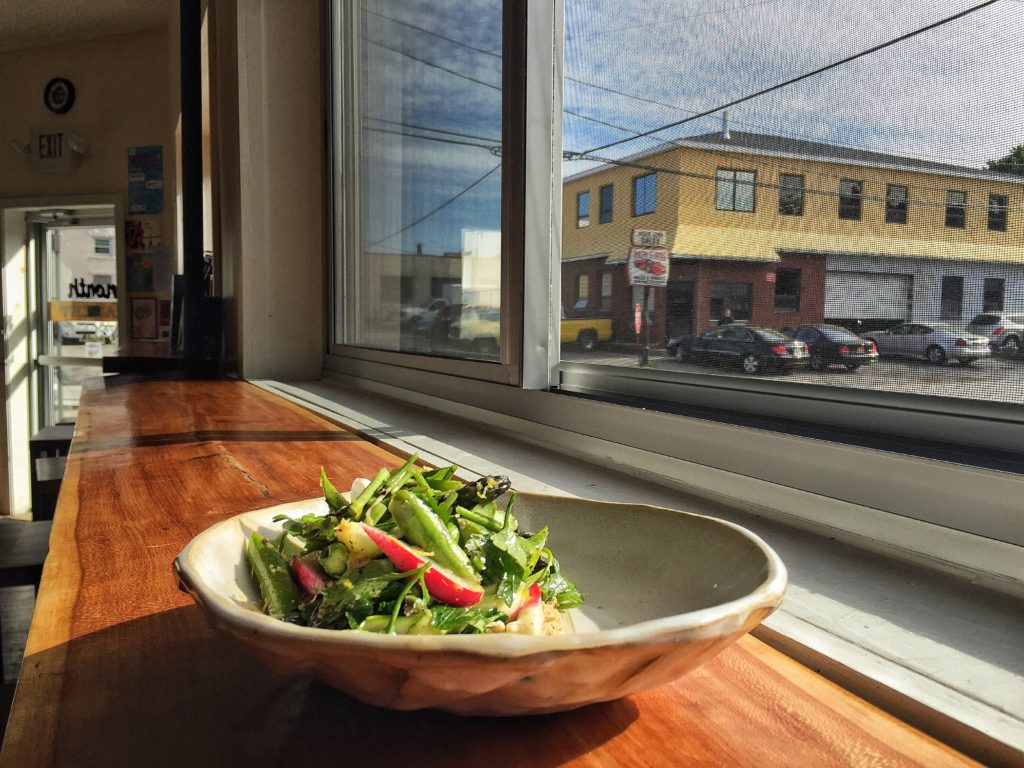 North bakery is keeping the lights on late. What was once just a stop for your morning coffee and pastry, a light lunch and sweet and savory snacks is now serving a simple dinner menu with beer, wine and cocktails. The restaurant will continue with its daily daytime hours of 7 a.m. to 6 p.m., but on Thursday through Sunday nights, dinner is served from 5 to 11 p.m.
Expect similar plates to nearby north restaurant, also owned by James Mark, but a much smaller menu with straightforward ingredients. "We want to do hyper seasonal, constantly rotating food in the same way we do it at the restaurant, just a little simpler so we can keep the prices down," says Mark. "Buying directly from farmers is a real thing for us – 90 percent of what's on the menu is directly bought either at the market or through relationships that we have established through the restaurant."
The outpost concentrates on making items in-house, including breads like pull-apart pretzel bread, hand-torn pasta served with asparagus, ricotta and pea greens and brown butter and pecan and chocolate chip/salted caramel ice creams. The wine, beer and cocktail list is also thoughtfully curated with unusual bottles. North Bakery serves five wines by the glass, one small format beer, one small format cider, four large format beers and four cocktails. Cheers to north bakery for giving us another option for worshipping untraditional cuisine. 70 Battey St., Providence, 401-421-4062, northbakery.com
See below for a sneak peek at the menu:
north bakery (nite)
dinner
bread
pull apart pretzel bread $6
green sauce, whipped ricotta, salt
vegetables
roasted asparagus $9
sunflower hummus, parsley, olive oil
leafy greens $8
olive dressing, seeds, cumin cracker, feta
meat
broadbent country ham $13
today's mustard & today's bread
sandwich
spicy roasted turkey $10
peanut curry, radish, cilantro
pasta
hand torn pasta $12
asparagus, ricotta, pea greens
sweets
frozen lemon curd $7
charred meringue, rosemary
ice cream and espresso $5.5
chai
brown butter & pecan
chocolate chip/salted caramel
north bakery (nite)
drinks
spirit + house tonic $9
lemongrass, star anise, ginger, allspice
athena fizz $10
montenegro, aperol, orange juice, seltzer
small axe $10
tequila, rum, rhubarb, vanilla honey, thai basil
north bakery old fashioned $10
rye whiskey, espresso syrup, lemon peel
wine
bubbles
oyster river wine growers morphos $10
field blend warren, me
white
s. moulinier pays d'oc $8
chardonnay saint-anain, fr
oyster river wine growers villager white $8
seyval blanc/cayuga warren, me
rosé
domaine vitriccie ile de beauté $8
field blend corsica, fr
red
le cantine di indie pulpo rosso $10
nerello mascalese sicily, it
beer & cider
cans
banner all nighter $5
esb
citizen cider full nelson $7
dry hopped cider
large
two roads bergamonster $22
unfiltered wheat ale w/ bergamot and lemon
buzzards bay moby d $12
altbier
allagash interlude $28
ale in red wine barrels
cambridge brewing co. triple threat $18
strong ale