No Exit
For six years, a Tiverton neighborhood has been paralyzed. Since toxic soil was unearthed, hundreds of residents are not allowed to dig on their properties, they're unable to move and the cleanup is stymied by legal battles.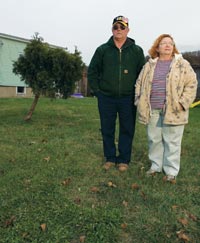 Purgatory is a neighborhood in Tiverton.
Not the Tiverton of summer homes and Bloody Marys aboard a yacht in the Sakonnet River but the side of town just south of the Fall River line, near Sip n' Dip Donuts and Buddy's Place diner. This neighborhood of proud ranch houses entered limbo in August 2002, after sewer construction crews unearthed cobalt blue soil beneath Bay Street. The soil was laced with cyanide and other hazardous materials that health officials term "probable carcinogens." After further investigation, residents learned that their homes were constructed on fill contaminated with waste from a coal gasification plant; according to soil tests, at least eighty-five properties in a fifty-acre swatch in North Tiverton are polluted with arsenic, cyanide, lead and mercury. Since that toxic discovery, property owners' lives have stagnated. They could use a summer home to escape to—and something stronger than a Bloody Mary.
Five years ago, the town issued a moratorium against digging on 130 properties (only eighty-five of those have been tested, but the remaining ones are thought to be contaminated as well), and at least 300 residents officially entered limbo. There is a lengthy list of what they can't do, a longer list of what they must do differently, and no one knows when the issue will be resolved. They feel trapped. No one wants to buy their houses, and banks won't loan them the funds to refinance. Meanwhile, there are a lot of behavioral and health disorders going around the neighborhood.
A dozen homeowners are gathered around a table at the Tiverton Community Center as the sun surrenders to dusk. ENACT, the Environmental Neighborhood Awareness Committee of Tiverton, meets biweekly to disseminate information about the contamination. The group also fundraises and produces stickers that read: "Bay Street Neighborhood: Total Clean-Up, NOT Total Denial."
In a deposition last year, Joseph "Jose" Souza testified that he worked on the crew that cleaned out coal gasification waste at the Fall River Gas Company and helped dump the material in Tiverton during the 1940s. No one knows when the dumping began or when it ended; estimates have ranged from the early 1900s until the 1960s. Fall River Gas was later acquired by the Texas-based Southern Union, and the Rhode Island Department of Environmental Management (DEM) determined that Southern Union was responsible for cleaning up the contamination. In September 2006, the DEM levied a $1,000 a day fine against Southern Union for failing to submit remediation plans. The company appealed the notice of violation; an administrative hearing on the appeal is pending. Three years ago, more than ninety families filed four separate civil suits against Southern Union seeking unspecified damages. That legal battle is inclined to limp along for years.
"For several years, my administration has worked to force Southern Union to clean up the pollution in Tiverton," Governor Donald Carcieri has said. "Unfortunately, Southern Union has done everything in its power to avoid fulfilling the company's responsibilities, including tying the case up in a hugely expensive and seemingly endless court process. In the meantime, the people of Tiverton have been made to suffer."
Bay Street is blue-collar country. Homeowners dirty their hands instead of paying others to work on their property, so they were the ones breathing and touching toxic soil. Some suspect their zip code makes them negligible. "We still haven't convinced people we're worth fixing," Gary Rose says, his voice rising at the ENACT meeting.
Because of the contamination, Rose has forgone applying for more lucrative positions at his company that would require relocating. "If this happened in Newport or if it were a toxic spill in Narragansett Bay," he adds, "politicians would be tripping over each other to get it cleaned up and get on Channel 10 news."
"The process should be first you fix the problem and make it safe," adds ENACT President Gail Corvello. "Then you go after whoever you have to for the money. But in Rhode Island that process is reversed. And Southern Union's strategy is halt, hinder and delay."
For thirteen years, Corvello, fifty-one, has operated Cozy Corner daycare out of her Bay Street home a half-mile from the gas plant. The business is licensed for eight children; before the hazardous waste was uncovered, she always had a wait list. "When people called to inquire about the day care, I always asked if they knew about the contamination," Corvello says, smoothing her sensibly short salt-and-pepper hair. "I understood why people didn't call back; I wouldn't bring my daughter here.
"It pains me terribly that children may have been affected when their bodies are forming," she adds. "I wanted everything to be healthy for them. I even had reverse osmosis filters installed on our taps and bought expensive stainless steel bottles so the kids wouldn't drink out of plastic bottles." She and the children grew broccoli, spinach, carrots, kale, pumpkin and zucchini in the yard. Corvello believed they were eating the fruits of an organic garden, but high-mineral vegetables such as spinach and kale are likely to absorb heavy metals.
In 2005, taxes on the tainted properties were reduced, but the compensation barely dents the homeowners' hardship. Like her neighbors, Corvello has sunk thousands of dollars into safeguarding her property. She invested about $7,000 in her yard. First she put foam tiles above landscape film, so water could go through the soil but not come back up; however, the wind scattered the tiles. She then bought artificial grass (which takes three hours to vacuum dirt from) and put down several plastic tarps to cover any exposed soil.
At her house near the bay, the wind dervishes most afternoons, but the Cozy Corner kids are panting to play outside. Corvello steps into the yard to listen for heavy equipment and checks for rustling leaves and fallen branches before heading outside with the children. "We can recognize the blue soil," she says, "but we've been told that it's what we can't see that can hurt us." On windy days, they limit outside time to no more than fifteen minutes, and on very windy days, they remain indoors since there's always the risk that a neighbor is digging despite the moratorium.
After splashing in the kiddie pool and scrambling on the play set, Jaeley, four, and Jackson, five, wipe their feet four times on mats outside and inside, then wipe their hands, face and neck with soapy washcloths. Corvello replaced her dirt-hugging, wall-to-wall carpeting with hardwood floors. She vacuums every night and morning and steam cleans the rugs once a month. Between the daycare center, her ENACT responsibilities and cleaning, it feels as though she juggles three jobs. She speaks at a staccato pace, as if there's not enough time to convey her thoughts.
"It's not what we have to do differently; it's the things we can't do that hurt," Corvello says. "I always used to host our family for holidays. In the summer, we'd put up the volleyball net, play bocce ball and swim in the pool. I finally took the pool down because I couldn't bear to look at it. Family and friends don't want to come over because of the contamination, though they never say that's the reason."
A few neighborhood dogs have died of mouth cancer,
which could have been caused by licking polluted paws.
Corvello has weathered the spin cycle that one endures after a grave injustice. Her denial morphed into hurt and then anger, which melted to sadness. "Southern Union treats us like a dollar figure," she says. "We're not real people; we're just a pain in their neck. Officials tell us they understand and will do anything to help, but when push comes to shove, they don't help. But often their hands are tied. It's very depressing. My husband developed this apathetic attitude. He felt worthless because this property we had worked so hard on had no value."
By the fall of 2007, Cozy Corner's enrollment had whittled to one full-time and one part-time child, which equaled an income of $260 a week. With a $2,100-a-month mortgage, Corvello was forced to close the business and look for work outside the home. "But what are my chances of finding a job when it's in the media that I'm sick?" Corvello frets. "What are my odds of getting health insurance?" In late December, she reopened the daycare but still needed more kids to make it profitable. "This is what I was meant to do," she says. "To help children learn, to help them grow."
Both Gail and her twenty-four-year-old daughter, Becky, suffer from auto-immune connective tissue disorder; in layman terms, their immune systems do not function properly. "These chemicals have nasty effects on their own," Gail explains. "But there's a synergistic effect when they're combined." According to the Brown University Superfund Basic Research and Training Program, "contamination of soil with heavy metals, such as lead, cadmium, mercury, and zinc, volatile organic compounds, arsenic, cyanide, and total petroleum hydrocarbons can pose serious human health risks, including increased risk of cancer, chronic and acute respiratory disease, as well as behavioral and cognitive impairments."
Becky treated the severe joint pain from her connective tissue disorder with a cocktail of painkillers and steroids. She finally had to take a medical leave from graduate school at the University of Rhode Island because of the painkillers' side effects.
Instead of classes on molecular biology, Becky's schedule is now laden with visits to doctors who try to flush the toxins from her system as she attempts to counter the pain homeopathically.
Becky was part of a neighborhood group that used to play in "the pit," a deep dirt hole in a nearby wooded lot. Those kids are now twenty- to twenty-six-year-old adults who share health problems ranging from attention deficit to bipolar to seizure and autoimmune tissue disorders. A few neighborhood dogs have died of mouth cancer, which could have been caused by licking polluted paws. The Corvello's Springer Spaniel obsessively dug in one of the soil borings with a high lead content, then constantly licked his paws. Soon their perfectly behaved dog became Cujo, biting everyone in the family. They had him put down after Gail's husband required stitches from one attack.
Several blocks north of the Corvellos, three women living within a few blocks of one another were diagnosed with breast cancer. Genevieve Beirola, eighty, sacrificed both breasts to the disease. She lives with her daughter, Missy, and son-in-law, Frank Correia, in a one-story Cape across from the Sea Breeze restaurant. The Correia's lawn is decorated with ornaments: a windmill, the Virgin Mary and Saint Jude, helper of the hopeless; a Norman Rockwell-looking boy oversees the fish pond. "Love swells here" is inscribed inside a hand-painted, heart-shaped sign. The couple sits on the deck they hose down to remove dirt before and after their grandchildren visit. Missy, fifty-six, with a halo of strawberry blondish hair, works as a medical assistant. Frank, fifty-nine, wears a navy blue Champion cap with an American flag pin.
About six years ago, Frank found coal chunks while digging a trench in the front yard. He realized the chunks were not barbecue remains when he read an article about the contamination in The Herald News, a Fall River newspaper. He waited more than a year for their soil to be tested, then another several months for the results.
"We just wanted them to hurry up so we could get on with our lives," Missy says. Those results are bound in a two-and-a half-inch-thick binder: Their property's lead level is 1,270 parts per million; the state's minimal risk level is 150 parts per million (ppm), which denotes one particle of a given substance for every 999,999 other particles. A minimal risk level (MRL) is an estimate of the daily human exposure to a hazardous substance that is likely to be without appreciable risk of adverse noncancerous effects over a specified duration of exposure.
Her parents bought the property in 1970, and Missy and Frank bought it from them in 1999. Growing up, Missy's father kept a couple of cows and a goat that ate the grass, and the family ate the animals. For a Boy Scouts project, their son raised chickens that also ate the grass, and they ate their eggs. But Missy hasn't had specific health tests done. "What's the point?" she shrugs. "My parents had the house for thirty years; maybe I don't want to get tested because 'what you don't know won't hurt you.' "
The couple traditionally plants a tree in honor of each grandchild and as a memorial when a parent dies. Peony trees are planted for their first three grandchildren. The peonies once bloomed with bouquets of pink, maroon and yellow flowers, but since the moratorium on digging, Frank can't pull up the surrounding weeds, so the trees don't offer as many flowers or grow beyond two feet. Their two youngest grandchildren were born after the moratorium, so they couldn't plant any trees to celebrate their births.
Frank calls himself a handyman; he works as a pipe fitter at the Newport Navy Base and is also a certified plumber and oil burner technician. "Working in the flower beds, doing stuff outside and working on the house was how I relaxed," he says. "I used to have one of the best yards around, and then I lost interest in everything. It's depressing to pay all kinds of money for a piece of property, and then it's worth nothing. If it was me dumping oil on my grass and the cops came by, they'd arrest me and put me in jail. We're just stuck in limbo. It's a living hell."
Frank spent $1,200 on a swing set for his grandkids, but because of high lead in the soil beneath it, the kids usually play on the deck. The decorations he used to stake in the ground every Halloween, Christmas and Fourth of July now gather dust in his basement. He can't install the replacement chain link fence he bought. Nor can he paint the garage because he can't dig the weeds that sprout alongside. Frank hesitates to install vinyl siding on the house and make certain improvements inside, unsure if it's worth the investment if Southern Union buys them out. Rituals are modified: Instead of hosting a garden wedding for their niece, the Correias threw a tent wedding in the driveway. When they had a party for their grandkids, the couple laid a carpet over the mud puddle at the bottom of the waterslide.
After years of this "living hell," Frank would prefer Southern Union buy them out; he would then relocate to Portsmouth, where he grew up. But Missy is rooted to the memories here: the tree that blooms in her father's memory, the birthday parties for her sons and grandchildren, the Easter egg hunts in the yard. "I don't want to move," she says, shaking her head. "My parents owned this house for thirty years. My two sons grew up here. I love this area and I love the property. I want to make it liveable." She stares at the ground to avoid crying. "I want to plant more trees for my grandchildren."