Newport Oyster Festival to Launch Rhode Island Oyster Trail
The inaugural event includes an opening party and two-day festival, plus the launch of a new website connecting shellfish lovers to Rhode Island oysters and the local restaurants that serve them.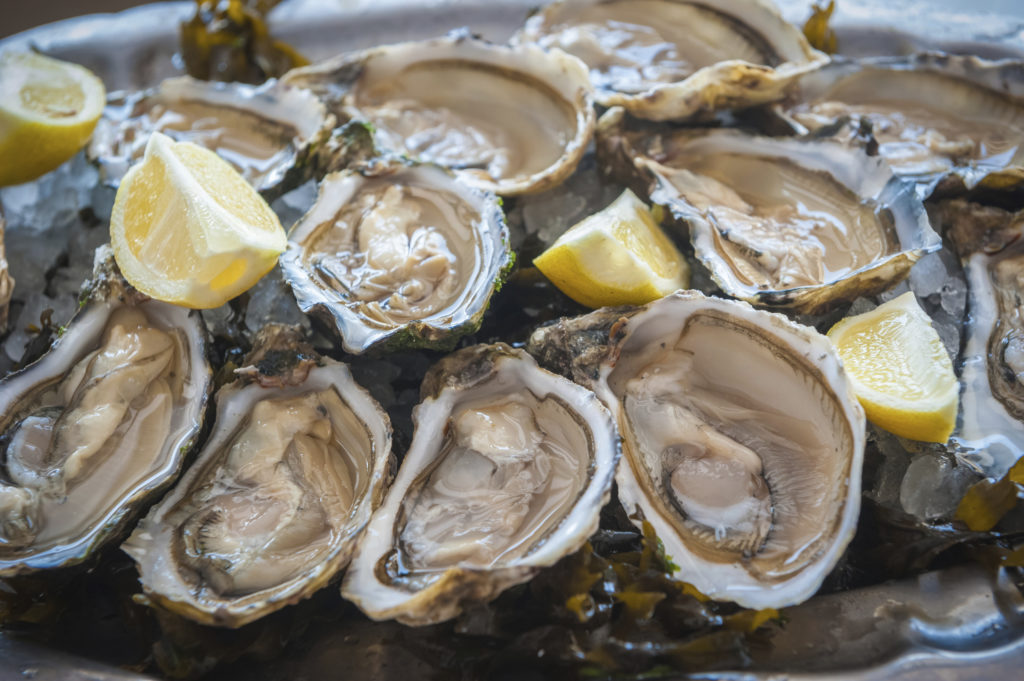 Oyster lovers, prep your palate for a weekend's worth of briny bivalves on the waterfront. The Newport Oyster Festival, presented by Bowen's Wharf Company with Santa Margherita, is launching its inaugural event next Friday, May 20 with an opening party from 6 to 8:30 p.m. featuring all-you-can-eat Rhode Island oysters paired with wine and prosecco and dinner stations on Bowen's Wharf. That Saturday and Sunday, May 21 and 22, guests can return to Bowen's Wharf for a second round of shellfish from thirteen growers, plus food from other restaurants.
The Friday night launch party will also reveal details about the brand new Rhode Island Oyster Trail – affectionately nicknamed RIOT – which will include a new website listing Rhode Island's oyster growers, as well as restaurants that serve at least one Rhode Island grown oyster on their menu year-round. "Our vision is that the festival is not just one-time access to all these oysters," says Trixie Wadson, marketing director for Bowen's Wharf Company. "Now you can continue enjoying them throughout the year around the state at different restaurants."
Watch a video about the Rhode Island Oyster Trail:
The Friday night open-bar event will take place under a tent on the waterfront and include six different varieties of all-you-can-eat Rhode Island grown oysters, each paired with a different Santa Margherita prosecco or wine, a sponsor of the event. Oyster varieties include Aquidnecks, Breachways, Chessawanocks, Salt Ponds, Matunucks and Watch Hills. Growers will be shucking at tables where guests are encouraged to learn about growing methods, flavors and more. The evening will benefit the Ocean State Aquaculture Association and its efforts to expand outreach efforts beyond Rhode Island, as well as the SSV Oliver Hazard Perry. Besides oysters, there's plenty of other good things to eat, including a pasta station, flank steak and dessert from Russell Morin Fine Catering's Cru Cafe; quahog cake from the Landing and oyster stew from Matunuck Oyster Bar. Tickets are $125 each including unlimited oysters and an open bar of beer, wine and cocktails, plus the dinner stations, passed desserts and live music from a Caribbean steel drum brand.
"It's a casual evening on the waterfront where you can mingle with the growers and restaurants and understand this pond-to-table movement," says Wadson.
For the Saturday and Sunday festival portion of the weekend, thirteen growers will be on site including the same farms from Friday night, as well as Behan Family Farm, Block Island Oyster Co., Cedar Island Oysters, East Beach Blondes, Jonathan Island Oyster Co., Venus Oyster Company and Walrus and Carpenter. Two time slots are available daily, 11 a.m. to 2 p.m. or 2 p.m. to 5 p.m. For each $27 ticket sold in advance, guests will receive four oysters and one beverage, including Santa Margherita wine, Stella Artois beer or something non-alcoholic. Additional oyster tickets can be purchased for $2 each. Six restaurants will also be on site selling a la carte items, including Fluke Wine Bar and Kitchen (Oysters Rockefeller, Oysters Bienville, Clams Casino), Diego's and the Wharf Pub, 22 Bowen's Wine Bar and Grille (spinach oyster cheesecake, oyster ceviche and oyster blinis), Cru Cafe, the Landing and Matunuck Oyster Bar (lobster rolls, oysters, clams and shrimp). Tickets at the door are $35.
Jules Opton-Himmel at work at Walrus and Carpenter Oyster Farm.
There are conservation and composting elements to the festival. The Nature Conservancy will be sending volunteers to help collect oyster shells on site, which will later be used to help rebuild reefs as part of an ongoing TNC oyster restoration project. The plates, utensils and trays on which oysters are served are also compostable and Island Rubbish is donating a container and delivery service to aid in the overall composting effort.
R. Murphy knives will showcase custom oyster knives, and there will be a shucking contest on Sunday at 3 p.m., during which restaurants and expert shuckers will face off to win prizes.
The event will help put Rhode Island's oysters on the map. "Visitors to town are always asking, 'where can I get great, fresh oysters?' " says Wadson. "We thought to focus in on Rhode Island oysters, exclusively, would be would be a challenge, but also a boon to this industry within the state. We really want to support Rhode Island aquaculture and Rhode Island tourism." bowenswharf.com/newport-oyster-festival
Perry Raso at work at Matunuck Oyster Farm.