Newport Nautical Looks at Angela Moore Fashion Show
Enjoy some fashion inspiration from the City by the Sea.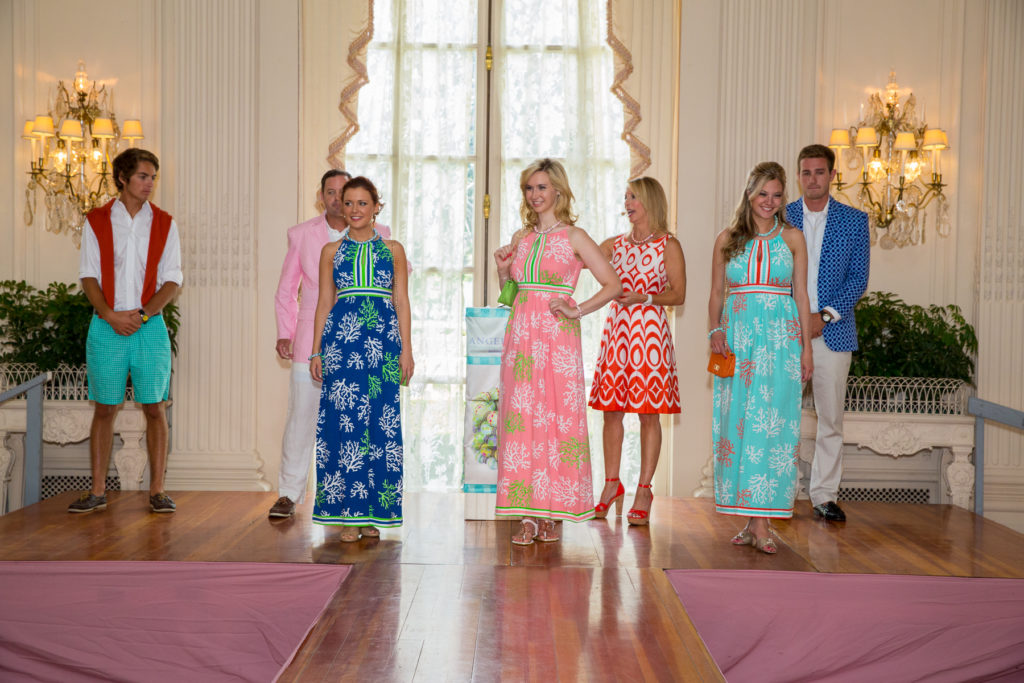 When you're trying to perfect that Newport nautical look, there are plenty of shops to search for inspiration in the City by the Sea. In celebration of that quintessential seashore style, Angela Moore holds her annual fashion show to highlight the best of the season in men's, women's and children's fashions from the Bellevue Avenue and downtown Newport boutiques featuring Manuel Canovas, Three Islands, Groovy Gator, JMcLaughlin, Claudia Nichole Cashmere, Two Bees Cashmere, Barbara Gerwit, Angela Moore and dozens of others.
This year's show was held at a new location, the historical Rosecliff mansion with glamorous views overlooking the ocean. A champagne brunch kicked off the event which raises funds for the Newport Preservation Society of Newport County and supports its mission to protect, preserve and present its exceptional collection of house museums and landscapes. The event also commemorated Newport's 375th anniversary and honored several Newport women authors who recently released books, including Bettie Pardee's Living Newport, Annie Sherman's Legendary Locals of Newport, Gail Alofsin's Your Someday is Now and Naomi Neville's Gracious Living.
Thirty models strutted the runway in more than 100 looks, and celebrity appearances included WPRI news anchor Patrick Little, WPRI investigative reporter Susan Hogan and celebrity garden designer Kent Russell. Several Miss Rhode Islands also commanded the catwalk, including 2014 Miss Rhode Island Ivy Depew, 2013 Miss Rhode Island Jessica Marfeo and 2007 Miss Rhode Island Ashley (Bickford) Karger as well as special appearances by 2014 Miss Rhode Island Outstanding Teen, Grace Romanello and 2014 Miss Rhode Island Collegiate, Ashton Penney. Former Newport Mayor Steve Waluk strutted his stuff, and so did Naomi Neville, Newport City Council vice chair.
You can't go wrong with a morning filled with fashion, champagne and support for charitable endeavors. Check out the photos below to get some beach chic ideas of your own.
Carolyn Van Petten wearing Manuel Canovas Paris Swimwear and an Onigo hat (left); and a Claudia Nichole cashmere poncho (right).
Three Miss Rhode Island's wearing Two Bees Cashmere. 2013 Miss Rhode Island Jessica Marfeo, 2014 Miss Rhode Island Ivy Depew and 2007 Miss Rhode Island Ashley (Bickford) Karger. Sam Alofsin, Peter Carrellas and Gavin Megley are wearing shirts from JMcLaughlin.
Susan Noel wearing a Kokomo dress escorted by Gary Moore. Carol and Scott Williams can be seen in the background.
WPRI investigative reporter Susan Hogan wearing a Taylor dress and WPRI news anchor Patrick Little wearing an Angela Moore tie.
Karen Megley wearing a Claudia Nichole poncho, a Mellow World bag and Angela Moore jewelry. Garden designer Kent Russell is pictured on the left, and Karen's daughter is also in the background wearing Angela Moore jewelry and an outfit by the Groovy Gator.