Take Me Out to the Ball Game
Newport Gulls and Ocean State Waves games draw families and friends.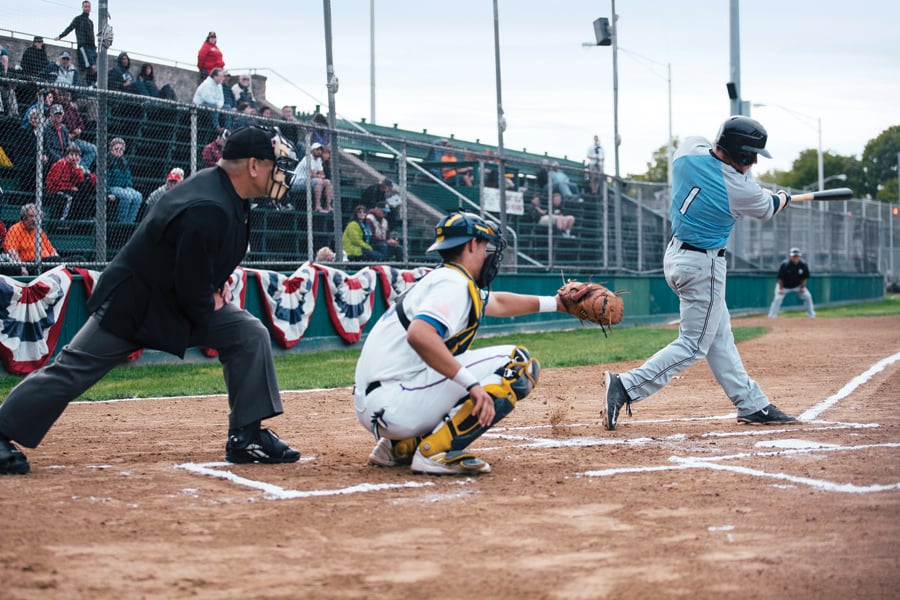 There's no purer small-scale historic baseball experience than attending a Newport Gulls or Ocean State Waves game.
Matt Finlayson, Waves president and general manager, says the appeal is a relaxed atmosphere and "something inexpensive for families to do when the sun goes down." Admission to Waves and Gulls games is $5 for adults, $2 or less for kids and seniors, and anyone with a military ID gets in free.
The clubs are only a half-hour drive apart, and both are members of the thirteen-team New England Collegiate Baseball League. Still, it's a completely different fan experience at Cardines Field in Newport (home of the Gulls), versus Old Mountain Field in Wakefield, where the Waves play.
Old Mountain recalls baseball's pastoral roots, with the grand old game played on the site since the 1860s when the Peace Dale Pastimes were the dominant local team. There are lots of trees, a water lily-filled pond 150 feet beyond the left field wall, and an osprey — nicknamed Rachel by the players — nesting atop a light tower. There's not much fixed seating, and many fans bring chairs or recline on the grass. For eats, there's a small concession stand and a visiting food truck, plus a fun portable rock climbing wall, games and face-painting for the kids.
If Old Mountain is country, then Cardines Field is city. The Gulls play in an urban bandbox of Fenway Park vintage where crazily configured outfield fences and lack of foul territory make every game memorable. On the rooftop of an adjacent apartment building, fans congregate to watch the action, and foul balls frequently sail over the stands. Years ago, Hall of Famers Satchel Paige, Nellie Fox and, according to local baseball legend, Babe Ruth, played at Cardines.
Nick Lima, who for many years served as the Gulls broadcaster, says that the first time that players — who are drawn from colleges all over North America — walk onto the field "they are completely astounded" because of the stadium's dimensions and historic feel.
The Newport Gulls and Ocean State Waves play throughout June and July, and meet six times in a friendly rivalry known as the Pell Bridge Series. newportgulls.com; oceanstatewaves.com
See "Boys of Summer," a baseball-themed photo exhibit by Jason Evans at the Newport Art Museum May 6–Sept. 10. Opening reception June 8.