New Venture Sprouts Online
Urbilis, a website selling well-designed products for the urban gardener, recently launched as part of RetailProjectRI.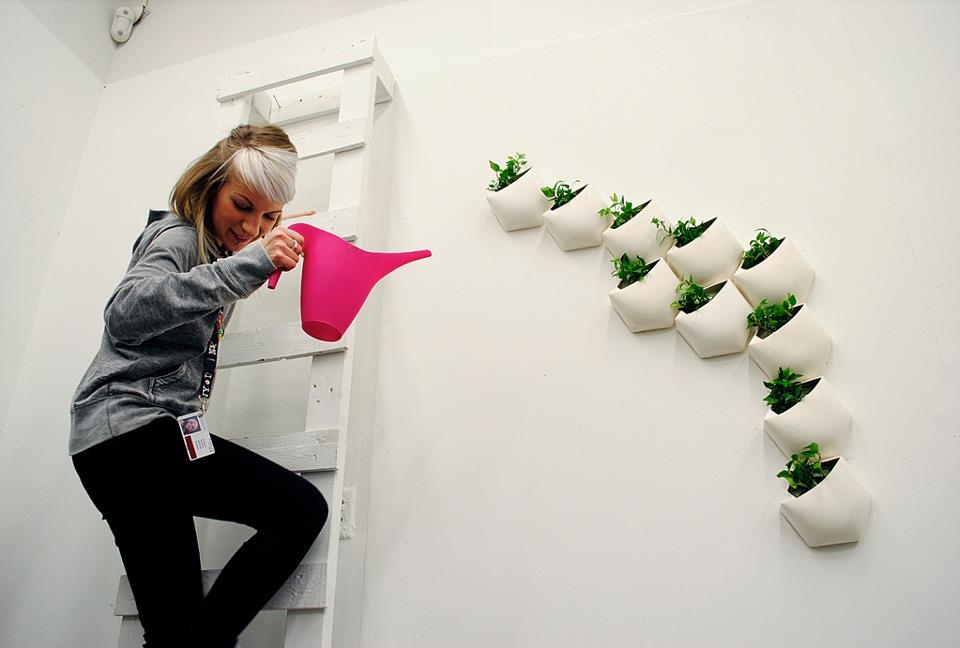 Just because you may live in an apartment in a city doesn't mean you can't surround yourself with beautiful things. That's the idea behind Urbilis, a Providence-based brand that aims to "bring greenery to urban living through beautiful and functional design."
The venture is the second brand that has launched as part of RetailProjectRI, an initiative developed by Soren Ryherd and his wife, Vida Jakabhazy, to bring business back to empty Rhode Island storefronts.
Urbilis recently launched and opened for business online, featuring products like elegant light-up planters in a range of sizes and colors and ceramic wall planters made by an industrial designer based in Vancouver that Urbilis is the first to sell. We found out more from Mary Bergeron, a RISD grad who is RetailProjectRI's brand manager.
How RetailProjectRI come about?
Soren and Vida were really noticing that it was just so difficult, especially in a small place like Rhode Island, to maintain traction for a brick-and-mortar store. And so then the idea became, well, what if we sort of flip standard retail on its head and think of a way to combine the standard brick-and-mortar model with all this great stuff that's been happening around online brands and online stores.
How does RetailProjectRI develop the brands?
Soren, Vida and I have been working on the development of the brands, and then we also have a wonderful team of interns who have been helping us out quite a bit. The idea is that we're creating a process for brand creation. The more we create brands, the more we hone that process, the quicker we're going to be able to roll brands out and really test them to figure out if there's traction online. The brands that get traction online will become stores in Providence.
How is the first brand doing?
Felix Chien [which sells well-designed apparel and accessories for dogs] launched at the end of October. It's still in testing phase. We're trying to find our ideal market, but it's definitely been reaching people across the country, which is really the great thing about starting out with an online brand and trying to find your market that way. We've been testing and creating product lines. It's really been coming along. We would continue the online business if we move into a storefront. We really see that as being a great additional factor to the brick-and-mortar stores. We're not quite there yet, but we're hoping the first store will be in downtown Providence.
Where do RetailProjectRI's products come from?
We source from vendors around the country, with a few in Canada, and actually for Urbilis, we have one in England. It ranges from vendors that have been around for a while — larger-scale production places to really small studios and handmade items. Definitely for Urbilis that's been a big part of our product mix.
Where do you think your customers will be?
It's hard for me to tell at the moment exactly where our customers will be. The great thing about online marketing is that you can test different areas and really hone in on where you seem to be getting the most traction. [They advertise on Google around the country.] I would imagine would imagine big cities: New York, Chicago, that kind of thing. And then I'm also hoping that we get some traction around offices and businesses. And a lot of our planters actually work very well on sets.
How do national customers translate into a local storefront?
When we get to that point, it will definitely require a combination of grass-roots local marketing, and continuing the online piece. At this point, we're definitely still in the phase of proving our concepts online. But I can imagine that a year or two down the line we'll be thinking much more seriously about how to reach that local audience.
The interesting thing about the online store as well is that there are definitely different possibilities for how to make that store work. For Urbilis, I can imagine that we actually do start to sell plants, things that work well with our products. It's still in the future, but definitely something that we're starting to think about and something that has a lot of possibilities.
Anything you'd like to add?
These brands tend to move along pretty rapidly. Both with Urbilis and Felix Chien, we're continuing to update our product lines. Keep checking back and see what we have to offer. And like us on Facebook!