New Bookstore Alert: Savoy Bookshop Opens in Westerly
This huge, gorgeous space is chock full of cozy nooks for curling up with a new book and a hot latte.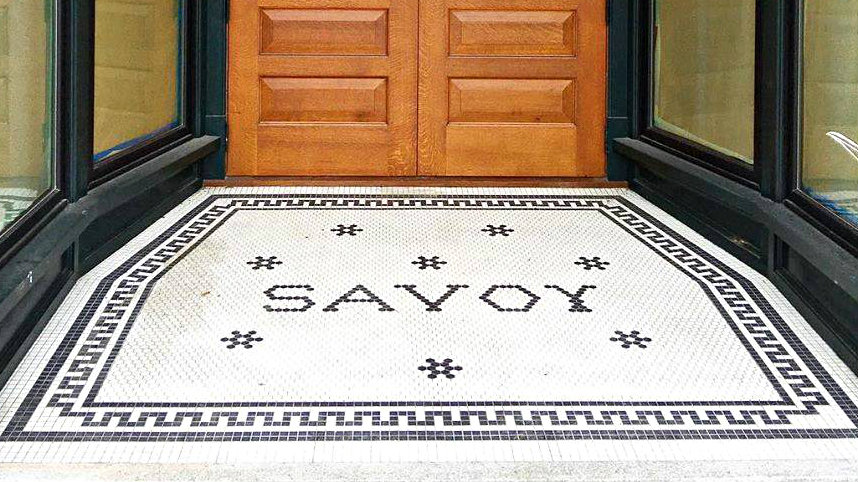 In all of my bookstore dreams, I never imagined a place so sweet: an Instagram-worthy entryway, white tin ceilings, grainy wood floors dotted with glass prisms, reading nooks with leather club chairs, a cafe with Dave's Coffee and Belgian sugar waffles. Oh yeah, and more books than I could read in a lifetime.
Earlier this month, Savoy Bookshop and Cafe opened in the former Savoy Hotel building at 10 Canal Street in downtown Westerly. The 2,500 square-foot, two-floor business is operated by Annie Philbrick, owner of Mystic's Bank Square Books. In 2014, Philbrick was approached by Chuck Royce — the famed developer of Westerly's Ocean House — and Dan King of 10 Canal LLC. They owned the property downtown and, Philbrick says, "They said they couldn't imagine a town without a bookstore."
The closing of the Other Tiger bookstore in 2014 left an intellectual hole in the heart of Westerly, and the developers had a plan: They'd renovate the property to suit a bookstore if Philbrick would bring a sister store to town. She happily agreed.
"The Royce Family Foundation basically made this happen," Philbrick says. "They're really involved in the economic vitality of Westerly and I'm lucky to be a part of it."
The team hired Leslie Architects of South Kingstown to draw up the plans. They visited Bank Square Books in Mystic for general ideas but added region-specific touches to Savoy (think: emerald green glass prisms in the floor on the entry level, replicas of ones on the nineteenth-century whaling ship, Charles W. Morgan).
The prisms send bursts of light downstairs to the cozy children's section, which boasts a log cabin-style cubby complete with twinkle lights in Mason jars. The adult section and a cafe are located on the main floor. The cafe is operated by Tim and Erika Lebling, owners of the coffee cart, Wakin' Up Waggin'. At Savoy, they'll serve Dave's Coffee, fresh baked muffins and "waffled upon order" Belgian waffles from the shop's soapstone cafe counter.
In addition to general browsing and lounging, Savoy will host regular author readings. Tonight, Matthew Betley will read from his debut novel, Overwatch, a thriller published in March by Simon and Schuster that follows a globe-trotting soldier named Logan West.
The public is also invited to a grand opening party on April 16 from 5 to 7 p.m.
Regular business hours are Monday through Saturday 9 a.m. to 9 p.m., Sunday 9 a.m. to 7 p.m. For more information, call 401-293-3901 or visit savoybookshopcafe.com.