Net Results
Relax on the porch? Not if bugs are buzzing in your ears and nibbling at your ankles. Today's smartest homeowners are revisiting the screen porch as a savvy solution that increases living space and maximizes nature's sweetest season.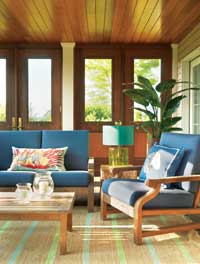 Captain's Quarters
Right away, visitors sense this inviting Little Compton porch (architect: Mark Mascheroni, New York) is as beautifully crafted as a fine yacht. Indeed, its teak floor, ceiling and window frames (the owners swap the screens for glass in cooler months) evoke thoughts of the sea, although its locale, near a verdant golf course, is more pastoral than salty. Cleverly tricked out by designer Jocelyn Chiappone (with help from owner Stacy Carlson) from Lou Lou's Décor in Tiverton, it's the sort of flexible sanctuary that turns a rainy afternoon into a holiday. The eighteen-by-thirty-foot room's rectangular shape affords space for sitting at one end and dining at the other.
Chiappone raided the shop for furnishings and accoutrements that—not unlike those of a cruise ship—radiate comfort and style. Durable teak pieces, including a coffee table, loveseat and armchairs by Kingsley-Bate are just right for kicking back. Custom pillows (also through Lou Lou's) and a colorful cabana-striped rug rev up the composition, while handmade watery glass lamps wearing tole shades keep it modern.
With green plants (from Nature Contained, Tiverton) pulling the garden in and hand-carved birds taking flight along the wall, the line between in and out is pleasantly blurred. Add to that a wave of hydrangeas billowing along the screens and it's smooth sailing all summer long.
Pool Party
When the design process first began, Providence architect Clifford Renshaw tells us that creating a large porch for this Watch Hill house was top priority. Working with an existing foundation and footprint, Renshaw (construction by Hammond Housecraft, Watch Hill) had to devise a plan with "a generous porch that would open onto a proposed new pool area and overlook a handsome woodland below."
Cunningly, he slid the generous sixteen-foot-wide-by-forty-two-foot-long room along the level of the main house above the walk-out basement (read: guest quarters). French doors lead to the porch from the kitchen and living room, lending a seamless flow.
In keeping with the vernacular, the cathedral ceiling is finished in beadboard. The floor is made of pao lope, a sustainable tropical hardwood that stands up to traffic. Classically detailed Tuscan columns (crafted of Perma Cast, a weather-resistant synthetic material) and crisp railings energize the day persona. And then, when evening descends, recessed lights and sconces soften the mood. Guests gather around a Smith & Hawken table on twelve low-back dining chairs, specifically chosen so as not to interfere with the views. The chairs' coastal gray color speaks to wicker furnishings (painted to match) in the sitting area. Pretty and practical, this is the consummate family porch friends get to enjoy, too.
Pet Project
This grand Jamestown home with heart-racing water vistas called for a special kind of porch to complement the unique architecture. The owners had put too much care and thought into the design—South Bay Quartzite, Indiana buff limestone sills, lentils and columns, bronze railings, and Atlantic blue granite terraces—to settle for anything less. Of course, pesky bugs are often swept away by shore breezes, so screens weren't absolutely necessary. Or, at least, might not have been if it weren't for the pets. Five well-loved house cats want a bit of air, too. But how to let them in on the enjoyment and, at the same time, prevent them from wandering?
Phantom screens from California Door and Window, monitored with a remote control, were the answer for this eleven-foot-deep-by-fourteen-foot-wide oasis off the great room. Now you see them—click—now you don't. Should the owners wish to step out with their brood for cocktails, screens drop from their ceiling hideaway, zipping along metal tracks for a perfect fit. "The motorized unit even has a wind sensor that automatically retracts the screens should gusts grow too strong," says the wife. The stellar furnishings don't budge no matter what. The couple opted for often-found-at-country-clubs cast aluminum beauties by Hanamint, much to their felines' delight.