Narragansett Del's Shandy Will Hit Shelves Next Week
The combination of the 'Gansett flagship lager and Del's lemonade flavors is on the road being delivered to distributors.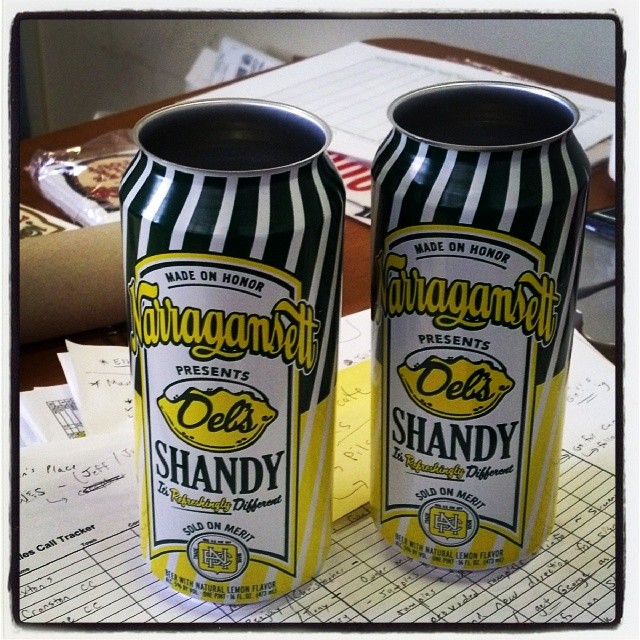 The anticipation has been building, and the wait is almost over. The Narragansett Del's Shandy — a combination of the 'Gansett flagship lager and Del's lemonade flavors — was kegged and canned last night, and is on the road being delivered to distributors. It may be available for sale at some liquor stores and bars as early as Monday in Rhode Island, Massachusetts, Connecticut and New York. "It will get into different stores throughout next week," says Narragansett Brewing Company president Mark Hellendrung. "By next Friday, it should be pretty much everywhere, hopefully."
Hellendrung says they are about two weeks behind the initial launch date, but there's a reason for it. "To be honest, we anticipated making a certain amount and then the orders started piling up so we delayed our production so we could make more," he says. "There's a lot of anticipation and I'm glad it's finally here."
This past winter, Narragansett released the first beer in their Hi Neighbor Mash-Up series, the 'Gansett Autocrat Coffee Milk Stout. The beer sold out quickly at liquor stores. For the Del's Shandy, they are planning multiple production runs, including this round, one in two weeks, another in June and they are working on one for July, so the beer will be available all summer long. "You don't need to go out and hoard it," Hellendrung says. "But I am sure there is going to be a crush to go get it."
To come up with the beer, Hellendrung says the 'Gansett brewmaster Sean Larkin worked with Del's to strike a balance of the lemon flavor profile and what it would be in beer. "There's not a secret Del's concentrate that we're putting in there," he says. "It's a different process when you make it a beer, so it's really a marriage of those two flavors." The shandy comes in six-packs of sixteen-ounce tall boy cans, decked out like the iconic yellow and green striped Del's cups.
And for Hellendrung, who grew up in East Providence, Del's holds many memories. "I remember the Del's truck at the beach or Slater Park. It's just a part of Rhode Island," he says. "Of course, now I've got four daughters and I live down in Middletown, so they are always asking me to down to the beach and to visit the Del's truck." This summer, while the kids are enjoying their frozen lemonade, adults (ages twenty-one and older, of course) can make new memories with every sip of this hotly anticipated 'Gansett and Del's mash-up. narragansettbeer.com
Photos by Jim Crooks.