Narragansett Beer and Allie's Donuts Team Up to Make Chocolate Porter
Celebrate the new brew at a launch party complete with doughnuts and beer.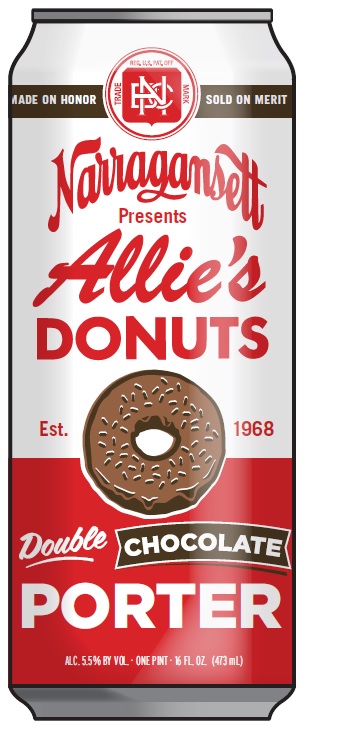 You can now have beer with your breakfast without shame. Narragansett Beer and Allie's Donuts have teamed up to create the Narragansett Beer Allie's Double Chocolate Porter, which is the third installment in Gansett's "Hi Neighbor Mash-Up" series along with Narragansett's Autocrat Coffee Milk Stout and the Del's Shandy. The beer is stocked in liquor stores and it will be available throughout the winter in New England, New York, New Jersey, Pennsylvania, Delaware, the District of Columbia, Maryland, North Carolina, Florida, Portland, Ore., Nashville and Chattanooga, Tenn.
Unfortunately, Allie's Donuts is currently closed for renovations, and it hopes to reopen on October 27. Check its Facebook page for updates on when you can expect to take home a box of frosted and sprinkled perfection. While we wait it out, the Narragansett Allie's Donuts Double Chocolate Porter will have to do!
This porter is brewed with chocolate malt, dark crystal malt and cocoa nibs to bring out the double-chocolate flavor and it's finished with a hint of vanilla. Allie's Double Chocolate Porter comes in six packs of sixteen-ounce tallboy cans priced between $8.49−$9.49 per six pack. Hey, that's just a few dollars more than the cost of a dozen doughnuts!
Hellendrug is excited about the new brew because of Rhode Islanders' special connection to Allie's Donuts. Frederick Alvin "Allie" Briggs opened the shop in the summer of 1968, and Ocean Staters know where to go for their doughnut fix.
"Whether it's a lazy Saturday morning tradition, a tasty birthday celebration, or just a pick-me-up on a bad day, Allie's old fashioned donuts have filled a special place in Rhode Islanders' hearts for nearly fifty years," says Mark Hellendrung, president of Narragansett Beer, in a prepared statement. "We wanted to combine every local's favorite pastry with our classic porter to give people an authentic taste of two Ocean State staples. No matter the occasion, we hope Narragansett Allie's Double Chocolate Porter evokes that same blissful feeling you get when biting into a freshly baked Allie's donut."