Murder Room Kills it with Comedy
Filled with ridiculous slapstick, cheesy one-liners and double-entendres, the 2nd Story Theatre play spoofs the traditional murder mystery.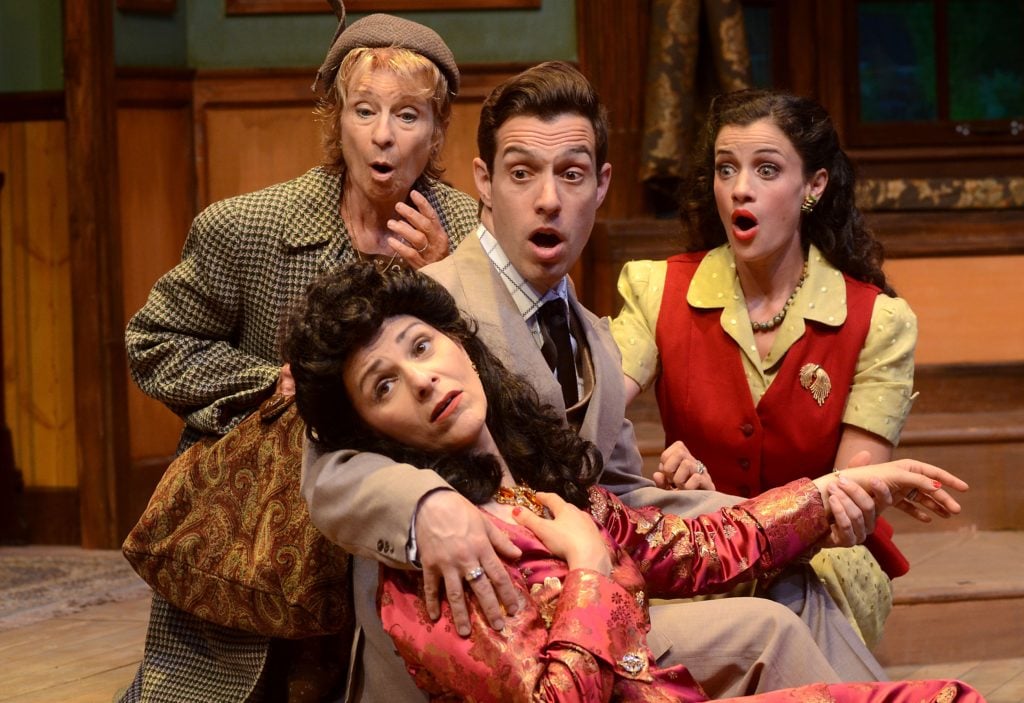 As a writer and editor, I love puns. I also like theater that doesn't take itself too seriously. Jack Sharkey's The Murder Room at 2nd Story Theatre is my kind of play. Filled with ridiculous slapstick, cheesy one-liners and double-entendres, the play spoofs the traditional murder mystery. And it's no coincidence the production is running in repertory with the longest running play of all time, Agatha Kristie's whodunit The Mousetrap, which was reviewed last week by Casey Nilsson. It would make sense to see Mousetrap first, as it'll make Murder Room even funnier than it already is.
The play begins with quite a bang. We meet Edgar Hollister (Al Terego), who appears to have gotten his pajamas from Hugh Hefner or vice versa, and his second wife, gold-digger Mavis (Sharon Carpentier) in their elegant British manor. Edgar suspects Mavis is having an affair, and after creatively refuting his accusations but to no avail, she brandishes a pistol. He tries to defend himself by throwing his drink in her eyes and knocking her out with the glass…except he flings his empty hand instead. Mavis succeeds with the third shot (she misses the target on the first two tries), and Edgar breathes his last breath. She immediately phones her lover for help disposing of the body, and then pretends that her husband has gone missing. The haughty housekeeper, Lottie Molloy (Susan Bowen Powers) seems suspicious right from the start, and when inspector James Crandall (Jeff Church) and constable Abel Howard (Jim Sullivan) arrive seeking clues, she does all that she can to point the finger at Mavis. Mavis's poisoned dead cat proves to be a major piece of evidence in solving the case.
The humor really gets rolling when Edgar's young daughter arrives with fiance in tow after having graduated from a university in America. Susan is played by Ashley Hunter Kenner, whose tone and demeanor bring so much to the likable yet slightly annoying role. When she learns that her father has vanished, she laments the fact that now there's no one to show her diploma to. Her equally dimwitted fiancé, Barry Draper (Tim White) is funny, too, calling Lottie by the name Lettie so many times that when he finally gets it right, she calls herself Lettie. Susan provides a glimpse into her father's mind by revealing details on his many trap doors and secret rooms built into the property, which sends Mavis into a tizzy.
Jeff Church is a shining star in his role as inspector. His accent and trills are so exaggerated they incite fits of laughter. It was refreshing to see him in a lighthearted role after incredible performances in Take Me Out, in which he played a racist baseball player, and One Flew Over the Cuckoo's Nest, when he played a mentally disabled man living in a mental hospital. It was a pleasure to see him having fun on stage, and possibly bringing his own improvisational schtick to the role.
One of the funniest details of the play doesn't involve lines at all. As a housewife, Mavis's wardrobe gets more and more outrageous as the play progresses; each dress more aggressive than the last, until finally she looks like a raven straight out of Hitchcock's "The Birds."
Pay close attention or you'll miss clues that predict the twist ending. It definitely took me by surprise, but had I spent more time focusing on the details, rather than being distracted by my own laughter, I bet I could have solved this clever mystery. But then again, why be serious and miss out on all the fun?
The Murder Room is onstage through September 1. As a neat summer twist, The Murder Room, a spoof of the murder-mystery genre, will be performed in repertory with The Mousetrap through September 1. Visit 2ndstorytheatre.com for more information.