Mothers of Invention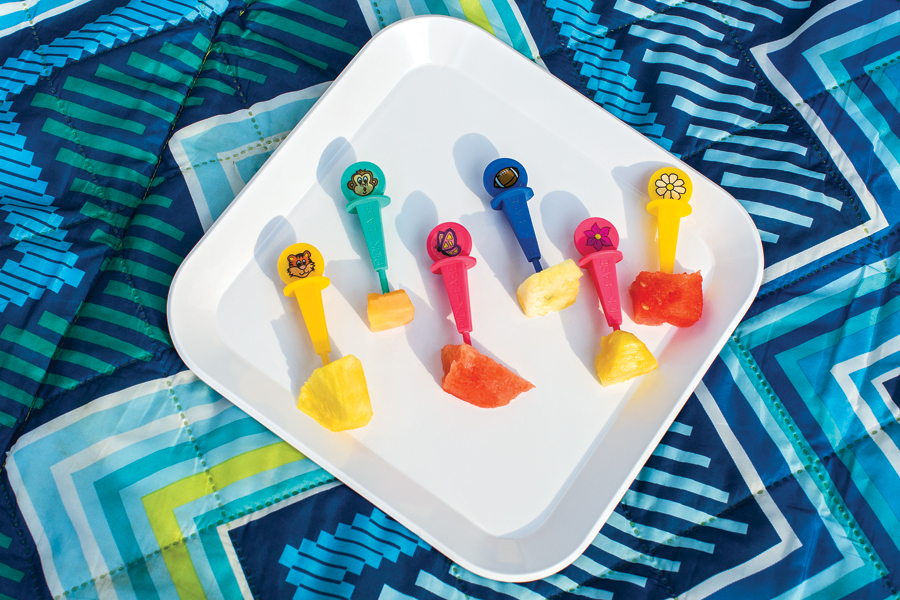 Melissa Desrochers first knew that she wanted to work with children when she was about four.
Drawn when she was just starting out in the world, a preschool self-portrait shows her changing a baby's diaper. "I still have that drawing," she says, adding, "It says, 'when I grow up, I want to be a mom.' "
Desrochers' drive and determination is as readily apparent as her maternal instinct. Now a mother of two who also runs a daycare from her home in Rumford, Desrochers recently decided to add another project to what was already an abundantly full plate. In 2012, she came up with a simple yet ingenious solution to an all-too-common (not to mention frustrating) problem: the picky eater.
Desrochers was experiencing the issue with her sons, who refused to eat anything unless she rolled or cut it up and stuck it on the end of a toothpick. Desrochers says that many mothers, pediatricians and childcare providers reported the same thing, and so she knew she was onto something when she saw the need for an eating utensil that gave kids the autonomy and fun they seemed to find in toothpicks, but with a toddler-safe design. At a pediatrician's visit for her son, Caleb, the doctor heard Desrochers' idea and told her he thought she had something big. A quick Google search revealed that while this was a common issue, there was nothing already for sale on the market. "I thought, 'there has to be some other way to do this besides toothpicks,' " she says.
She'd never invented anything, but then, she's not one to let adversity get in her way (now thirty-two, Desrochers is celebrating ten years of remission from non-Hodgkin lymphoma). With the resourcefulness that's on the top of every mother's resume, Desrochers trekked to a craft store to get some clay, and then sat in her kitchen with her sons making prototypes based on what their little hands could hold. Like she'd done for her market research, she used the Internet as her rudder to move through the uncharted waters.
That's where she found not only general advice for inventors (on starting an inventor's log, getting witnesses for your idea, etc.), but local resources, like the Rhode Island Small Business Development Center (RISBDC), the Center for Women and Enterprise (CWE) and the law firm of Barlow, Josephs and Holmes, where she'd eventually find her patent attorney, Dan Holmander.
At the CWE, a nonprofit organization that has been helping empower women to become economically self-sufficient in Rhode Island since 2000, Desrochers met with Director of New Enterprise and Women Business Centers Carmen Diaz-Jusino, who was immediately impressed with Desrochers' idea and story. "It has been a great journey," says Diaz-Jusino, who helped guide Desrochers toward some of the resources she'd end up availing herself of, particularly Peter Conopask, a business consultant with the RISBDC.
"When I had my first meeting with Melissa, I realized she was something special," says Conopask, who was quickly aware that Desrochers was already beyond much of what the RISBDC could help her with — developing an idea and a prototype had already been taken care of — but still dedicated his own time to helping shepherd her toward making her invention, now called Pick-Ease, a reality. "I realized the amount of time and energy she had put into this product in terms of research and prototyping, but she had no formal business education. So I worked with her on some of the basic concepts for accounting, marketing and provided her with some literature," he says.
This openness and access to business education are at the core of the mission of both the RISBDC and the CWE; for many mothers like Desrochers who are seeking the flexibility of starting their own business (or, in her case, a second one), there can be a certain level of intimidation that comes with the foray into the unfamiliar — and often male–dominated — world of business. Diaz-Jusino points out that in a time when it's an economic necessity for both parents to earn an income — or for single mothers who are experiencing difficulty finding a job to create one that works for them — it's important that a safe space be created where women can get their ideas off the ground. "Even though we don't want to, women sometimes feel intimidated when we have to go into a room full of men who are telling us what to do and how to do it," Diaz-Jusino says. "With all of our classes, we try to build a community where women feel safe sharing and networking and asking questions."
After two years of hard work, Desrochers officially launched Pick-Ease and a new website this summer. Pick-Ease is BPA-free and made entirely in the USA. The Pick-Ease mold, and the products themselves, were made at Rihani Plastics in Cranston. Barrington Printers, which is pretty much across the street, made the packaging and found a printer in California that could make the specialty decorative labels Desrochers needed. She ships them from her house.
Though Desrochers never shied away from putting herself out there or asking questions of the experts she found, regardless of gender, she did have a lot to learn — and a great deal of time management and responsibility juggling to contend with ("I get things done during naptime," she says. "If I didn't have that and I was out there working for someone else, I never would have been able to make Pick-Ease happen."). But according to Conopask, it's secret ingredients like passion and having an adequate support network that really help small businesses get off the ground — something that Desrochers certainly has in spades.
"The passion really takes on a life of its own in terms of driving a person forward and overcoming obstacles. And, of course, knowing when to ask for help," he says.
In Good Company
Moms and one-time co-workers build a family-friendly brand.
While inventing a product is certainly one way to build a small business, it is by no means the only way to approach the entrepreneurial life. Julie Navarro and Kim Losey, co-owners of Mod Mama, took a more traditional tack, buying an existing business and overseeing its expansion.
There's some poetry in how the two mothers and business partners met, too: Losey was about to go out on maternity leave while working at Hasbro, where she was the Transformers brand manager. The company had brought in Navarro to fill her shoes while she was out. Six months later, it was Navarro's turn to take time off after the birth of her child, and Losey came back to fill in while Navarro was out. When Navarro came back, the company kept both of them on.
"We shared a cubicle for about six months, and both of us being new moms, we got to know each other really well. We quickly started trying to figure out how we could work together in the future, since we worked together so well," says Navarro.
While Navarro eventually left the toy industry to round out her experience in the fashion and health and beauty sectors, Losey stayed on at Hasbro until, in 2010, an opportunity came for them to buy Mod Mama. Established in 2006, the shop was a 500-square-foot boutique in Wayland Square. "We saw potential in both the brand and the marketplace, so we started planning for expansion, both on our website and in our brick and mortar presence. We moved to Garden City in 2013, and since moving there, we've doubled our space, our business has tripled and we've gone from two employees to twelve," Navarro says.
While watching a business grow certainly has its own rewards, Navarro is quick to mention that one of the biggest perks for the pair is a flexible schedule and how it allows time for them to be equally present at home as they are in their working lives. "We're both a little workaholic," Navarro admits, "and in a typical corporate structure, we would be in to the office by 7 a.m. and not get home until eight at night. Our time with our kids was limited due to that structure. Now, we have the flexibility to get the kids off to school, work during the day, spend time with them at night after they get home and then get back to work after we get them off to bed."
Some of the would-be self-employed might balk at the idea of stretching out their work over the course of such a long day, but for Navarro and Losey, it's a question of priorities and possibility. And it's appropriate that family would be such an important consideration for the two — in fact, says Navarro, the endeavor wouldn't be possible without the support of their families. "It's a lot of hard work, and it's not an easy way out," she says of owning a business, advising other entrepreneurs that, "they'll need a really strong support structure — whether it's family or spouses or partners. There are a lot of hurdles to building a business."
---
Carry On
Local connections made all the difference for the developer of Kowalli.
Alizah Holstein's business, Kowalli, began when she needed a solution for keeping her son, Kiko, warm during wintertime walks in Providence. Holstein says that Kiko would often fall asleep inside the carrier and, not wanting to interrupt his nap to unbundle him when she took him out of it, would often have to wait outside an extra forty-five minutes or so until he was ready to go back inside and could be woken up. To solve this problem, she whipped up a vest-like contraption made of cozy fleece to drape over the carrier.
"I would walk around, and mothers would see it and ask me where they could get one," she says. "So after hearing that for months, I made a few. I bought an industrial sewing machine to see if I could just do it for fun between looking for jobs."
Holstein and her husband are both academics; she had just wrapped up a visiting professorship at Boston College before Kiko was born. Holding a Ph.D. in medieval history is a far cry from a dip into entrepreneurship, but it wasn't long before Holstein was spending time developing the carrier (and later, the Kowalli brand — she has since extended to hats and booties) instead of sending out her curriculum vitae. "I'm not good at sewing and production in large quantities it turns out," she says, "so I started asking around Providence and people were very helpful with sharing their connections."
In particular, Holstein credits friends Line Daems and Pernilla Frazier, who run Kreatelier in Providence, with connecting her to the Boston factory where her product is made, as well as giving her a place to work out of when she was starting out. After a small initial run, starting in 2009, Holstein began to take her product down to New York, pounding the pavement and finding stores who were interested in stocking the carrier. She has since introduced direct sales on Amazon, and locals can find her product at Kreatelier, Bellani Maternity in Warwick and Nursing Moms Etc., the store within Women and Infants' Hospital. Kowalli recently launched an e-commerce platform on its website, she says.
Holstein says she didn't really avail herself of local resources like the Center for Women and Enterprise, partially due to scheduling concerns (her husband teaches at Wheaton College, and the couple now has two young children). But she found that relying on the approachable network of local businesspeople — including other mompreneurs — was just the kind of help she needed. "For somebody just starting out, Providence has so much to offer. The community of people who know how to make things is really strong here," she says, adding that in addition to the Polartec fleece sourced from Boston, the elastic ties on her products are from HNW Co. in Pawtucket.
Leaning on others is also essential for making this nontraditional career path sustainable, she points out. Not just for moms with home-based businesses, but for entrepreneurs in general, there's a lot of risk and solitude to contend with, Holstein says. "I've tried very hard to network with people who are several steps ahead of me and to learn from them," she says.
Kowalli has yet to turn a profit — it's still a young business, after all — but sales are trending upward, and last year was Holstein's best to date.