Modest Swimwear and Resort Wear Debuts at StyleWeek Swim
The rooftop fashion shows feature six regional designers, including modest wear from Elan Rose.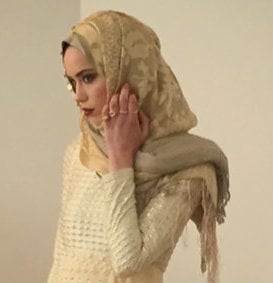 A preview of the Elan Rose collection.
Ladies and gentlemen, get ready to experience diversity in swimwear and resort wear. StyleWeek Swim returns to the Providence G rooftop on Sunday, June 12, featuring six different designers who have created versatile and creative fashion collections for the summer season. The event begins at noon with the StyleWeek accessories showcase, including items from Flaunt Boutique, Calico, Ashley Ernest Designs, Chevalier Homme, La Fille Colette and Kent Stetson Handbags. Then the runway shows kick off from 2:30 to 4 p.m., featuring designers Elan Rose, Gypsetgirl, Jeffrey Dickerson, La Fille Colette, Jonathan Joseph Peters and Jessica Abernethy. Throughout the event, bartenders will be mixing up cocktails and food and drinks will be available for purchase.
One of the most anticipated collections is Elan Rose, designed by Faria R. Ibrahim and Arzina Alam, who teamed up with StyleWeek through the New York-based fashion design and manufacturing agency the Martini Factory. Both women were born in Bangladesh and raised in New Jersey, and the duo featured their first StyleWeek collection last season during the February shows. For this event, they are debuting a resort and swimwear collection, while putting a stylish spin on modest wear for women who prefer to cover up for various reasons, including religion. "Our swimwear is still modest wear. They are more covered looks, not two pieces," says Ibrahim. "But we do have quite a few resort looks. We are using much lighter colors, including nudes and pinks. We do have a few lace pieces and cover-ups."
Though this is the duo's first foray into women's wear, the designers' families have backgrounds in apparel and textile manufacturing and T-shirt design. Ibrahim went to school for fashion marketing and design and previously launched a children's clothing line through trunk shows, while Alam is a medical laboratory scientist who enjoys learning about the fashion business on the side. "I love art and creating and designing. It was always something I did for fun as a hobby," says Alam. "When the idea of this line started to come together, I became more educated about the fashion industry."
The upcoming collection is intended for elegant women who are conservative. We can expect to see linen, lace and silk fabrics in lighter colors and flowy structures, which differs from the last Elan Rose StyleWeek show that included dark colors and thick fabrics. Ibrahim and Alam say the looks are adaptable and can be worn individually or layered, and are as suitable for work as they are for a walk in the park. "We make everything for a modest lifestyle, but we also try to keep it versatile, so one piece can be worn many ways," says Alam. "Anyone can choose to wear it however they want. It was very important to cater to women from all walks of life."
The Elan Rose collection, including headscarves, can be worn by anyone, regardless of religious beliefs. "You'll never have a bad hair day," says Ibrahim with a laugh.
Tickets for StyleWeek Swim range from $30-$50.