Minority Report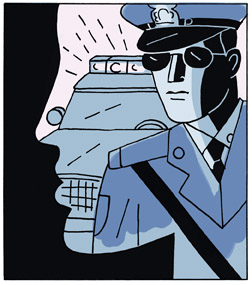 On a winter afternoon in 1982, Michael Evora was a gangly, bespectacled seventeen-year-old walking through Fairlawn with a trash bag full of fabric scraps and cardboard slung over his shoulder. A Pawtucket police cruiser pulled up beside him. The officer rolled down the window. What are you doing here? Where are you going? What's in the bag?
The questions puzzled Evora. Fairlawn was his neighborhood. He was ferrying the makings of his English class project, a Beowulf puppet show, from a friend's house to his own. The answers didn't satisfy the patrolman. He instructed Evora to head back to his friend's house to confirm the story. The cruiser rolled alongside him, for what seemed like an eternal quarter-mile walk.
"I was shocked. I was a good kid who took part of my identity from the fact that I was a straight-A student who never got in trouble," Evora recalls. "People were peering out of windows. Doors were opening. It was mortifying because I believed that they thought I had done something wrong. Why else would the police stop you?"
Today Evora is a lawyer, and as head of the Rhode Island Commission of Human Rights, he is still asking that question. In July 2000, the General Assembly enacted the first of two laws requiring police to collect data on traffic stops that noted the age, race, gender and ethnicity of the driver, the reason for the stop, if a search was conducted and the results of that search, among other characteristics. The answers—as they were fifteen years ago—have been less than satisfactory.
The first set of data showed that statewide, nonwhite drivers were two-and-a-half times more likely to be stopped and searched than white drivers, but less likely to be found with contraband. The second set of data, gathered between October 2004 and October 2005, registered some improvements. About a third of the municipal police departments nudged the racial disparity rate for traffic stops down by more than one percent; three-quarters reduced the racial disparity in their discretionary searches; the rate of productive searches increased. Still, nonwhite drivers in 2004 were twice as likely to be searched by law enforcement officers as white drivers were. And in the last six months, three departments have been accused of racial profiling. In September, Charlestown Police arrested seven Mexican nationals for disorderly conduct, a charge that was later dropped. The same month, Coventry Police searched the Central Falls High School soccer team in front of a crowd of Coventry High School football players who had accused the visiting team of stealing iPods, cash, textbooks and cell phones. The police found nothing. Earlier, in July, a state trooper stopped a van on I-95 in Richmond for failure to signal a lane change, a minor infraction. When the van's occupants—fourteen Guatemalans—could not produce proper documentation, the trooper summoned Immigration and Customs Enforcement. The group now faces deportation.
"It's disappointing," concedes Peter Brousseau, chief of the West Warwick Police Department. "The numbers haven't improved. I'm not sure why. If we had the answer, we would solve it. It's a tough balancing act. You want [officers] to do their jobs but also to be aware there is an issue with the minority community."
More than an issue, racial profiling is officially banned. In 2004, the End Racial Profiling Act, besides mandating the second study, enabled citizens to bring civil complaints in state court against law enforcement officers or agencies engaged in racial profiling. Despite three years of numbers and a legal remedy, many in the minority community and civil libertarians believe that a search for a solution has only begun.
In early December, the Rhode Island Chapter of the American Civil Liberties Union was at work on a lawsuit emanating from the state police stop and planned to introduce legislation in the current ses- sion to strengthen the law. Ramon Mar-tinez, executive director of Progreso Latino, says that police-community relations are also at the top of the Minority Caucus's legislative action agenda.
Profiling, as a formal law enforcement practice, is a thirty-year-old tactic of the drug wars. In 1985, as part of Operation Pipeline, the U.S. Drug Enforcement Agency began to train local and state police in the methods of identifying drug traffickers by certain driving patterns, driver behaviors, age and racial characteristics. In some departments, interdiction devolved into simply targeting black and Hispanic drivers through technical traffic violations.
Then the 1991 beating of Rodney King by Los Angeles police officers touched a national nerve. Three years later, a measure in the National Safe Streets Act gave the U.S. Department of Justice the authority to investigate police departments that systematically violated civil rights. Today, nineteen police departments are under consent decrees to reform their practices. More than twenty states have enacted laws requiring police agencies to collect information on traffic stops and searches, according to Northeastern University's Insti- tute on Race and Justice, a research center for racial profiling in law enforcement issues.
Amy Farrell, associate director of the institute, analyzed the Rhode Island data.
Initially, she says, police departments nationwide resisted data collection as an administrative headache and out of fear that the data would be misused. Today, most have gotten past that reluctance.
"It's been a good thing for our profession," says Colonel Steven Pare, chief of the State Police and president of the Rhode Island Chiefs of Police Association. "It's given us some insight, and we've had discussions about why there are disparities. There's been an a lot of training on this issue. We have more, perhaps a lot more, work to do in understanding and in training on the legal standards of probable cause."
ACLU Executive Director Steven Brown is less impressed. He says few have bothered to parse the patterns in the data to determine if their problems lie with particular officers, locations or shifts.
"Their efforts are a joke," Brown says. "There are good chiefs who want to do the right thing, but I don't see any truly serious effort to get to the bottom of the problem."
That may be because the bottom is so far down, and muddied by the national debate over immigration and the fears of terrorism. Martinez, who recently moved to Rhode Island, blames what he calls the parochialism of the state. "People from Coventry see themselves as members of one community. As a result, there isn't this awareness of other people. There's this constant fear of other communities."
Even criminologists allow that analyzing the information can be tricky. David Thacher, a criminology professor at the University of Michigan, has studied the issue and cites the example of one suburban police department in Detroit that was stopping motorists with improperly displayed license plates and broken tail lights. The ostensible reason was not racial, but the policy disproportionately penalized poor, urban blacks.
"Does the data prove the officer was making a decision based on race?" he says. Raw numbers don't always tell the full story.
Evora's first and only brush with the law didn't scar him or transform him into a champion of racial justice, but "it does give me a sensitivity to the issue," he says. "It's not just anecdotal for me."
It isn't easy being a person of color in America, where most racism isn't delivered in a King-size beating, but in daily doses of small indignities. Nor is it easy to be a police officer charged with making split-second, consequential decisions. The traffic-stop data has begun a dialogue that both sides find encouraging, and many believe we should keep asking: why else would the police stop you?
"There is a concern that there wouldn't be transparency if we were to stop collecting this data,'' Farrell says. "If nothing else, it continues the conversation every time this information is released."