Mind the Gap
When it comes to hockey players and their missing pearly whites, Providence Bruins' dentist, David Mastrostefano, knows the drill. We asked him to fill us in.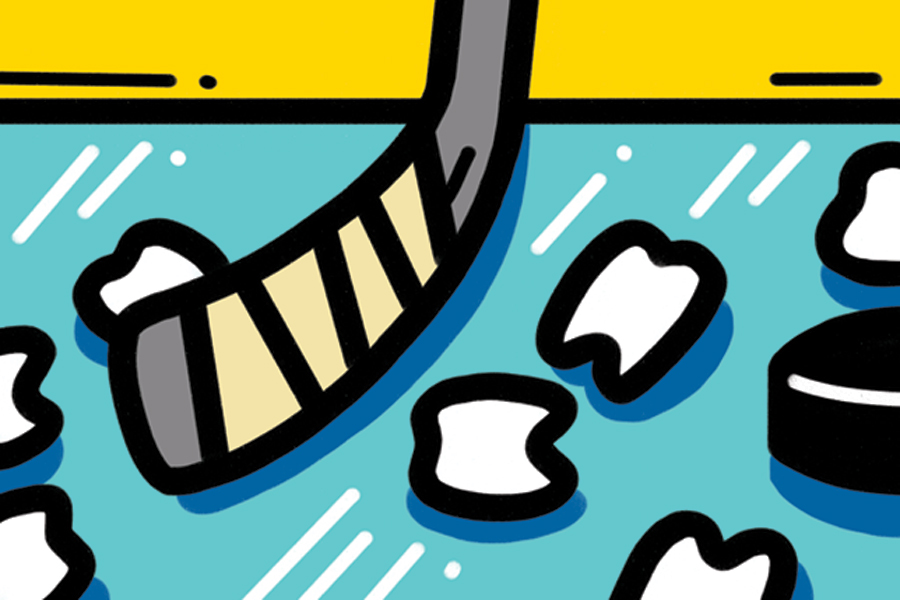 Google "hockey players and teeth," you get 611,000 results, and SI.com has a photo blog, "Hockey's All-Time Best Toothless Smiles." What's their biggest risk? Usually at practice, the hockey stick when it's moving fast, like a razor blade and cuts teeth off. I do a lot of bonding and splinting. A tooth may be lost, but I can wire it to other teeth. I see almost all two dozen or so players during the season, including the goalie, who wears a helmet. I make the entire team wear mouth guards.
Tell us about your rink-side manner. I go to 60 to 70 percent of the games. You have to have a certain approach, you can't do the fanciest dentistry because teeth may get broken again. These young guys have to wait until they retire and they may play for ten years.
Why you and dentistry? My grandfather was a dentist. I grew up in his office. My father was a physician and they worked together in Providence. After school, I would hang out and watch them. My grandfather's job was more interesting, he did extracting, made teeth, mixed chemicals. There was more to do.
Ever seen the movie Slap Shot about a rag-tag minor league hockey team, the cleanest line that we can print here being, "You take the van, I'll keep the dog"? More than 100 times.
Are players serious flossers? Most are; they have good hygiene. Mostly they suffer from missing front teeth, and they can't be fixed if they're badly damaged. If you're twenty or twenty-five, that's not a good thing.
Do you practice what you preach? I have no cavities and all my teeth, including my wisdom teeth. My hygienist is pretty happy with me.