Meet the Jack-o-Lantern Spectacular's Chief Carver
John Reckner plans for the event all year round.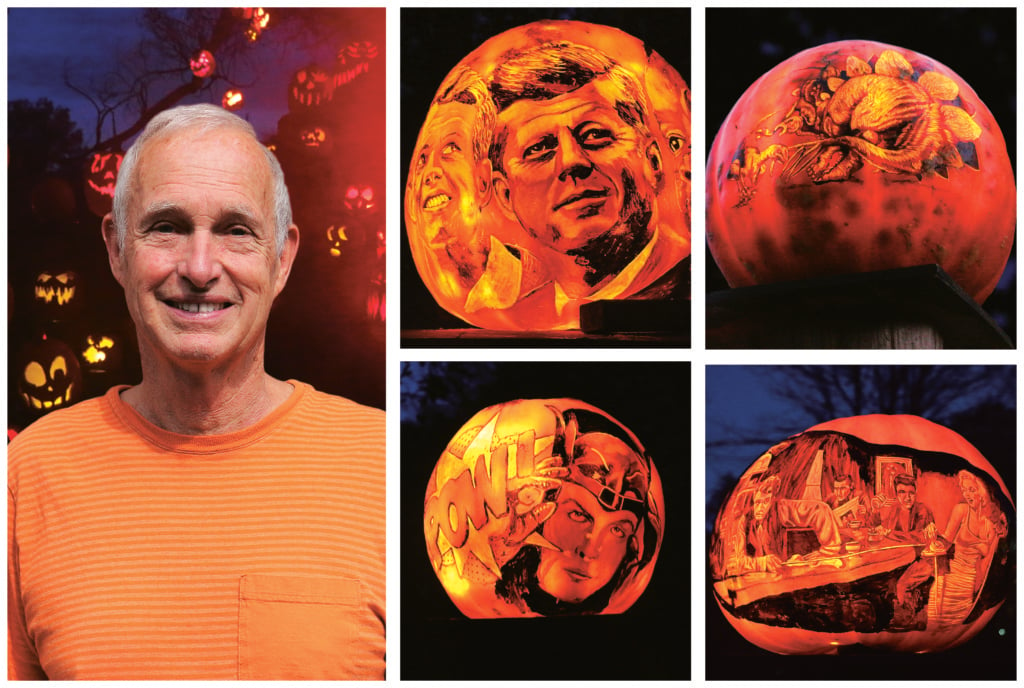 John Reckner plans year-round for the annual Jack-o-Lantern Spectacular (this year, October 4 to November 4) at Roger Williams Park Zoo in Providence. Every year he hashes out new themes and proposes designs including this year's series, which is dedicated to unsolved mysteries (Sherlock Holmes, Jimmy Hoffa, Colonel Mustard from the game Clue) and great love stories (Harry and Meghan, Kermit and Miss Piggy), among other themes. 
"It's an illuminated art show," Reckner says. "We're putting high-quality art on pumpkins." 
Reckner, who owns the Oxford, Massachusetts-based Passion for Pumpkins, starts by sketching out the designs for the pumpkins months in advance, taking into account how each relates to the larger theme (this year's theme is "Night in the Library"). He thinks about how the pumpkins work together to create a scene and then chooses corresponding music. 
When he is satisfied with the way his prototypes look, he and his twenty-member crew use permanent, oil-based markers to trace the images onto the pumpkins. They only start carving a few days before the pumpkins go on display. And, unlike home-carving where you hollow out the entire pumpkin and cut straight through the skin, Reckner and his artists hollow out the middle but leave about a half an inch of fleshy pumpkin skin on all sides, and cure and dry the interior using fans to make them last longer. They use special wood carving tools to gently scrape away the outermost layers.
"The deeper you carve in, the more light penetrates," Reckner explains. He and his artists make both shallow and deep cuts to allow a gradation in the lighting that gives the jack-o-lanterns a dramatic, artistic appearance. They place LED lights half inside, half outside the pumpkins to keep them from rotting. After all, each pumpkin takes eight to ten hours to carve.
The crew of twenty artists will cycle through 20,000 by the time the four-week event is over. They spend the months of September and October working full-time to keep the roughly 120 large, 100-pound pumpkins and the roughly 5,000 background pumpkins looking good. 
Most are replaced four to five times during the show, and Reckner keeps it fresh by letting his artists riff on the original designs — meaning that each week, individual pumpkins might differ slightly. It's the kind of attention to detail that rewards multiple visits. 
The pumpkins weigh between fifteen and 2,000 pounds each. To carve out those 2,000-pound show-stoppers, Reckner grabs a small shovel and actually gets inside. "It's almost like being in a cave," he says with a laugh. "But if we're going to do any real detailed artwork on them, we normally don't cut them out. We do the image and put some nice colored lighting outside." rwpzoo.org/jols