Meet Roger Williams Park Zoo's Resident Bald Eagles
Glory and Spirit have been a couple since 2004.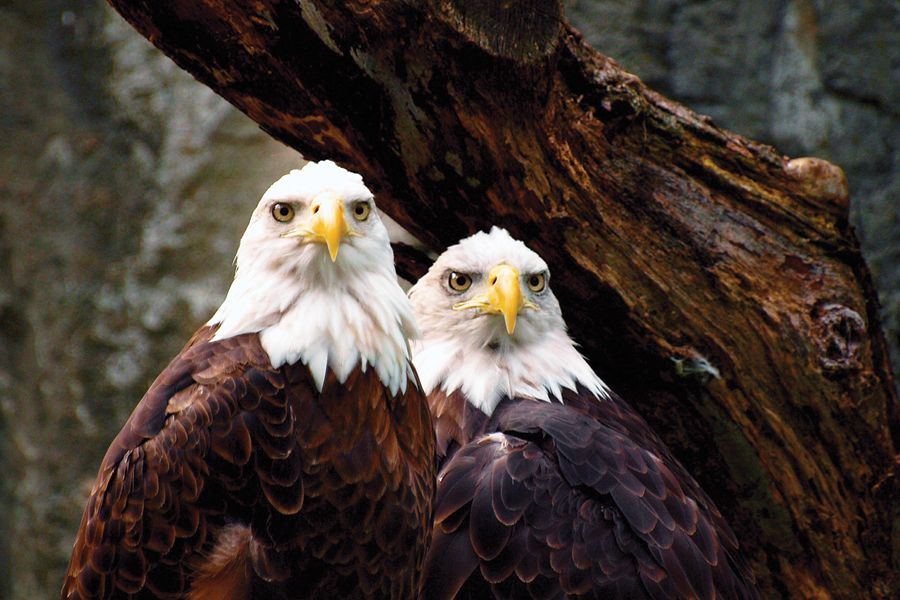 Glory and Spirit, the bald eagle pair, have happily cohabitated in the North American exhibit at Roger Williams Park Zoo since 2004. Glory (the female) is originally a Floridian and Spirit hails from South Dakota. Although they can no longer rule the skies due to injuries, they are a magnificent and awe-inspiring sight to behold. Snow white heads cap their impressive bodies, equipped with piercing predatory eyes, auburn feathers, bright yellow beaks and long, strong, powerful talons. It's no wonder these distinguished birds were adopted as our national emblem. They stand for freedom and liberty, which are also the names of the famous eagle couple in Pennsylvania that captivated an audience over a viral live stream. Viewers tuned in as the two protected their future clutch through 2015's tumultuous winter. Like their wild cousins, Glory and Spirit (who are in their late-twenties) usually create nests yearly for young, however they are not a breeding pair and their expectant eggs never come. Not to worry, according to Dr. Jeremy Goodman, the zoo's executive director; the natural instinct of getting things ready keeps the pair active, busy and happy.