Meet Rhode Island's Fittest Man and Woman
A Warwick couple is competing in a worldwide CrossFit competition.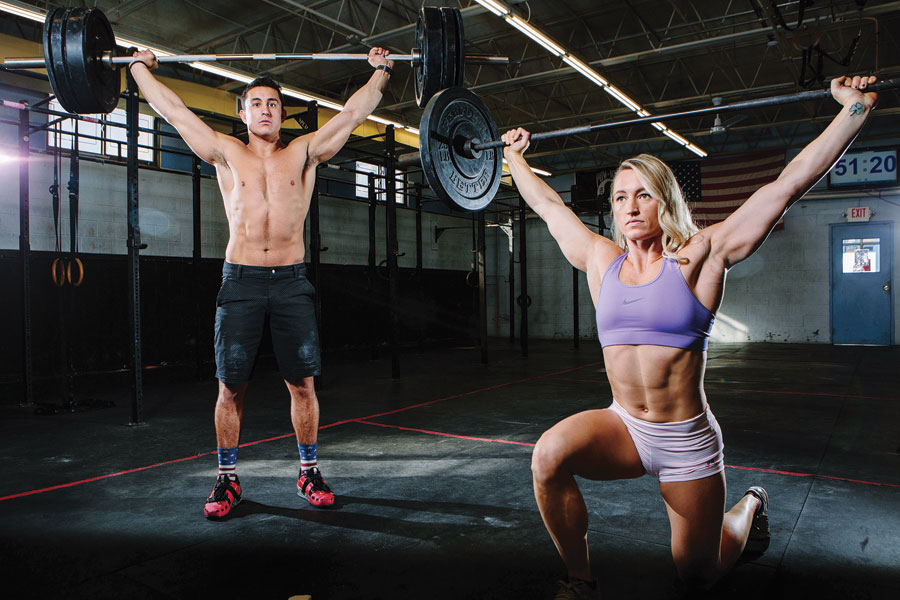 Ray Fleser stands before a barbell loaded with 325 pounds of plates resting on the gym floor of Ocean State CrossFit in Cranston. "It's time to go," he chants to himself, breathing in and out before he rushes toward the weight, grasps the bar and hoists it up to his chest. Using his legs for leverage, he lifts it above his head as a small crowd whoops and cheers.
The twenty-eight-year-old from Warwick drops the weight to the ground with a clang, then shouts, "That's a PR, baby!" Fleser is the director of operations at Ocean State CrossFit and he just achieved a personal record for Olympic weightlifting.
This athletic skill is just one part of CrossFit, a program that combines different elements of fitness including weightlifting, calisthenics, gymnastics, agility and more. "We don't train to be the best at one thing, we train to be really good at everything," says Fleser. He and his girlfriend, Ocean State CrossFit coach Ashleigh Cornell, earned the titles Fittest Man and Fittest Woman in Rhode Island at the 2015 Reebok CrossFit Games Open, a worldwide, five-week competition.
This February, the couple will defend their titles by completing workouts, videotaping themselves performing movements from all of the elements of fitness, and then they'll submit the results to judges. "Absolutely anyone, at any gym, at any age, anywhere in the world can sign up," says Fleser.
Once the top twenty men and women and top fifteen teams are determined, the finalists move on to a regional competition.
CrossFit provides a family-like community for athletes used to being a part of a team or even for those who have never been a part of one. Members encourage each other to improve fitness goals, whether it's achieving a first pull-up, exceeding weightlifting limits or dropping five pounds.
"I've been athletic my whole life and I've played a million sports. I've always been competitive. It filled a void for me," says thirty-year-old Cornell, from Taunton, Massachusetts. "I was coming right out of marathon training when I started CrossFit. You go from lonely twenty-mile runs by yourself to this community with people cheering for me, and I'm cheering for them."
Fleser says the best part about CrossFit is helping others meet their goals. "CrossFit brings people together on a level that's really neat to watch," he says. "You get people high-fiving each other, cheering each other on, but otherwise their paths would never cross in life." oceanstatecrossfit.com