Mauritius at The Gamm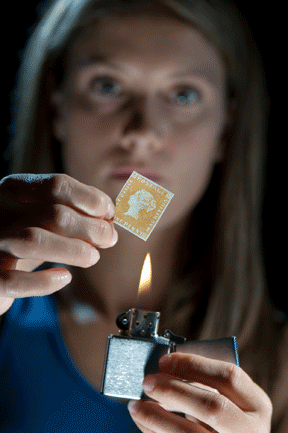 You'll be sorry if you miss this one: Mauritius, playing at Pawtucket's Gamm Theatre until November 21, is both an absorbing family drama and a dirty glimpse into the world of high-value collectibles. It boasts great performances, crisp direction, and the sort of theatrical experience that will have your heart fluttering at the words "inverted Jenny." In other words, it's a bunch of dramatic fun centered, improbably, around rare stamps, and although the production rests on the shoulders of one of the Gamm's greener actors, Amanda Ruggiero – last seen languishing in the thankless role of Juliet – she pulls it off. Surrounded by much older veterans, all of whom turn in fine performances, Ruggiero starts a little shaky but quickly becomes the hard-bitten yet sympathetic young fighter we're rooting for as, still recovering from her mother's long illness and death, she navigates the shark-infested waters of familial relationships and black-market stamp dealing.
At the heart of the play, written by Theresa Rebeck and directed by Perishable Theater's visiting artistic director Rachel Walshe, is a contested inheritance, a stamp collection that two half sisters, Jackie and Mary, each claim as their own. In it are two extremely rare stamps from the island of Mauritius, worth millions – or are they? Jackie, aware of how narrow poverty and privation have made her life, is too desperate to wait for a drawn-out probate settlement; she wants to sell the stamps and run. Mary, who ran herself years earlier, fleeing dysfunction for relatives with more means, is convinced the stamps should be kept as a legacy honoring her grandfather, the original collector.
Neither sister will back down, neither likes the other, and neither is above trying to pull a con or two to get her way. Ruggiero's Jackie manages to be at turns desperate and angry without being shrill; Casey Seymour Kim's Mary, self-righteous and uptight, is the character you'll love to hate. Steve Kidd plays likable fixer Dennis – he makes a good crook – while Jim O'Brien is a knowledgeable yet craven expert. And Richard Donelly is wonderful as sinister collector Sterling, a mesmerizing, menacing thug.
Expect laughs, tears, myriad plot twists, plenty of profanity and even a little romance as the production, which never loses sight of the family tension at its core, drives forward. It's a wild world these five actors create, under the guidance of Walshe, who recently returned to Rhode Island after winning a Rhodes scholarship and working as a director in Chicago (learn a little more about her here) – and it's also that rare beast, a play that's not a comedy but still leaves you feeling uplifted. A trip to Mauritius is no Disney vacation – and that's why you should go.