Mary Donnelly
Mary Donnelly has spent more than half a century caring for Block Islanders — and she's not ready to retire yet.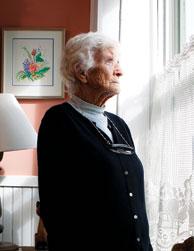 Mary Donnelly has never been the sort of person to let a pothole get in her way.
Block Island's famous visiting nurse is making her daily rounds one February morning when she encounters the potential obstacle. She's just turned off Mohegan Drive onto the rutted dirt road leading to Madelene Salster's house.
"This is one of the worst," Mary says. She would know. The eighty-four-year-old in the white Reeboks has spent more than half a century criss-crossing this beautiful island thirteen miles south of Rhode Island's mainland, caring for residents and assisting them with their financial woes.
Her children have long been after her to retire. Her daughter, Marguerite, worries and will often drive her mother to Salster's. Mary doesn't like that. When the weather's really bad, however, Mary will ask the police for assistance to make sure she can get to her patients.
But not this windy day. Mary turns the wheel of her Toyota RAV4 — license plates "NURSE 2" — sharply to the left, taking it off-road. She steers it around a large tree, past the rut, and back onto the path to Salster's house. She's well-acquainted with the driveway. Before Salster moved in, Mary made house calls to the previous owners: two diabetics who lived there without heat or running water.
Mary knocks on the front door and greets Salster, a retired music professor who she's been visiting for a year and a half.
"Mary and I have a routine," Salster says.
"She's got something that doesn't give in," Mary says. "I never knew a toe could cause this much trouble." What began as a callus got infected, she explains. Mary cuts the bandage off Salster's big toe, cleans it, applies the new gauze and pulls Salster's socks back on.
"It's just a pain in the you-know-what," Salster says. "And Mary comes out here whether it's snow or rain or everything all together."
To read more of this story please visit your nearest newsstand or click the link below.