Can We Keep Our Underwater Monument?
President Trump is calling for a review of twenty-four national monuments, including the underwater one 130 miles off New England's coast.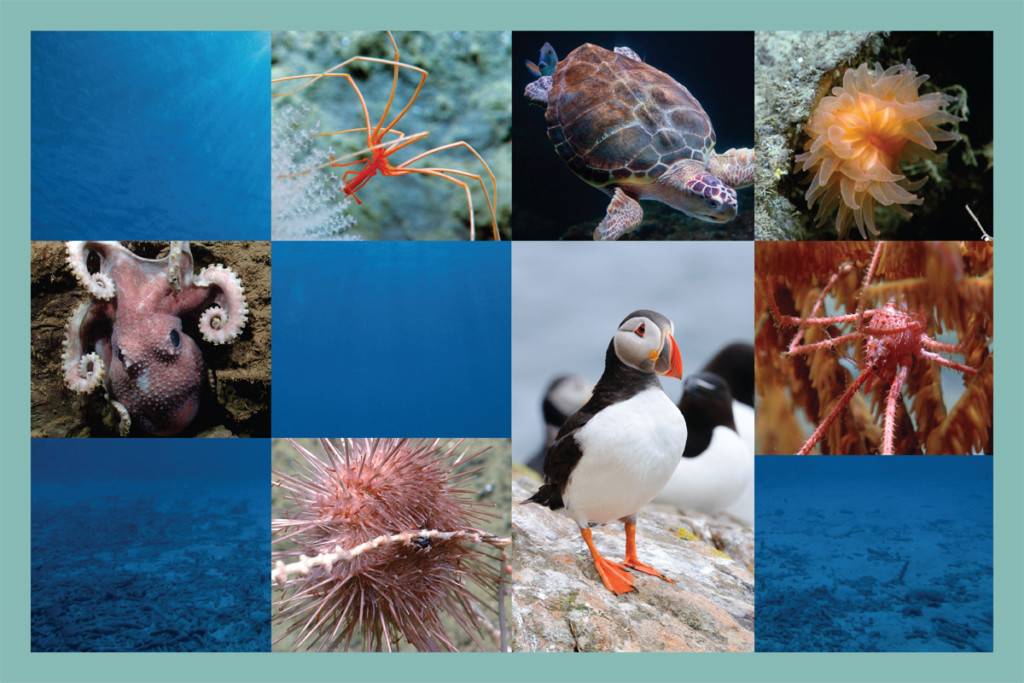 Most Rhode Islanders love the ocean, but few of us really know much about it.
Ask anyone local, and chances are they'll say nothing beats a visit to the shore: sand between your toes, a cool sea breeze, blue summer skies. But they're not thinking of the ocean, really, they're thinking of the beach. The Atlantic Ocean, that massive, deep, lonely seascape that stretches for thousands of miles beyond our horizon, where storms are born and currents clash, where whales roam and wild winds blow — that's a place few have visited, and fewer still think much about it. To most of us, it's an empty, featureless, huge, wide-open aqua incognita.
But to a few Rhode Islanders, our local Atlantic is a familiar place. Scientists are out there, on research ships, exploring unknown ecosystems and mapping the seafloor. Fishing crews are out there, all year round, collecting and selling millions of lobsters, cod, swordfish and tuna, battling weather and weariness. And surprisingly, last September, former President Barack Obama was out there — at least, in spirit — when he protected a sizable chunk of our nearby Atlantic as a federal sanctuary, to be left alone for nature.
The brand-new Northeast Canyons and Seamounts Marine National Monument, about 130 miles east-southeast of Cape Cod, was created by presidential decree just a few months before President Obama left office. It protects 4,913 square miles, an area almost the size of Connecticut. The designation provides a safe sanctuary for colonies of ancient deep-sea corals, endangered whales, Kemp's ridley sea turtles and anything else that swims or flies within its boundaries. It's the first-ever federally protected area in the whole Atlantic Ocean — but since Obama established it as a marine monument, its creation has taken twists and turns. In March, a coalition of New England fishermen, including the Rhode Island Fishermen's Alliance, filed a lawsuit in federal court, seeking to undo the area's protected status. Then in April, President Donald Trump called for a review of twenty-four national monuments, including this one designated by Obama months earlier. Finally in May, a federal judge put the fishermen's lawsuit on hold.
Despite its confusing name, the new marine monument — which brings to mind a giant obelisk protruding from the ocean waves — is really just a protected area, a kind of park, where commercial activities are excluded in favor of preserving the natural environment. The monument protects three ancient canyons along the edge of the continental shelf, at Georges Bank, where the shallow near-shore ocean floor falls steeply down to the seabed. The canyons were formed by erosion along this down slope millions of years ago, when sea level was lower and the shelf was dry land. The deepest one, Oceanographer Canyon, is more than 2,000 meters from its rim to the floor, deeper than the Grand Canyon.
"The canyons expose a huge cross-section of different layers of materials that provide habitats for an incredible variety of organisms," says Peter Auster, a marine biologist affiliated with the University of Connecticut and Mystic Aquarium, who has explored the site many times over the past three decades. "These canyon habitats, because they intersect with the deep ocean, form the basis of food webs. They're incredible feeding areas for fish, sea birds and mammals."
Also protected are four seamounts, or underwater mountains, which formed in the deep ocean farther offshore. The largest, Bear Seamount, rises around 7,000 feet from the seafloor — higher than any mountain east of the Rockies. The seamounts stir up the ocean currents, mixing nutrients and oxygen into the deep waters, and creating "hot spots" where marine creatures can thrive. Deep-sea corals and sponges help create an ecosystem where fish can find food and places to hide, then bigger fish and marine mammals are attracted in search of a meal.
"When you explore from the surface to the deep ocean, down the sides of these extinct underwater volcanoes, the biological diversity is incredible," says Auster. "All these different life zones are packed in a very small space, which makes this an outstanding opportunity for conservation. And the seamounts are essentially unaffected [by human activity], other than the shallowest parts."
Given its remote location, and the slow speed of ocean travel, the new monument is not expected to attract many visitors. But Auster says its inaccessibility shouldn't matter. "There are parks in remote places in Alaska that most people will never visit," says Auster. "But people want to know there are places like this…they become part of our natural heritage. It's a truly American thing to do, to protect these places, whether people go there or not."
Environmental groups from across New England lobbied for the monument. More than 300,000 people sent messages of support to President Obama, and more than 500,000 tuned in online to watch live video feeds of a 2013 research expedition to the site. Last September, 300 people turned up for a town hall meeting held in Providence, hosted by the National Oceanic and Atmospheric Administration (NOAA). But support from Rhode Island's environmental community has not been unanimous.
Some Rhode Island environmental advocates chose to not take a public position for or against the monument, citing concerns about the lack of research or inadequate public input. Our congressional delegation — United States Senators Sheldon Whitehouse and Jack Reed, together with Representatives David Cicilline and James Langevin — issued a carefully worded joint news release that welcomed the designation, while noting that "the federal government must enhance stakeholder engagement when it comes to ocean planning and fisheries management in New England."
Input from the fishing industry did result in key changes, the congressmen said. The monument designation "reflects a more workable approach toward conservation, sustainability and productive fisheries than had been initially contemplated. It includes specific measures we advocated to ease some of its effects on Rhode Island commercial fishermen." The offshore lobster and red-crab anglers can continue for seven years before they have to leave the area, and the total size of the monument is smaller than in earlier proposals.
Priscilla Brooks, director of ocean conservation for the Conservation Law Foundation in Boston, took a strong stand as an advocate for the monument. She said it's always a challenge to educate people about the ocean and build support for its conservation. "There are hundreds of thousands of square miles protected as marine national monuments in the Pacific, but until the Northeast Canyons and Seamounts was designated, there wasn't a single square mile protected in the Atlantic," says Brooks.
The canyons and seamounts deserve protection, she says. "These are dramatic ocean features, and they're home to a spectacular underwater seascape, and an amazing array of marine life — endangered whales, and a number of large pelagic fish like tuna. The monument's cliffs and crags support colonies of diverse cold-water corals. There are as many as seventy-three different coral species that have been identified, and we expect we'll continue to find new species out there." Sea birds, including the endangered Atlantic puffin, winter at the site. "It's an extraordinary place," she says.
Brooks says there was a multi-year process to engage the public, stakeholders, state and federal agencies and elected officials. Yet some environmental groups were reluctant to fully support the effort, citing the abbreviated process that depended on presidential decree, rather than a more lengthy and comprehensive process that would support more research and ensure all stakeholders are heard. And some were sympathetic to the impact on the local fishing industry.
Larry Taft, executive director of the Audubon Society of Rhode Island, took a stand for preservation. He says he first became aware of the effort to protect the offshore area at a local lecture by a puffin expert. "The Atlantic puffins spend a critical part of their life out by the seamounts," he says. "I heard about the effort to create a marine sanctuary out there, and I was very intrigued by how important this was. It's not just the puffins; whales and turtles depend on these areas, too. So we worked to spearhead some grass-roots support."
Taft says he understands the concerns of the fishing industry, but to protect this one relatively small area, which will help to provide a nursery for future fish stocks, "seemed to be pretty fair." And the ocean shouldn't be off-limits from preservation efforts, he adds. "What if we discovered such a place anywhere on land? Wouldn't we protect it?"
But the anglers are moving forward with their effort to undo the monument's protected status. The federal lawsuit, signed by a coalition of five New England fishery organizations, including the Rhode Island Fishermen's Alliance, claims that President Obama exceeded his authority in creating the monument, which was designated under the Antiquities Act of 1906. "The ocean is not 'land owned or controlled by the federal government' [as specified in the act] and, thus, is not within the president's monument-proclaiming authority," the lawsuit states. "Even if the president could lawfully declare monuments beyond the United States' territorial sea, this 5,000-square-mile monument would nonetheless violate the Antiquities Act because it is not the smallest area compatible with protecting the canyons and seamounts on which it is purportedly based."
Norbert Stamps, a Rhode Island fisherman with more than thirty years' experience in the offshore waters, now serves as vice president of the Atlantic Offshore Lobstermen's Association, which represents lobstermen who work from Cape Hatteras to the Canadian border. His group is one of the five that signed on to the lawsuit. "This area that was picked out for the national monument is the most popular, productive fishing ground in that whole area," says Stamps. Besides hosting thousands of lobster traps, the area is fished with long-lines for swordfish and tuna, he says.
"It's what we would call a fishy place," says Stamps. "That's the spot where everything likes to live." Yet despite "intense commercial fishing" in the area for the last seventy-five years, he says, the anglers haven't damaged the ecosystem. "The scientists went down and they say it's pristine," he says. "So obviously we didn't do anything, we're not doing any damage. Where there's a lot of coral, it would damage your gear, and nobody fishes there." He adds that most fishing activity in the area takes place within 1,200 feet of the surface, and the coral forests are found 2,000 or 3,000 feet deep. "There isn't a modern fisherman I'm aware of who wants to do any kind of environmental damage at all," he says.
Yet the ocean is a big place, and this monument seems relatively small. How much harm can it do? Stamps says maybe five boats will be affected, each of them about sixty-five to eighty feet long, the kind of boats you might see tied up to a dock in Galilee. Can't they just go fish somewhere else? Stamps says it's not that easy for a displaced boat to relocate to a new site. "Imagine if you have a Dunkin' Donuts store right on the most traveled corner in the city of Providence, and then you lose it, and you have to go to Woonsocket, is that a good option?" he asks. "And that's exactly what it is. There's guys who have been out there for over twenty-five years, and that's their neighborhood, their established grounds."
Each boat claims its own fishing grounds over time, Stamps says. "We all have our edge of the continental shelf. There's an unwritten gentlemen's agreement kind of thing — you go over there and I'll go over here, and you shake hands." So if an area is shut down, it's not easy for those boats to find somewhere else to go — the good fishing spots are already occupied. And each of those boats represents someone's livelihood, years and decades of sweat and toil. Losing access directly affects the value of their business.
Stamps estimates there are about 5,000 active lobster traps in the monument area, mainly on the edges of the canyons, where it's shallower than 1,200 feet. Those operators have seven years before they have to clear out. All other commercial fishing already is banned, as well as any kind of resource exploration or extraction, although recreational fishing is allowed. The ocean might seem big and vast, but not all of it is full of fish. "There are certain places that hold life, and that's the way it is," Stamps says.
The fishing community naturally is not eager to give up its access to these canyons and seamounts, but national environmental groups have stepped up to defend the monument against the lawsuit. "The president has the authority to declare national monuments, and we believe he did so properly here," Brad Sewell, of the Natural Resources Defense Council, told the Associated Press, after the lawsuit was filed. Peter Auster, the scientist, argues that if the Atlantic really is so heavily fished that there's nowhere for a fishing boat to find a new space, maybe that's a sign that it's time for some protection. "I understand the cries of angst about this," he says. "But if there's no room for anyone to fish anywhere else, then this clearly is not a sustainable activity." There's no way to know how the lawsuit will turn out. The anglers will have their day in court — and New England could lose its first marine monument before most people even realize it's there.
Those canyons and seamounts may be too remote for most Rhode Islanders ever to visit, but in May 2004, I was lucky to go there, as a volunteer educator/science communicator aboard the NOAA research ship Ronald H. Brown. Our trip out to Bear Seamount took a full day and night; we encountered a breaching whale, crossed the Gulf Stream, and hosted two storm petrels that landed on our deck, lost in the dark, amid a sky full of more stars than we're accustomed to in urbanized Rhode Island. We carried a remotely operated vehicle (ROV) that descended to the sea floor to show us live video and collect samples for the scientists to examine.
Those samples revealed some of the mysteries of the world beneath our ship. Deep-sea corals in bright colors came to the surface entangled with brittle sea stars, a kind of squirrelly starfish with long, skinny arms. The coral provide a vertical structure that helps sea life to get off the surface and reach up into the currents where they might find food to scavenge. After every dive, the science contingent gathered on deck armed with white plastic buckets to collect the precious samples from the ROV's bio-box. For the scientists, those samples provided a window into the alien world of the deep sea, where it's always dark and cold, food is scarce, pressure is high and time passes slowly. It's like exploring a new planet, and every ship that goes there discovers something new.
The fate of our first Atlantic Ocean marine national monument is now up to the new administration in Washington. The lawsuit will make its way through the courts, the lobster boats will continue to harvest and science expeditions will return to explore. The rest of us, who stroll on the beach and gaze out at the waves, can only imagine life out there in the open sea, beyond the horizon, amid the seamounts and canyons, in the unknowable deeps.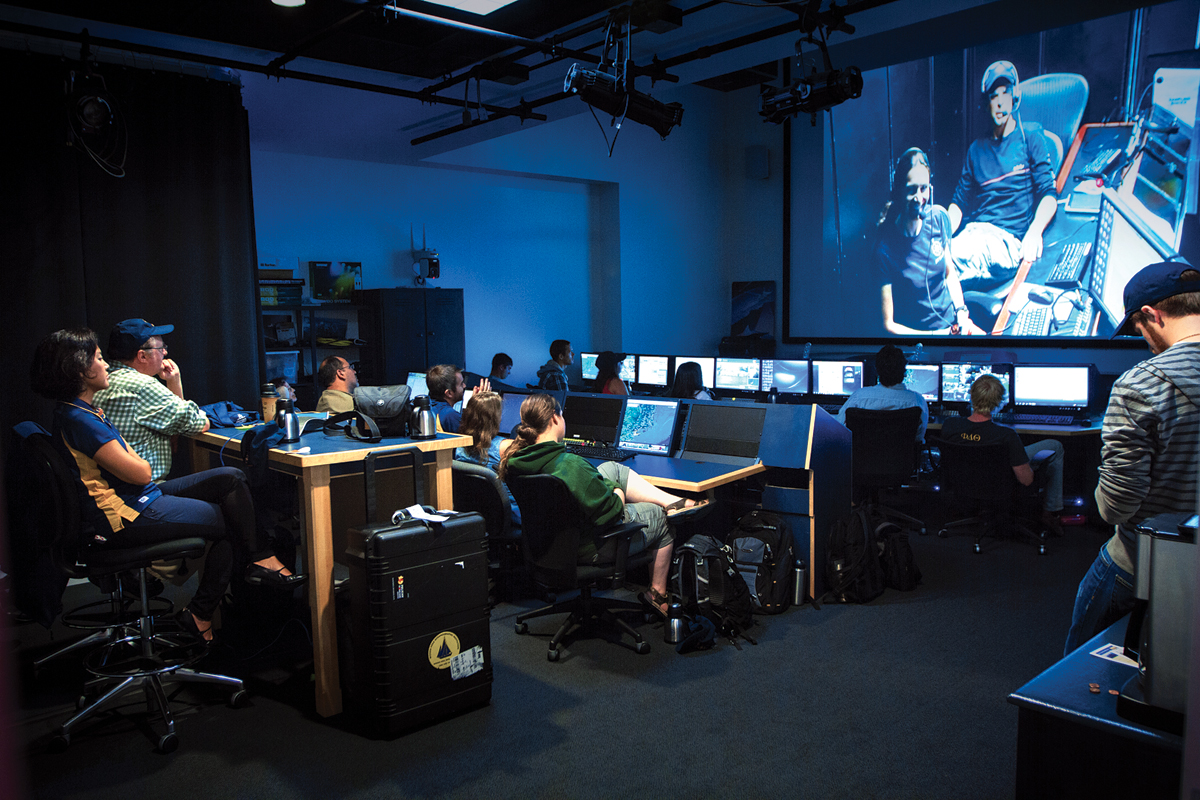 The Virtual Explorers
Over the last ten years or so, explorers have grown to depend on remotely operated vehicles (ROV) that allow them to stay warm and dry on the ship — or on shore — while the ROVs descend to the seafloor, sending back images and collecting samples. Scientists from around the world can collaborate in real time during the voyage, as the video collected by the ROVs streams over the Internet.
All this unique "telepresence" technology exists thanks to work done right here in Rhode Island at the Inner Space Center (ISC), located at the University of Rhode Island Graduate School of Oceanography in Narragansett, and at Quonset, where technicians work in a NOAA facility to build and maintain the one-of-a-kind ROVs.
URI Today: Inner Space Center from Inner Space Center on Vimeo.
Dr. Robert Ballard, who's best known for discovering the Titanic's resting place in 1985, has been a professor of oceanography at URI since 2002, and also serves as director of the Institute for Archaeological Oceanography. He spearheaded the creation of the ISC, and leads a team of researchers and technicians who work constantly to develop the technology and expand its use. He first visited the seamounts that are now part of the marine monument back in 1975, when the state of the art was the Alvin submarine, operated by the Woods Hole Oceanographic Institution. "The only people who were able to see the seamounts then were the people inside the submarine," Ballard says. "But now, thanks to the telecommunications technology that we have at the Inner Space Center, when we were diving on Bear Seamount with the ROV Hercules, in 2004, millions of people were going on the trip. Anyone now can participate in expeditions, and that's due to the unique technology that we've installed here at the Inner Space Center. The ISC is a unique facility. There's nothing like it in the world."
At the ISC, amid a control room packed with powerful computers and high-definition video screens, scientists can view ongoing expeditions and interact with the crews at sea. The same live video is streamed online, so anyone can watch in real time as discoveries are made. The vast amounts of imagery enable us to get to know these hidden places much more intimately than we ever could in the past, and create a connection with places most of us will never visit.
Public tours of the ISC are offered the first Tuesday of the month.
To register online, go to innerspacecenter.org/tours.