Malt
Malt is the happy mash-up of a friendly Newport bar with a sleek and successful dinner menu.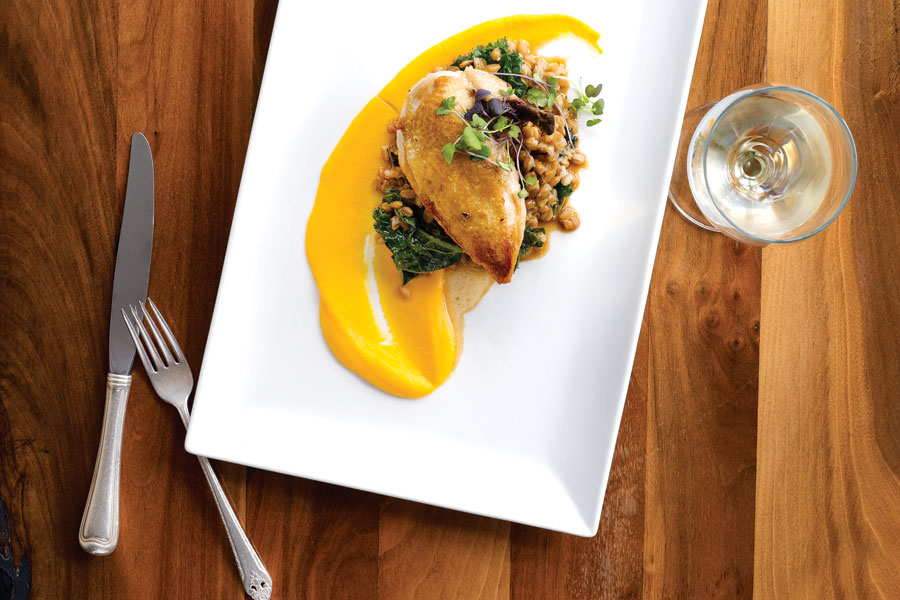 150 Broadway, Newport, 619-1667. Open for dinner and late-night seven days a week, lunch on weekends. Reservations accepted. Wheelchair accessible. Street parking. Cuisine Elevated pub. Capacity 100-plus in three rooms. Vibe Irish football team meets Boston elite. Prices Appetizers $8–$14; entrees $9–$25; dessert $8. Karen's picks Burgers, grilled romaine, scallops, steak.
Key
Fair
Good
Very Good
Excellent
Half-star
It's tough to replace an institution. Tucker's Bistro, with its dim, quixotic interior, lured romantics to Broadway with relative ease despite repeated shifts in chefs and menus. In its wake, Tom and Chelynn Sheehan, two Dublin transplants, had a choice to make: hold onto the crimson walls and the palpating hearts or begin anew. One look at their endeavor, Malt, and it's clear they chose the latter.
Anchored by a wooden bar, Malt asserts itself with subtle distinction. New England whites and blues, the occasional vintage chandelier and a smattering of year-round Christmas lights make for a civilized but insouciant meal that easily transitions from solo drinks to larger dinners depending on your location in the restaurant. The bar is flanked by high tops and televisions though the main dining room (and back alcove) barely catches any of its sound.
Yet aesthetics and even drinks aren't everything. Sure, there's a closetful of interesting rye, bourbon and absinthe. Yes, there are dozens of international and craft beer options. And you're right: there's a good list of creative cocktails too (Malt Whitman?). But perhaps the most surprising thing about Malt is that the food is better than all of them.
Not surprisingly, it starts with a burger ($12), the mainstay of any legit bar. Chef Joseph Marshall walks the middle ground between classic and contemporary, producing a version that can easily be called damn good. A study in red meat and tang, covered in Grafton cheddar, onion jam, sharp mustard aioli and maple bacon, it's shockingly close to an archetype. And if it sounds too complicated, think again. All juice, char and smoke, there's not a drink it wouldn't improve, nor an appetite it wouldn't sate.
Marshall probably could have stopped there. It's enough to make a good bar, establish a regular following and keep inventory low. The Sheehans, however, who once co-owned Busker's Pub on Thames, had an elevated vision and let Marshall loose. The result falls somewhere between rustic and refined though the delineation is close to seamless.
The eclectic crowd reflects the dichotomy: A group of retirees with no curfew kicks it up next to an argyled toddler whose newfound throwing arm has landed him at a back table. Far more people are coupled, starry-eyed or otherwise, while singles sidle up at the bar talking smack to the TV.

There are still a few salutes to the old Tucker's, delivered with a wink and a nod. Pairs of quirky salt and pepper shakers still grace the tables, the Thai shrimp nachos in curry sauce ($12) is still a go-to appetizer and a leprechaun-sized faux fireplace sits in the corner warming…well…no one. Malt has its own vibe though. Under the filament bulbs and framed photos, Marshall puts out a pretty sleek plate. Share plates come out with stacks of mismatched porcelain (another Tucker's throwback) but most dishes are plated cleanly in minimalist fashion, an aesthetic that belies the restaurant's organic ease.
It's odd to call attention to a salad — particularly in Scotch City — but Malt puts out one with legs. Wedges of smoky grilled romaine, shaved soppressata and blue cheese dressing (manly, machismo and muscle-bound) tempered by slices of bright radish and crisped pita crumbs ($10) add up to a texture blitz worthy of respect. Even next to standbys like calamari, mussels and a melange of tapas, the salad reigns supreme.
Other entrees stick as close as they can to classics. A coq au vin filled with gamey thighs and mushrooms balances its sharp sauce with hunks of sweet potato that soften into its viscous bath. Eight bites in and you may not be able to identify what root vegetable you've just consumed but that feels about right. Malt's an amalgam that thrives on its refusal to adhere either to simplicity or ornamentation. The steak (ribeye most nights, sirloin occasionally, "seasonal beast" when the stock is high) is as straightforward as it gets, though a good deal ($25) and a good bet if you're swilling the namesake drink.
But as assertive as Malt may be — large screens overhead, a boisterous SRO bar crowd and enough hard liquor to complete the century club with no repeats — it's the gentler touches that establish its neighborhood niche. The Statler chicken ($19) is served blistered (in a good way) and napped with sauce but more compelling with a side of farro salad and mead-soaked raisins. (Dish also voted Most Likely to Embark on a Middle English Pilgrimage.)
Subtlety also extends to a quartet of seared Georges Bank scallops ($26) and baby Brussels sprouts with a kick of preserved lemon. It may be the least likely to draw the attention of beer drinkers but the interplay of earthy and acidic hits every comforting note. That's not to say that every patron at Malt is intent on making the evening into a three-course meal. If food is secondary, you can always build community around the game or wait for the handful of women exiting the loo to comment on the decor. "Adorable! Not just for a bathroom but for any room."
The key is that people are comfortable here, in a decidedly different manner than Tucker's provided. There's nothing illicit or enigmatic about Malt and that suits the group. After all, if Tucker's was the bedroom, then this is the den: open to everyone and just as capable of dressing up as showing up in sweats. And the persona fully manifests itself in dessert, which includes a handful of sorbets and other sundries but really boils down to the chocolate bomb, a scoop of ice cream drowned in ganache and served like a titanic frozen truffle. The background singers of this orgiastic melody include squiggles of sauce, the occasional malt ball medley or, for good measure, another scoop of ice cream just to double down.
So for a couple of Irish settlers with pub in their blood, the Sheehans have made it clear that homey is multicultural and casual is a state of mind. Newport's seascapes certainly have their fans but, week to week, residents clearly prefer sitting around the hearth, beer in hand.