Making Jewelry With Jennaca Leigh Davies
The Pawtucket-based jewelry designer makes one-of-a-kind pieces inspired by her architectural training.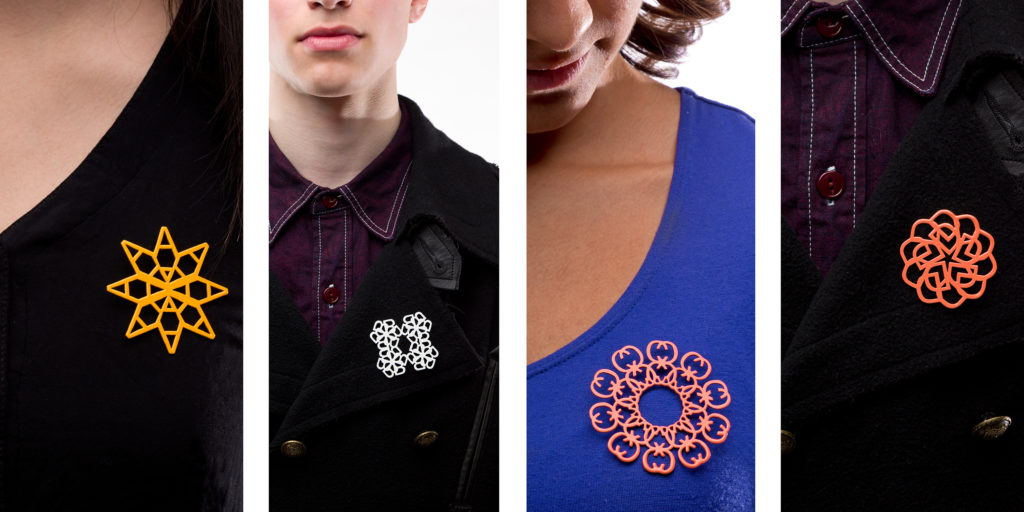 Sunlight streams through the wide windows of Jennaca Leigh Davies's Pawtucket studio and across the precise shapes on her inspiration boards one recent afternoon as she describes how she has always been drawn to geometry, nature, folding and systems of connection.
It isn't surprising, then, that the South County native initially pursued an undergraduate degree in architecture in New York. After college, Davies returned to Rhode Island and worked on the relocation of Interstate 195 with the late William Warner.
"It was a good project, it was a big project," she says. "I had a lot of friends in New York who were doing door hinges and things, so I decided to stay for a while."
But Davies always loved jewelry. As a kid, she had beaded and made friendship bracelets. She took a few jewelry making and metal working classes in the continuing education program at RISD, then decided to pursue her master's degree in 2007.
Today, Davies divides her time between working on the design of waterfront homes with Providence-based architect Glen Fontecchio, teaching as an adjunct faculty in the department of Jewelry and Metalsmithing at RISD and working as the certificate advisor for the Jewelry program through RISD Continuing Education. She spends whatever time is left in her studio, making jewelry.
Her work shows the influence of techniques she used in architecture: model making and using drafting software. She takes pictures everywhere she goes, then traces the shapes of the everyday on her computer to create something new.
Davies often works in paper, enamel and sterling silver.
"I really love the idea of taking this modern technique and doing something that's thousands of years old," Davies says. "Enameling goes way back to Egyptian times and the fabrication techniques that we use in jewelry, they're ancient."
Details are very important to her. Davies points to intricate pieces such as her blue paper pendant.
"I am more interested in hiding the way something is made or making it so that not everybody can take it and figure it out," she says.
Her first pieces were one-of-a-kind collectors' items that were often sold in galleries and displayed on a shelf rather than worn. Now, she is moving toward designs that are more affordable and everyday, but still limited edition, she says.
She's working on a series of geometric brooches. And her sterling silver animal earrings are all handmade. Ever mindful of details, Davies has experimented with different materials to create a roll printing texture. When she was making her turtle earrings, for example, Davies played with texture until she found a mesh that gave them a grid-like texture, like a tortoise shell.
Want to see more of Davies's work? Check out her website, jennaca.com. She will also be selling her jewelry at the RISD Alumni Sale on Saturday, December 13, at the Rhode Island Convention Center, 1 Sabin St., Providence.